Abstraction just ain't what it used to be. Back in the (Bauhaus) day, the pursuit of pure form and color seemed to intellectually trump the dogged recording of reality engaged by representational artists—it symbolized the ascension of the human spirit to a previously unknown level of universal transcendence.
Or so they would have liked you to believe. As laudable as that high-flown aspiration may have been, history has not been entirely kind to either its philosophical basis or to the actual products of such thought. My favorite case in point is the work of Russian avant-gardist Kasimir Malevich, whose sharp-edged Suprematist abstractions once epitomized the early 20th century's desire to manufacture a magnificently rational new order out of whole cloth. Almost 100 years later, the paintings seem betrayed by the very materials they're made of—what once represented the purest intellectual spirit now suffers cracking layers of paint and formerly pristine white backgrounds slowly yellow, as the strident energy that originally charged the paintings now gives way to the entropy of time.
Of course, in the intervening years the simple joys of abstraction have only gotten more complicated themselves. The pure universality of form postulated by artists like Mondrian and Malevich was rather rudely unseated by the expressive Sturm und Drang of Abstract Expressionism, which in turn gave way to the mute, geometric forms of Minimalism.
Things have been very different since the whole postmodern upheaval, however. Figuration made its return with a vengeance in the '70s and '80s, and in the anything-goes carnival of contemporary art, both abstraction and representational work have equal claims to validity. It's not uncommon to see attempts to reconcile the two, or at least to make work that walks a tense line between them.
A show opening this month at the Livingroom in Kingston presents two painters who seem to be grappling with the fallout of these disruptions in the field of abstraction. The provocative title of the exhibition, "Dopamine," refers to a key chemical in the brain related to the experience of pleasure. In this case, it's a demand that art provide the equivalent of that chemical payoff, in the form of beauty—a notion that's gotten some play in recent years, mostly as a counter to too much heavy-handed conceptualism in the art world.
Here, however, painters Jeff Solfrian and Rich Wade seem to be operating on an entirely different wavelength than any of the historical examples I've mentioned. Neither of them pursues abstraction in the rarified, intellectual sense, instead emphasizing the physicality, the very real presence of the paintings themselves. Yet they're not looking for some heroic, subjective expression, either.
Solfrian makes often large-scale paintings in soft, mostly pastel colors, featuring built-up, roughly scumbled surfaces that are activated by—of all things—embedded bits of glitter. I first encountered his work when I juried the "Beyond Spirit" show at SUNY Ulster a few months ago, and selecting the work from slides was itself a major leap of faith on my part. I was enormously relieved—and better yet impressed—when I saw the paintings in the flesh, as they work on a very immediate, seductive level.
Recalling his time in art school, when he was working in a directly representational mode, Solfrian remembers a professor who scoffed at one of his attempts to make an "erotic" painting. The professor scolded him by saying, "It's not how provocatively you pose the model, it's how you handle the metier." The glitter paintings are plenty erotic, precisely because of the way he's handled the material, presenting the viewer with a visually active, yet ambiguous, surface that hovers somewhere between a solid and a gas. But the handling isn't about a personal "touch," it's about the negation of touch, eradicating not only recognizable imagery but also any concept of the gesture. According to Solfrian, it's "a quest for an image that looks like I didn't make it," and I'd say he's achieved that goal quite admirably.
Richard Wade, on the other hand, doesn't mind if vague elements of figuration creep into his intensely colored, very large paintings. He builds up layers of oddly discordant colors ("Things like pink and orange, and sometimes neon, that make it hard for the eye to focus," he says), using shards of broken glass as formal templates, laid down on the canvas before he applies the color. When removed, they leave behind a sharp-edged, negative space, and then he repeats the process, until eventually the work is complete. As with Solfrian, Wade creates abstract painting that's been detached from both rationality and subjective emotion yet somehow still makes a blatant appeal to the idea of beauty. "Some people will like it, and some won't," Wade allows. "It's not about me, it's about having people figure it out for themselves."
The conundrum of desmaterializing the material takes place in the softly blurred, painterly photographs of Jeri Eisenberg, now represented by several prints at Carrie Haddad Gallery in Hudson. She's devised a really interesting alternative format for her artfully de-focused images of trees and foliage, digitally printing them on beautiful Japanese paper. She slices the print vertically into three or more sections and infuses the paper with beeswax, giving it the organic translucence of human skin. The strips are secured to a Lucite bar on the wall with magnets, which allows them to hang freely, fluttering gently back and forth as the viewer enters the room and disturbs the air. Abstract yet representational, fixed yet flowing, Eisenberg's photography is charged with a unique, undeniable physicality that invests the medium with a concrete presence that has to be experienced in person to be fully understood.
So can art induce a contact high? With work like this, it will be a good month to find out.
Footnote: In a bit of April foolery last month, I described Peter Garfield's elaborate process for hoisting entire houses several hundred feet off the ground, then photographing them as they crashed to earth. If it all sounded a bit far-fetched, that's because it was. In actuality, he snaps models of houses, suspended by invisible fishing line, with a handheld 35mm camera. Having spoken to a few people who were mistakenly impressed with the enterprise since the magazine came out, I feel compelled to come clean now—although I continue to stand by all the critical sentiments expressed in the rest of the column!
"Dopamine," paintings by Jeff Solfrian and Richard Wade, will be shown May 5 through June 17 at The Livingroom, 45 North Front St., Kingston. (845) 338-8353. The opening reception will be on May 5 from 6 to 9 pm.
jeri Eisenberg's photographs can be seen at Carrie Haddad Gallery, 622 Warren St., Hudson. (518) 828-1915; www.carriehaddadgallery.com.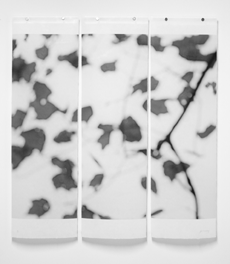 _Sugar Maple Floaters_, Jeri Eisenberg, Iris print on Japanese Kozo paper infused with encaustic, 36" x 34"
_Valentine for Starstar_, Jeff Solfrian, Oil on canvas, 58" x 60"