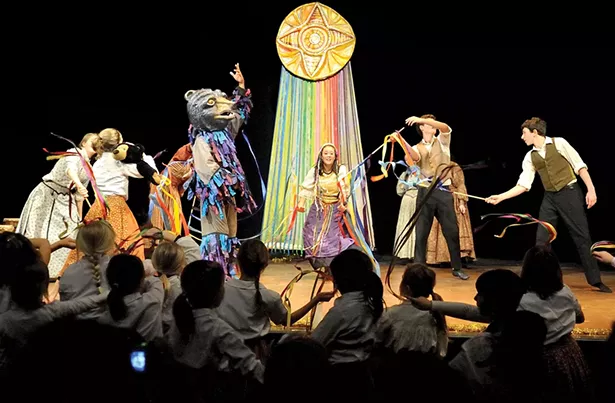 Photo: Sonam Zoksang
Lucia and The Bear.
It's not often that a holiday show can rival the splendor and enchantment of "The Nutcracker." But this December 14 and 15, the Vanaver Caravan and Arm-of-the-Sea Theater celebrate the 13th anniversary of their original show, "Into the Light." It's a fanciful, multicultural dance, music, and theater spectacular that has become a Hudson Valley holiday tradition with a staying power all its own.
"It's a heart-opening production that gets people ready for the holidays," says artistic director Livia Vanaver, who cofounded the Vanaver Caravan along with her husband, Bill. "Into the Light" tells the fantastical story of Lucia, a young girl from a northern country who finds that as the sunlight dramatically lessens throughout the season, so do her spirits. In the deepest moment of her sorrow, Lucia is rescued by a bear, who becomes her steadfast companion on the journey ahead. The two friends travel around the world together, discovering how different cultures find and celebrate light in the darkest time of the year.
The show is built on the Vanaver Caravan's characteristic celebration of international diversity in dance and music, which it has promoted since its founding in 1972. The organization performs globally inspired choreography and music, as well as providing cross-cultural dance education through in-school arts residencies and after-school classes. "Into the Light" ambitiously weaves together international traditions of music, storytelling, and dance, with special emphasis on the rituals of Chanukah, Christmas, Kwanzaa, Diwali, Sankta Lucia, Winter Solstice, and Yule.
With "Into the Light," the Vanaver Caravan has crafted a memorable partnership with Arm-of-the-Sea Theater, another venerable Hudson Valley arts organization, who specializes in contemporary mask and puppet theater. Arm-of-the-Sea provides a richly textured, whimsical visual landscape for the show and a spellbinding display of costumes for the cast of larger-than-life characters, who range from everyday woodland animals to otherworldly creatures of traditions the world over. "I love working with Arm of the Sea," says Vanaver. "Their fanciful, colorful puppets bring so much to the story."
This year also marks another milestone for "Into the Light:" For the second year, the production will make its home at Kaatsbaan, a performance and retreat center in Tivoli for the professional dance community. For Vanaver, this new relationship with Kaatsbaan affirms the value of collaborating with other regional arts organizations. "We get to help a whole new audience discover Kaatsbaan," she says. "Part of our mission is to bring our community together. And this definitely does the trick. It really brings our whole community together in celebration."
Shortened 30-minute excerpts of "Into the Light" will be performed as part of Sinterklaas Festival Day in Rhinebeck on December 7. See the full show at Kaatsbaan December 14-15, with performances at 1pm and 4pm. Tickets are $10-20. Kaatsbaan.org/performances.