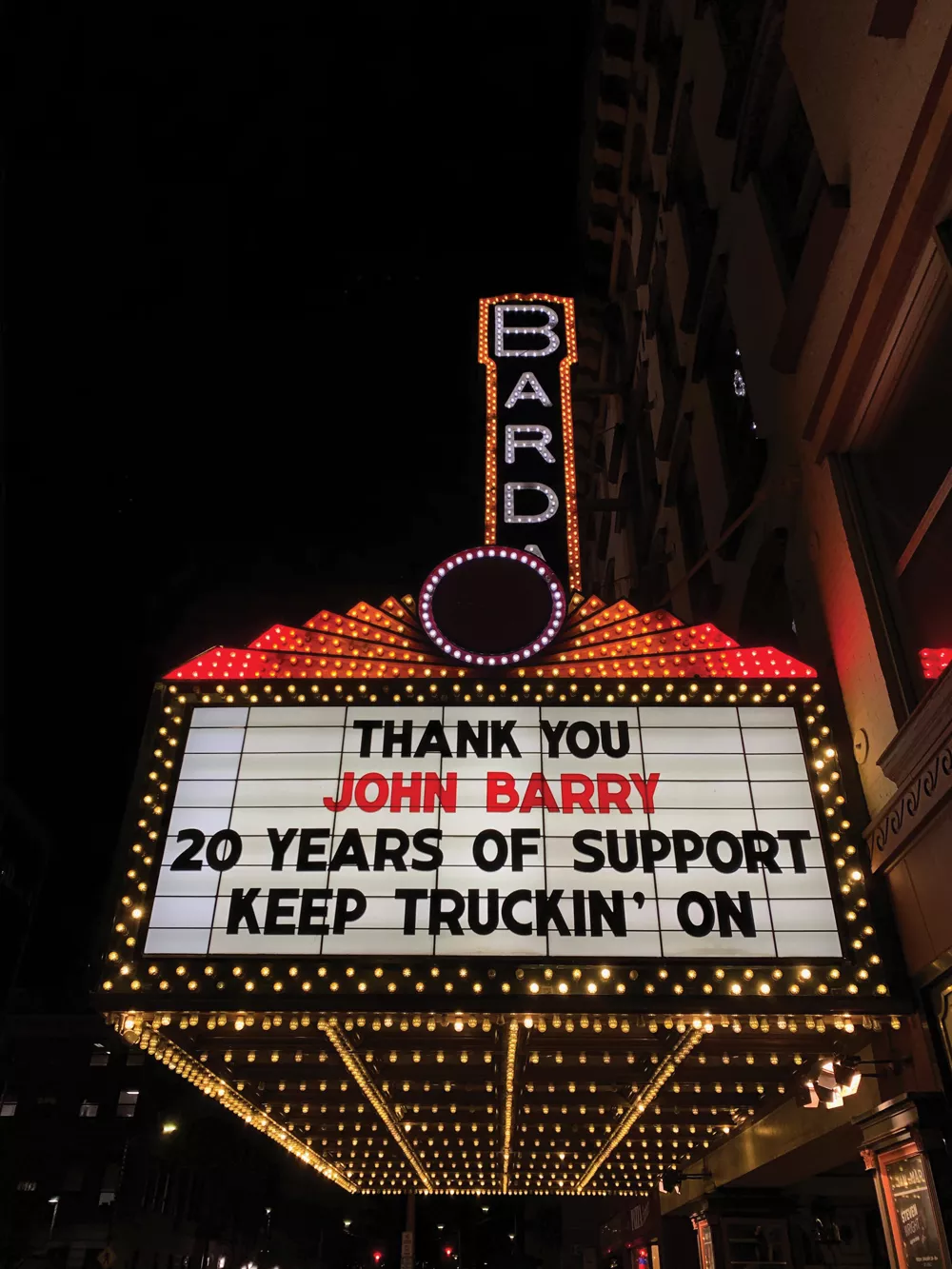 A tribute to John Barry on the Bardavon marquee in Poughkeepsie this fall.
As the music and arts columnist for the Poughkeepsie Journal since 2000, John Barry's byline is about as familiar to Hudson Valley residents as the characteristic hum their tires make when they drive over the Mid-Hudson Bridge. But last month, after 20 years, Barry's editorial hum came to a halt at the publication when he retired from New York State's oldest newspaper. We reached out to him via email to see how he's faring following his two decades of community service.
—Peter Aaron
Congratulations on your retirement after such a long and interesting career. Where are you from originally, and how did you get interested in music?
Thank you kindly! I was born in the Bronx and grew up in Rockland County. My older brother gave me the Sgt. Pepper's Lonely Hearts Club Band album as a Christmas gift when I was 11 or 12. That blew my mind. A few years later, in June of 1984 in fact, he took me to my first concert: Billy Joel at Madison Square Garden. We had nosebleed seats but somehow worked our way into the 100s section, right near the stage. Mind blown again, and after that point, there was no turning back.
How did you come to be a journalist, and what led to you becoming the music columnist at the Poughkeepsie Journal?
I've loved to write since the first or second grade and this passion only grew as I got older. In my mid-20s I landed a job at the Journal News, my hometown paper in Rockland, writing about potholes and politics and land development and I loved every minute of it. The music writer position opened up at the Poughkeepsie Journal, which like the Journal News, is owned by the Gannett company. A friend who worked there tipped me off. I applied for the job and the rest is history.
What was your first assignment as the paper's music columnist, and what do you remember about working on the story?
My first assignment as music writer for the Poughkeepsie Journal was to interview Woodstock guitarist Jim Weider, who is well-known for playing in the Band, the Levon Helm Band, and the Weight Band. We did our interview over coffee at a joint on Route 28 that is no longer there. I'll never forget getting back to the newsroom and loving how different it was to write a story about a musician, his passion, his performance, and to really let loose with my writing as I worked to capture Jim's artistry with words. This was very different from writing about potholes and car crashes. There was a sense of abandon to it all and a great sense of possibility. Yet again, my mind was blown by music.
Certainly, over the decades you've seen some notable concerts and interviewed some interesting artists. What are some of the most memorable shows you've seen and what makes them stand out in your memory now?
Any Midnight Ramble at Levon Helm Studios in Woodstock and any road show featuring the Levon Helm Band remains a night to remember. The Ramble that Emmylou Harris played at Levon's stands out in particular. Levon always generated a sense of wonder when he walked into a room. But the Ramble with Emmylou was off the charts. It was a game-changer for me and a game-changer for music in the Hudson Valley. Hall and Oates christening Daryl's House in Pawling on Halloween night 2014. How could there be a better way to launch the music venue and restaurant operated by former Dutchess County resident Daryl Hall? Bob Weir and RatDog at the Bardavon 1869 Opera House in Poughkeepsie. Prior to the show, I was able to say hello to Weir backstage and hand him a copy of the story I had written about him, for the Poughkeepsie Journal's weekend magazine. He was visibly pleased and I could have gone home right then and there. But I stuck around and saw one of the best shows of my life.
I could go on and on. But quickly, Bob Dylan at the Chance in Poughkeepsie; David Bowie at the Chance in Poughkeepsie; Andy Summers of the Police at the Towne Crier Cafe, when it was in Pawling; Donald Fagen and the Nightflyers at the Falcon in Marlboro; Mike Gordon and Trey Anastasio of Phish playing a Woodstock Film Festival party at Allaire Studios; Mike Gordon playing the Bearsville Theater; David Byrne at UPAC in Kingston; Santana at the Bardavon; any Hot Tuna show at the Bardavon. Any Mountain Jam festival. A trip to the Woodstock festival site and Bethel Woods Center for the Arts was always special. Okay, I'll stop!
Who were your favorite artists to interview, and was there anything that surprised you about them when you interviewed them?
Without a doubt, Levon Helm, Ringo Starr, and Pete Seeger all stand out as far as interviews. I can't say that anything really surprised me, but the big thing I took away from each interview, and there were multiple interviews over the years with each musician, was the humanity and emotion that each shared. After hanging up the phone or leaving the room when these interviews were done, I felt empowered and emboldened by optimism and faith. Speaking to any of these three guys always felt like I was cozying up to a campfire on a cold night. It was really something else to be invited to stand in their glow. And Pete during at least one phone interview sang a few bars of "We Shall Overcome" and "Over the Rainbow." Amazing.
Are there any lessons you learned from your 20 years on the job that you can impart to aspiring arts writers?
Do your homework. Don't be late. Follow your gut. Approach everything you write about as if it was hard news. Find the hard-news angle and you'll write a better story that will resonate louder with readers and generate more of a response. Don't take any guff from people. Don't be afraid to bark back. Remember that if you're a music writer or a business writer or the night cops reporter, everything you do is done on behalf of your reader and your main goal is to enlighten them, whether it's regarding a crooked politician with their hand in the till at city hall or writing a review of the best concert you've ever seen, one that changed your life and blew your mind.
What do you most hope that readers have gotten from your work? In what ways do you hope people have benefitted from it?
I hope I've made people think critically about the world around them. I hope my writing has taken them places. I hope my writing has stirred emotion in people. I hope it has held our public officials accountable, so the world we all live in is a just world, where everyone gets a fair shake and the opportunity to claim their successes or failures as their own.