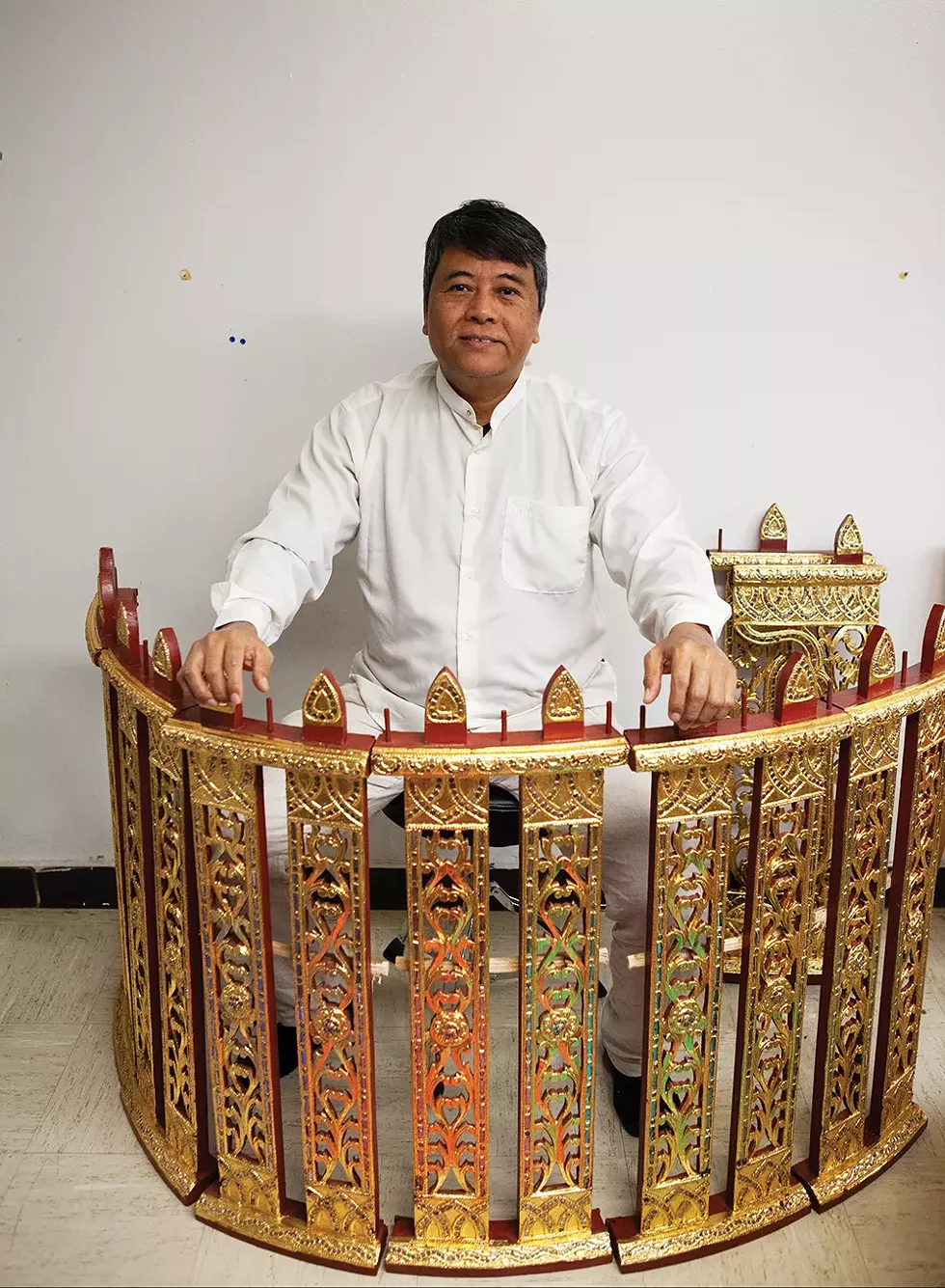 Photo: Fionn Reilly
Kyaw Kyaw Naing
A man sits cross-legged on the bare floor of a basement room on the SUNY New Paltz campus. He's nearly encircled by what looks like a picket fence, about three feet tall and made of finely carved wood decorated with gold leaf and shards of inlaid mirror. The man is whirling in place, a look of intense concentration on his face. His forearms are a blur as his bare hands rise and fall quickly all around him within his tiny fortress, producing a rapid succession of rubbery tones when they land. Peering over the gilt-covered walls, the source of these resonant sounds comes into view: an arsenal of 21 small drums, which the player pauses occasionally to tune by rubbing their skins with lumps of waxy dampening paste scooped from a plastic container at his side. This beautiful, ancient instrument, known as the pat waing, comes from Burma (present-day Myanmar), as does the player lording over it: Kyaw Kyaw Naing.
"This paste used to be made from rice and tamarind ash," he says through his daughter, Tet, who translates for us. The modern version of the substance, he explains, is synthetically derived. The genial Naing, whose first name is pronounced "Jojo," is a third-generation master drummer and the leader of a traditional Burmese percussion orchestra called a hsaing waing. His late father, U Sein Chit Tee, led an orchestra that accompanied folk dancers at the Asia Society in New York in 1975. But despite the notoriety of that event, Burmese music has remained largely unknown in America and other Western countries—a reality Naing is working to change.
Naing was born in Myanmar's former capital city, Rangoon (now called Yangon), in 1964 and began learning the pattala (bamboo xylophone) at age three. Originally, his older brother was to be the family's pat waing player, but when their father noticed his younger son's natural aptitude for the instrument, he encouraged it. However, knowing the economic uncertainty of being a professional musician himself, he was reluctant to push Naing onto the same path. But the clan's women took a different view. "It was my grandmother's wish for me to play the drums," Naing says. "And my mother, who was a dancer, also wanted me to play. There were always drums around [the family's home]. I was always playing." He began formal drum studies at four, and just a few years later, he was winning top prizes at national musical competitions, taking first place at the prestigious Burmese Era 3000 contest when he was seven.
Much of Burmese music's obscurity outside its homeland is due to the military dictatorship that ruled the former British colony from March 1962 until August 1988, when it was deposed by the uprising known as 8888. In the 1960s and '70s, when record labels like Folkways and Elektra's Nonesuch Explorer imprint were documenting indigenous music from around the world for the Western market, the nation's isolationist government under leader Ne Win kept them out. As a young professional musician, Naing saw firsthand the effects of xenophobia on the culture. "I was in orchestras that played concerts where tourists would come," he recalls. "Burmese people also came, and they were more used to hearing this music, so they didn't talk to us much about it. For the tourists, the music was something new, and they would give us great feedback about our concerts. But then [the regime] stopped letting the tourists in, and we didn't get to associate with outside musicians. So, we stopped getting the feedback. Even though we were being paid very well, it was very different."
Despite the change in government after the 1988 revolution, the political undercurrent in Myanmar remained tense and censorial, and for artists, finding steady work there became increasingly difficult. In 1999, the University of California at Los Angeles invited Naing to perform, and while in LA he met members of the city's growing Burmese expatriate community. He also visited some museums with collections of musical instruments, where he noticed something. "In these museums, there were instruments from everywhere in the world, but there were no Burmese instruments," he says. "I thought, 'I need to bring Burmese music to America.'" Despite the disheartening prospect of being separated from his wife and their two young daughters, Naing decided to stay in the US and do exactly that, having his heirloom pat waing and other instruments shipped across the ocean.
In 2000, Naing met Massachusetts Institute of Technology professor and composing clarinetist Evan Ziporyn at a concert in Boston. Ziporyn invited Naing to perform at a workshop at MIT, and through him, the percussionist met and began performing with Ziporyn's erstwhile group, the New York-based contemporary music collective Bang on a Can. The latter partnership led to a 2004 album, Bang on a Can Meets: Kyaw Kyaw Naing, and a 2005 relocation to Sunnyside, Queens, where Naing worked as a sushi chef to support himself between tours.
In 2006, he took a job running the sushi bar at the Marist College cafeteria and moved to Hyde Park, where his family finally joined him from Myanmar. SUNY Department of Music assistant professor and Burmese music acolyte Alex Peh was stunned to learn that Naing was in the area and immediately reached out to his virtuoso neighbor about working together.
Photo: Fionn Reilly
This beautiful, ancient instrument, known as the pat waing, comes from Burma.
"The music is so joyful," says Peh, a pianist whose family emigrated from Malaysia to New York when he was six. "It starts, it stops, it changes direction and tempo. Kyaw Kyaw is a virtuoso drummer, he plays the drums as fast as I can play a piano. The range of color and tone that he can draw out of his pat waing is an inspiration to all musicians." A traditional hsaing waing includes the pat waing as well as several other tuned drums and instruments, such as the kyi waing (small bronze gongs in a circular frame), maung hsaing (larger bronze gongs in a rectangular frame), chauk lon pat (a set of eight drums), si and wa (bell and clapper), and hne (double reed pipe). For more formal and classical performances, the ensemble is sometimes accompanied by the saung gauk (Burmese harp) and the pattala.
While the music's tinkling timbre is akin to that of Indonesian gamelan music, it's richer sonically due to the presence of the drums, and, as Peh points out, more frenetic and unpredictable. Over the centuries, hsaing waing groups have customarily provided accompaniment for traditional outdoor plays (called a za pwe or na pwe), marionette performances (yokthee pwe), and even movies (a practice that began in the 1920s with silent films and is still done today with sound films). The piano and violin were introduced to Burmese music in the 1800s, giving rise to an entire separate instrumental tradition as they were adapted to native styles.
Now a SUNY music instructor himself, Naing has worked with Peh for the past year to develop the college's nascent Southeast Asian music program. Currently he's teaching a class of 18 students, who, on October 5, will join him and Peh in a new orchestra that will make its debut with a concert on the New Paltz campus. "We have formed the first Burmese hsaing waing ensemble in America and are hoping to build on this concert to perform around the country," Peh says. "It's so thrilling to see our students be the first students in America to learn Burmese percussion with such an acclaimed master and keeper of the tradition." Peh's frequent collaborator, acclaimed local drummer Susie Ibarra (profiled in the March 2018 issue of Chronogram), will join the stage, leading an ensemble performing Maguindanaon gong music of the southern Philippines.
Peh will accompany Naing on a two-month visit to the drummer's native country starting in December. The return will no doubt have a strong resonance for Naing and, likely, a bittersweet one. But the smiling musician seems to be delighted both with his family's present home and his increasingly fruitful work preserving Burma's deep musical heritage while passing it along to eager new generations. And, as is the case with so many other immigrants who've left inhospitable conditions to make a better life in America, he's contributing to and enriching the culture of both his local region and the country as a whole, adding another storied thread to its colorful quilt.
"He's happiest when he's playing music," says Tet about her father. "When he's doing that, he forgets all about work and everything else."
"With Gongs, Drums, and Pianos: Traditional Southeast Asian Music," a concert featuring Kyaw Kyaw Naing, Alex Peh, Susie Ibarra, and a student-faculty Burmese-American percussion ensemble, will take place at the Studley Theatre on the SUNY New Paltz campus on October 5 at 8pm. Newpaltz.edu.