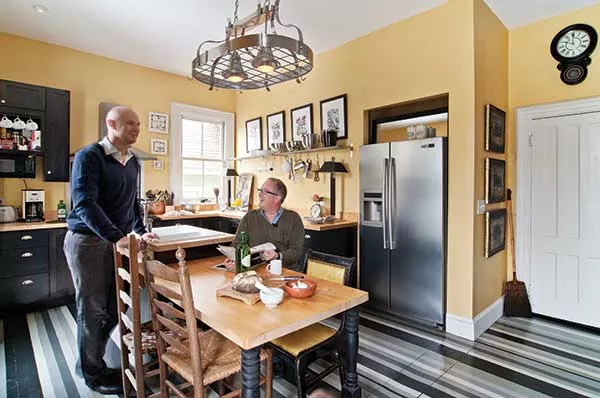 Juan Carretero and David Usborne in the kitchen of their historic Hudson home, Villa Sofia.
This is the fourth house we've owned in Hudson, the second one in which we've lived," says David Usborne, the US editor of British national morning newspaper the Independent. Together with his partner of 11 years, architect Juan Carretero, the Manhattan-based journalist has also rented three apartments in the architecturally dense, slightly scruffy river town, known for the antiques shops and Federal-style buildings on its main thoroughfare, Warren Street.
The couple sits in the pewter and cream parlor of Villa Sofia, an 1870 yellow clapboard Italianate four-story with bracketed cornices, a front porch, and a peek of river out the upstairs window. They bought 109 North Fifth Street in 2006 for an undisclosed sum. "We fell in love with the interior French doors, parquet floors, and location on a quiet street five minutes' walk from everything," says Carretero. They've spent "more than makes sense economically" on its updating. "I get itchy as soon as a house gets near finished, but we can't really sell right now, because of the market, and I'm not sure we want to, anyway," he adds.
The Van Deusen Family
Currently configured as a three-bedroom, three-bath plus office, Villa Sofia was built for a branch of the illustrious Van Deusen clan. The original owners had a successful grocery business back when Hudson was the 29th-largest US city.
Extra-wide North Fifth Street anchored Hudson's original parade route. In recent decades, it remained fairly respectable back when Warren Street "was still a dump," says Carretero. But the most recent wave of gentrification began in 2007. He hopes they've swelled that uptick.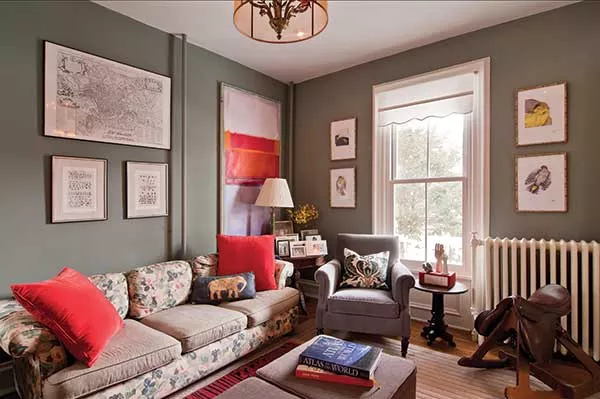 Replete with architecture spanning three distinct centuries, and located on the rail line to New York, Hudson was always known for its lively red light district. The 20th century saw Hudson in a steep decline that started to reverse in the 80's when creative types from Manhattan began to flock to its dirt-cheap lofts and storefronts. When Usborne and Carretero bought the approximately 3,300-square-foot villa on a double lot, it had been chopped into apartments above an illegal bar, or speakeasy, and there were two ill-considered contemporary additions on spaces now used as outside decks.
After ripping up carpet, stripping paint, and tearing out drop-in ceilings, Usborne and Carretero wholly replaced the existing electrical systems and plumbing. Foam insulation was sprayed into the attic space; wall insulation, made from recycled denim, was blown into the walls.
"The extra insulation proved a great investment. The house was very cold before," says Carretero. "I think we paid about $3,000 for that, and it's probably paid for itself in terms of energy savings already."
Two rusty ancient furnaces were ripped out and replaced with one $8,000 high-efficiency model. With help from a relative, the couple, who is not particularly handy, removed exterior asbestos tiles, because professional "asbestos abatement" was just too expensive. They almost broke up endeavoring to sand the wood parquet floors downstairs, using giant rented sanding machines. "Very easy to gouge, and so messy," recalls Usborne.
They splurged on custom cabinets for the kitchen but aren't so thrilled with the butcher block countertops they chose "because they're awfully sensitive to water," laments Carretero, who would like to replace them with stone. The kitchen's hardwood floor was badly damaged, so they hired a decorative painter from New York to paint it variegated stripes of grey. Carretero personally mixed the colors, in tones of "elephant to London mist," describes Usborne, to match the interior wall shades, which Carretero also individualized.
Upstairs, there are recessed halogen ceiling lights, tidy and efficient for creating spotlights. But Carretero doesn't really like them. "We wanted a mix of old and new, obviously, but nowadays I don't think recessed lights look right in a house of this age. If I did it over, we'd have all sconces." The architect's ruminations over the finer points of Villa Sofia's renovation amuse the journalist. "You should see the way I lived before I met Juan," says Usborne. "All the money, all the taste, everything, it's all Juan. I'm just along for the ride."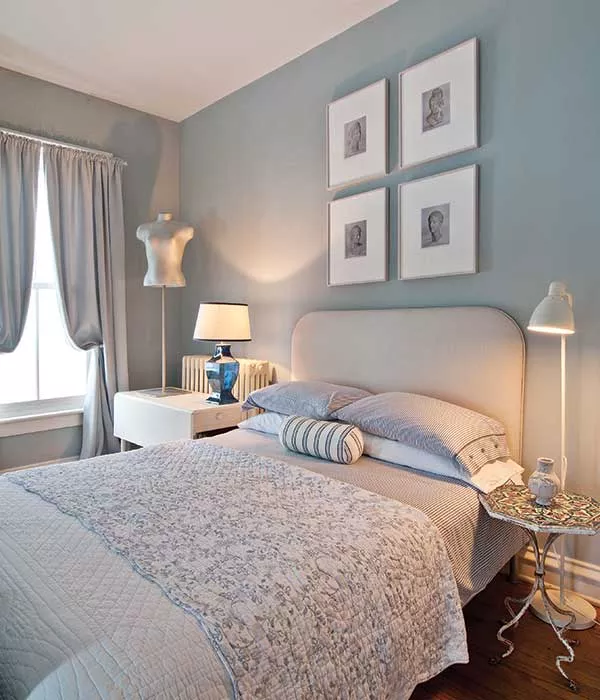 Villa Sofia guest bedroom
Came To Interview The Dice Man, Then Never Really Left
Usborne and Carretero met in Manhattan, introduced by friends. They came to Hudson on a working date early in their relationship. Usborne needed to interview George Cockcroft, author of the cult literary hit, The Dice Man, which he published under the pseudonym Luke Rhinehart.
During the week, the couple lives in a 600-square-foot Gramercy Park apartment. Because their city footprint is so diminutive, Usborne and Carretero enjoy spreading out and entertaining houseguests in their weekend digs.
The conventional bath off the master bedroom was converted into a walk-in closet "because I'll never have one in Manhattan," says Carretero. A fourth upstairs bedroom was made into a grand master bath with an oversized soaking tub in the room's center. "A couple, here for a dinner party, excused themselves after the first course, grabbed a bottle of wine, and came up here to take a bath," laughs Usborne. "It's that compelling."
Inspired by nearby Olana, the Calvert Vaux-designed masterpiece built for famed Hudson River School painter Frederic Edwin Church, Carretero recently added a Persian-type arch above the toilet stall. Emboldened by Usborne's heretofore unknown enthusiasm for 19th century Yankee-meets-Morocco style, Carretero plans to have trompe l'oeil mosaics painted on the master bath's walls, for a look that's "decadent, sort of inside the harem."
Usborne has two adult children, both students, from his marriage. If they ever sell Villa Sofia, Usborne would theoretically like next to weekend in the real countryside—"someplace that looks like rural Sussex, where I grew up"—but Carretero, a true urbanite, thinks North Fifth is "rustic enough."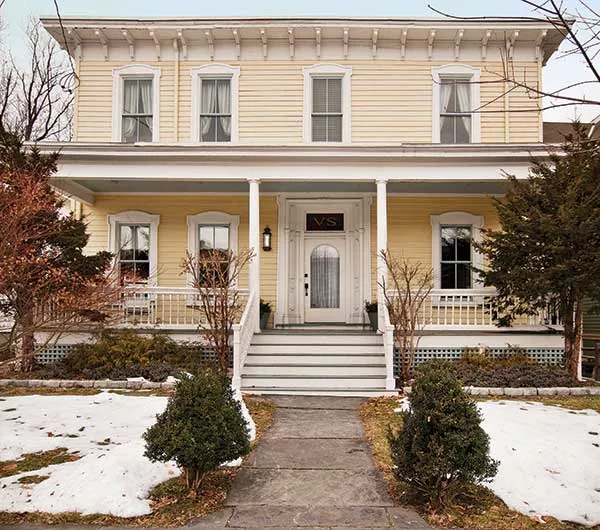 Street view of Villa Sofia in Hudson.
For Breakfast, It's Either Tanzy's Or Haggis
"Our favorite place to eat is Tanzy's. We lived above it when we were renovating," says Carretero, naming a shabby chic coffee shop on Warren St. "Best place in town for breakfast, plus, Tanzy's owners also take care of Ramon, our pug, when we travel," the Mexico City native added. "The Crimson Sparrow's new. That's where to go for dinner right now."
"We just had haggis for breakfast, twice!," says Usborne, naming the marinated offal "pudding" celebrated by poet Robert Burns as the "great chieftain" dish of Scotland. The couple has just flown in from Edinburgh, where they have close friends. Scattered across the burl maple dining table—made for Usborne by his brother Robert, a master cabinetmaker who died in a ski avalanche—are glossy professional-caliber photographs of their recent trip to Rajasthan, India.
"David followed the Romney and the Obama campaigns during the election—I barely got to see him—so we had these vacations planned as a reward," says Carretero.
Almost everything in the house came from Hudson stores. "We pick up a few things when we travel, but mostly those are gifts. Doing our shopping here has made us very popular," says Carretero. "It's a very interconnected weekend-residents group. Several of our friends from New York who first came to Hudson as our guests have since bought in town or in this general area," says Usborne.
The parlor of Villa Sofia, David Usborne and Juan Carretrro's Italianate home in Hudson.