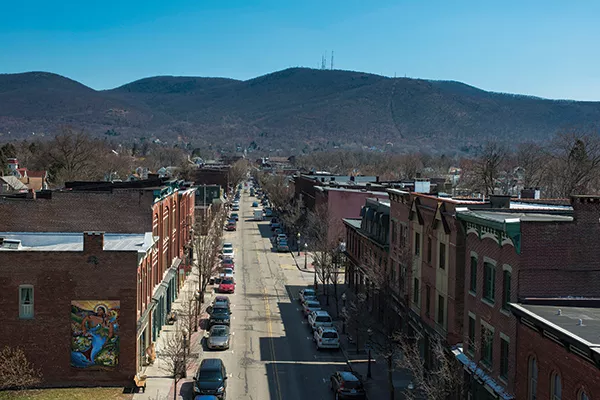 Rob Penner
Looking east along Main Street in Beacon
A 2009 New York Times article proclaimed Beacon "a city reborn as a haven for art"—finally taking note of the city's blossoming as a cultural mecca. Those in the know, however, are aware of a far more expansive renaissance in Beacon, one steeped in a pervasive, living history. Beacon—and Fishkill, it's complementary and bucolic neighboring town—has its palpable past on display: The simple charm of Fishkill's Trinity Church has held its place on Main Street since 1760, Beacon's Howland Cultural Center still harkens to the 19th-century library built by a Civil War general, and the Newburgh-Beacon Ferry marks a Native American river crossing which predates Henry Hudson's arrival. Along with an abiding community dynamic, the area's recent influx of fresh energy has only served to strengthen a character that has never left.
Centennial, Reimagined
"People say, 'Beacon has come a long way'—I say, 'Compared to what?' I've been here since the beginning," quips Beacon Mayor Randy Casale. "It's a revival—hopefully we can keep that going. I know we can." Lifetime denizen Casale's fierce pride mirrors that of the community; and, on the eve of Beacon's 100th birthday, he and the city at large plan to put that pride on display. May 15 marks the day in 1913 when the port of Fishkill Landing and the industrial center of Matteawan agreed to consolidate as Beacon. (This was after the original approved name, Melzingah, was lampooned in the New York press.) Though centennial festivities will begin the day of the anniversary, Saturday, May 18 is when the celebration begins in earnest. A parade will march down Main Street, and the Beacon Rocks 100 free concert will be an all day festival in the city's Memorial Park, featuring a wide swath of music—from local favorites to rocker Southside Johnny, and led by Beacon resident and folk legend Pete Seeger (if you get a chance, don't forget to thank Pete for the vastly improved water quality his Clearwater organization has helped to promote.)
Rob Penner
Rick Rogers at X on Main in Beacon, hanging art by Ryan Cronin
The harmony of the two communities is perhaps best exemplified in the area's most visible feature: the high point of the Hudson Highlands, Mount Beacon. Its signature heights share a prominent place in the commemoration festivities, beginning with The Beacon Re-Imagined exhibition, taking place in Scenic Hudson's Long Dock Park June 1 through July 6. Along with promoting Beacon's Greenway efforts, Beacon Re-Imagined heralds the restoration of what was once touted as the "Eighth Wonder of the World": the 2200-foot Mount Beacon Incline Railway. "Climbing up to the summit ties everyone together in an even more profound way—nearly everyone I know in Beacon has at least one photograph looking down on the city," says exhibition organizer Jeff McHugh. "It's a way to connect ourselves to our home and community." Mount Beacon's legacy will be further restored on June 22, with the reopening ceremony of the Mount Beacon Fire Tower. Led by the efforts of noted local advocate David Rocco, the 1931 structure offers unmatched vista views that span from the Manhattan Skyline and past Poughkeepsie's Walkway on the Hudson, which Rocco was also instrumental in making a reality. "The kind of effort that people have put in has been utterly incredible," says Rocco.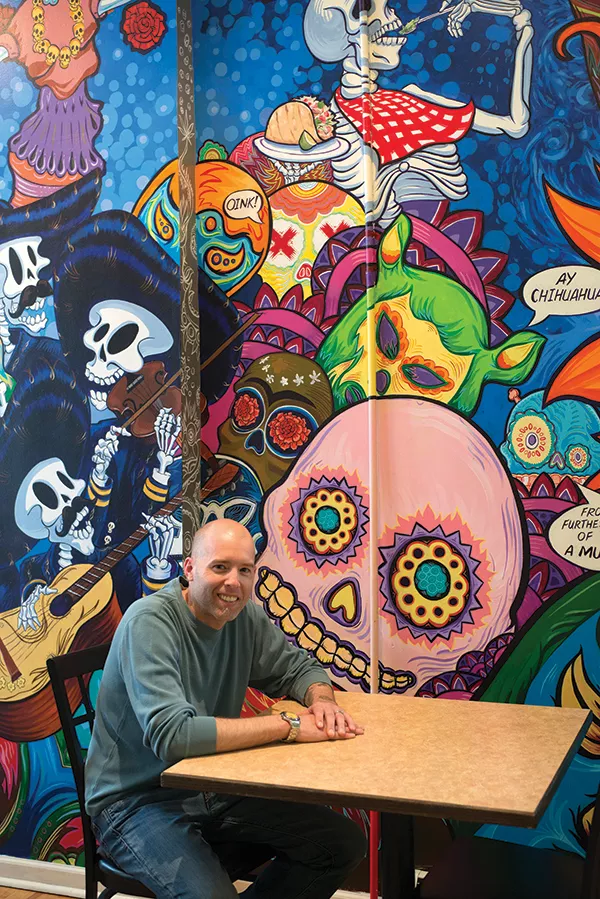 Rob Penner
Chris Karas at Tito Santana Taqueria in Beacon
Cultural Celebration
Beacon's jubilee wouldn't be complete without a grand stage for the art that augured the city's reinvention as a cultural destination. At the very heart of Beacon's resurgence, the 2003 opening of Dia:Beacon transformed a dilapidated Nabisco factory on the Hudson River shorefront into a premier art museum, and put Beacon permanently on the art world map. Dia adds it's own flavor to the mix on May 18, kicking off a year-long 10th anniversary schedule with a Community Free Day. The admission-free opening will showcase a full gamut of artistic delights: visitors are invited to a public reading of On Kawara's One Million Years, a multimedia program for children, and the debut of a new collection room dedicated to the works of Alighiero e Boetti. Not to be outdone, Beacon Artists Union (bau) Gallery fetes a centennial of their own on May 18: their "bau 100+1" show marks the Beacon Artist Union's 100th consecutive monthly exhibition. The expansive new Main Street gallery will display 100 works from 100 artists, and features a solo show from bau founding member Kathy Feighery. According to Gallery Director Carla Goldberg, the thrill is being a part of the comprehensive, sustainable art movement. "It's wonderful to see residents and businesses really embracing art," she says. "It has driven this transformation in Beacon."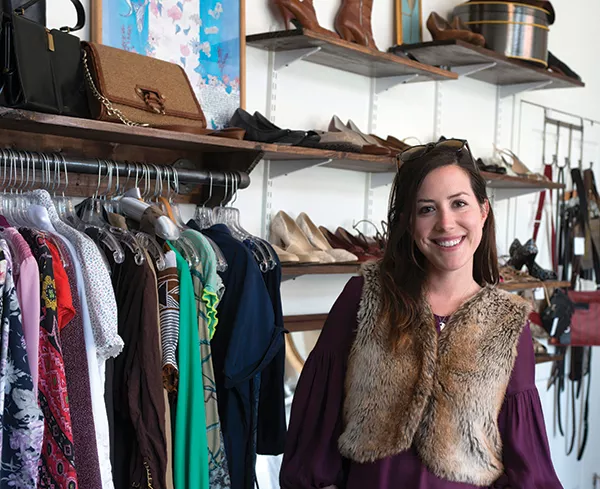 Rob Penner
Angela Hastings at Vintage Beacon
The multifaceted cultural appeal of Beacon is hardly limited to just visual art, and for musician and promoter Stephen Clair, a Brooklyn transplant who hit the Beacon music scene running six years ago, every year is opportunity to celebrate. His Local 845 company offers its fourth Beacon Riverfest in Riverfront Park on June 30, and May 25 marks the third year of Clair's In The Pines concert series, bringing rock and roll to an old Beacon campground with a family-friendly, laid-back feel (yes, with a beer and wine license as well!) Clair has also taken guitar back in hand to open his new Beacon Music Factory school, proffering a one-of-a-kind curriculum that ranges from classical strings to Rock Band Boot Camp. Of course, for a complete change of pace, there is Fishkill's Dutchess Stadium, home of the Hudson Valley Renegades baseball team, as well as a music and event site that has hosted legends like Bob Dylan and Bruce Springsteen. The fun and frolic of the Hudson Valley Fair comes to "The Dutch" May 3 through May 19.
Rob Penner
Jon Miles at Peoples Bicycle in Beacon
Rob Penner
Michelle Caves at Blackbird Attic in Beacon
New-School Vibrance, Old-School Charm
With the spark of Dia leading the way, the eastern end of Beacon's Main Street began to emerge—leaving an economically challenged west end of town desperately in need of its own lifeline. Into that breach stepped the visionary efforts of Roundhouse developer Bob McAlpine, taking a page from Dia's inspiration playbook and transforming 12 acres of downtrodden industrial wasteland into a picture of sophisticated simplicity. Last year, McAlpine opened captivating restaurant triumvirate Swift, The Patio, and 2EM, where breathtaking views of the Fishkill Creek—and craft decor featuring work from local artisans—creates an environment that must be experienced to be appreciated. "I just always saw it that way," explains McAlpine, "and we brought it to life. What it's done after that is kind of remarkable." Indeed, what had once been the hub of Matteawan now bustles with new development. Instant-landmark spots like craft-beer haven The Hop and the community warmth of George Mansfield and Tom Schmitz's Dogwood set the tone of a new Brooklyn-meets-Main-Street happening scene, and boutique shops like Vintage Beacon and Reservoir & Wood make sure that neighborhood locals stay on the fashion pulse. And, with East and West ends of the city blossoming, they are now beginning to meet in the middle—case and point is Dutchess County favorite folk/rock music venue The Towne Crier, reopening this summer in its new central Main Street location.
Fishkill, too, has assimilated some New York City-style appeal in with its old-town charm. In the shadow of the Trinity Church, Fishkill's own Main Street offers a litany of accommodating options. Recently joining the relaxing fray with a decidedly Manhattanite edge, Piano Piano Wine Bar expands upon the town's selection, which already featured local dining favorites like Il Barilotto's eclectic Italian cuisine and the Eleven 11 Grille's inviting upscale-pub atmosphere. After years of intent planning, owners Rich and Anne Corbo finally realized their own version of the classic bar alternative. Fueled by a tastefully relaxing atmosphere and an ever-evolving wine menu, the Corbos have found their love for the community reciprocated, enjoying a loyal following that spans from twenty-somethings to octogenarians. "We're thrilled to be a part of what's happening," says Anne Corbo. "Beacon is doing a fantastic job, and it partners very well with Fishkill—maintaining that quaint, Main Street atmosphere. It's great for both areas."
Resources
A&E Cabinets
Back Room Gallery (845) 838-1838
Beacon Flea
Beacon Institute
Beacon Natural Market
Beacon Rocks 100
Bishop Dunn Memorial School
Botsford Briar
Brother's Trattoria
Dia:Beacon
Dogwood
Eleven 11
Ella Bella's
Ethan Allen
The Hop
La Bella Rosa Florist
Leo's Italian Restaurant & Pizzaria
The Lofts at Beacon
Mountain Tops
Pleasant Ridge II (845) 831-3444
Reservoir & Wood
Riverwinds Gallery
Seoul Kitchen
Tastes like Chicken Skateboard Shop
Terra Tile & Marble
Tomato Cafe
Utensil