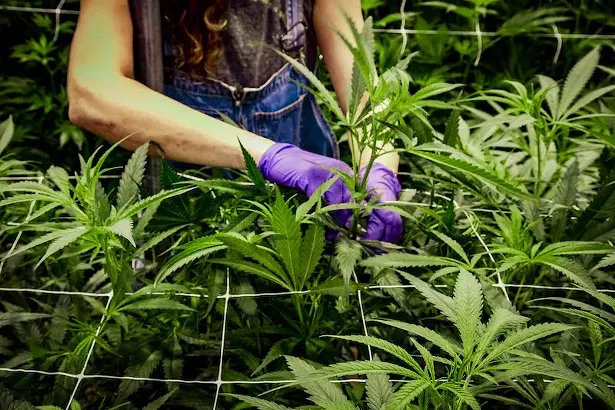 Photo by Good Bites & Glass Pints™
Thanks to the wave of recent recreational cannabis legalization, the last five years have been a veritable renaissance for cannabis growers, manufacturers, and dispensaries in the northeast. And in a region so influenced by the local food movement, it only makes sense that there would be robust support for hyper-local cannabis cultivation, too.
One such leader in this space is the Berkshires-based The Pass, a vertically integrated grower and producer of adult-use recreational cannabis products, which operates with a "farm-to-label" cultivation philosophy.
What Is Farm-to-Label Cannabis?
Farm-to-label at The Pass simply means that the company controls all its products from cultivation to the moment it goes on shelves. It all starts at The Pass' two cultivation sites, where its cannabis is grown, transformed into pre-rolls, edibles, tinctures, and more at its lab, then sold at its airy retail space—all of which are located in Sheffield.
"One of the best aspects of The Pass is that we're able to ensure that the product is cured to its full potential, and we can make the call to immediately get it processed and on the sales floor for customers," says Director of Cultivation Pete Steimer, who joined the company to develop its cultivation program after years in the cannabis industry in Maine.
Photo by Good Bites & Glass Pints™
Pete Steimer, Director of Cultivation at The Pass
Strain Selection
To find the strains (or varieties of cannabis) that will work best for the Berkshires growing climate, Steimer and the cultivation team place a high priority on those that will have the most consistent, predictable yields and growth habits. Like all agricultural enterprises, however, they balance that with what the market wants as well.
"We make sure we cover all effects and grow a few indica, sativa, and hybrid strains for the consumer purchasing the harvested product," Steimer says. That's how strains like Sled Dawg, Orange Cake, DJ Andy Williams, and Papaya Punch all ended up on The Pass' shelves before they were available anywhere else nearby.
Photo by Good Bites & Glass Pints™
Indoor vs Outdoor Cultivation
To allow for plant growth year-round while balancing the environmental load of traditional indoor growing facilities, The Pass uses a blend of indoor and outdoor cultivation.
At its multi-level indoor growing facility, the cultivation team has complete control over the environment and plant growth, which results in the most predictable life cycles for the plants. "From HVAC to dehumidification, CO2 injection, and proper lighting grids, the indoor cultivation area can be adjusted to our exact parameters," Steimer says.
Photo by Good Bites & Glass Pints™
To help offset those energy costs, the team also grows outside in both greenhouse and field settings. According to Steimer, plants in the greenhouse use mostly natural sunlight throughout the growing process, with lights used in the space only when there's serious cloud cover.
Growing outside in the field allows for the most significant reduction in energy consumption, since there is no artificial lighting and no temperature control. "Outdoor cultivation is the most natural way to cultivate cannabis," Steimer says. "Outdoor does have its challenges in terms of pests, diseases, and cold snaps, but being in the fields scouting on a daily basis allows us to have a successful outdoor crop."
Light-Deprivation
To learn more about The Pass and stay up to date on new products and store events, join The Pass' mailing list.