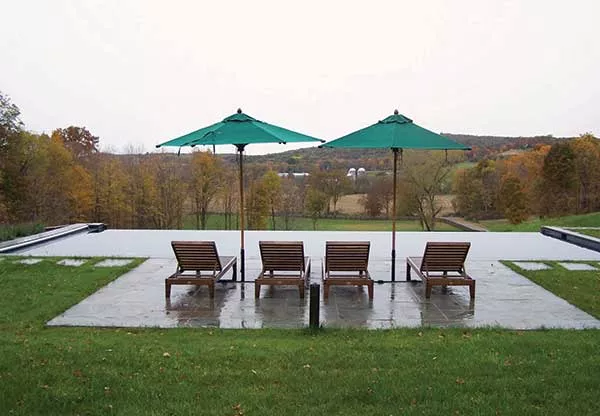 This award-winning project was designed by John Keneer Architects and installed by NeJame Pools. Note the vanishing edge, and the unobtrusive automatic cover on the far left.
So you want to add an in-ground pool to your fiefdom, but you're just a bit wary of getting soaked? Step one, say local experts, is a simple matter of knowing what you want. "You need to have some kind of budget in mind and know why you want a pool in the first place," says Chris NeJame of NeJame Pools in Dutchess County. "Do you want something aesthetically stunning? Do you want to improve your property value? Is the pool for your kids and their friends or are you planning a lot of adult parties? These are the things you want to be clear on before you sit down with an aquatic technician, as I like to think of us."
From there, you're ready for the first real step: Finding a pool purveyor you like and feel comfortable with. "Check local references," says Guy Leonard of AquaJet Pools, which has locations in Highland and Kingston. "Ask whether the company you're talking to does their own installations or hires a contractor to do the work."
When you've found a company whose bona fides look good and have an idea of your budget, it's time for an initial consult. NeJame says some preliminaries can be handled on the phone, but no reputable company will venture too deep without a site visit and a sit down. "You need to establish some basics like access—can you even get heavy equipment into your yard? Will you need to apply for a variance?" Leonard says. "On the site visit, we talk about where you want the pool to go and how big it should be. Our experience lets us spot factors you may not have considered, help you identify possible obstacles, and plan around those without adding unnecessary time and money to the process."
"It's a lot like building a house," says NeJame. "There are a thousand different ways you can go. If you want a Subzero fridge and marble countertops in your kitchen, you're obviously in a whole different ballpark than if you're just after the basics. Pool technology has gotten very user-friendly and amazing. You can adjust your pool chemicals from your iPhone these days, turn on the heater from your computer. You can practically make your pool dance—you can do fountains, special lighting effects. I can educate you as to what is on the market and how it might work on your site. But you want to deal with the major questions before you get into the details, so you don't end up lost in the forest with no path back."
Certain basics that might seem obvious need to be considered in order to avoid disaster and get the best from your major investment. You'll want a sunny spot away from trees and out of the wind, both to maximize passive solar benefits and to avoid excess leaves and bugs ending up in your pristine waters. You'll want to avoid conflict with either aboveground or underground utility lines or house mechanicals.
Lines of sight are another consideration. Maybe you want a clear view of your pool from the kitchen window for supervisory purposes. Don't forget to factor in the space—and money—for patio space and any other landscaping features your heart desires. Consult your local building department to nail down requirements for safety fencing and electrical work and any other legal requirements—you'll want to know before you have a giant hole in progress.
Other choices to be dealt with early on are liner type—concrete, vinyl, and fiberglass all have their strengths and weaknesses—and the right filtration system; some are more eco-friendly than others.
The right pool guy—uh, aquatic technician—can help you sort through all of these concerns and trim your sails to the angle that leads to a trouble-free pool installation and the enjoyment that should follow. "I've had people say they want a 20-by-40 foot pool before a site visit and sold them a 16-by-32-foot because it would work better," says Leonard.
If worse should come to worst and the excavator is already there when some deal-breaker problem emerges, a reputable company won't hang you out to dry. "Most of us have a back-out fee, a 'fill in the hole fee,' so you don't end up totally stuck if some serious problem comes up," says NeJame. "But that's not what you want, and in most cases it doesn't happen. We have a vast arsenal of ways to get from A to B."
Resources
AquaJet Pools
NeJame Pools