Page 2 of 2
The Beverly is a laidback boite that's half dive bar, half fine dining spot. It has the potential to a put a little-known neighborhood on the map. You heard it here first.
Reynolds & Reynolds, which opened in October 2016 across from the Woodstock Playhouse near the intersection of Route 375 and Mill Street, bills itself as a tap room. This conjures images of dark, wooden interiors, underground rathskellers, and male-dominated spaces of old. The reality of this Woodstock establishment is quite the opposite: Large windows bring in a generous amount of light, and clean lines delineate an open eating plan that fosters conversation. (The location does have an interesting history: The space is the former medical office of Dr. Wayne Longmore, who went to prison in 2013 for selling Vicodin to those who perhaps did not need it but were willing to pay cash.)
The proprietor, Megan Reynolds, is well known to Woodstockers. For many years she was the manager of the Woodstock Farmers' Market. She also runs a B&B in town, the Retreat at Tree Gap. Reynolds is a homesteader, gardener, home brewer, and beer enthusiast—only someone deeply into beer would describe it to an interviewer as "charismatic." (She's also the recipient of a Cicerone Certificate, an industry standard for beer professionals akin to becoming a certified wine sommelier).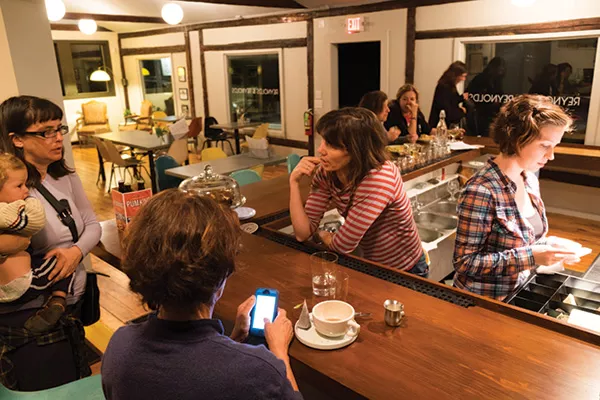 Owner Megan Reynolds chats with customers at the bar of the recently opened tap room and bottle shop Reynolds & Reynolds in Woodstock. Some say the bar's secret weapon is its 14-foot-long shuffleboard table, pictured against the front window.
One of her first motivations in opening Reynolds & Reynolds, a long-held dream of hers, was the paucity of good watering holes in the village. "When I first started thinking about a bar, there weren't many options to drink here," says Reynolds. "I wanted a third place in Woodstock." Woodstock has changed a bit in the past few years, however, and a few eclectic spots have opened up, like Station Bar & Curio. While the original need has diminished, Reynolds's enthusiasm for beer has not, and it's dovetailed with the craft beverage boom. "My interest in beer over the last seven or eight years has been concurrent with the explosion of breweries across the country," says Reynolds.
There are 10 taps at Reynolds & Reynolds, which feature a rotating selection of brews selected by Reynolds, who can be found behind the bar most nights. With her selections, Reynolds likes to vary the styles and alcohol content of her beers, serving beers that appeal to both beer neophytes and aficionados. In mid December, she was pouring, among other things, Harvest Marzen from Keegan Ales ($6 for 16 oz.), the Kingston brewer's first foray into a classic German style; Void of Light Stout ($7 for 16 oz.), a roasted barley stout from The Bronx's Gun Hill Brewing Company; and Winter Mess 2016 ($7 for 12 oz.), a winter ale from Brasserie de la Senne, the first brewery to open in Brussels in 60 years. (Yup, you read that right; they like their tradition in Belgium.) All beers are offered in three sizes—5 oz., 8 oz., and 12 or 16 oz.—so you mix and match in a tasting format.
Reynolds & Reynolds is a bottle shop as well, so you can buy beer for take-out, and the cooler is stocked with large-format specialty brews that can be hard to find and more mainstream selections as well. There's also a small but well-curated wine list that leans heavily on French selections like a Chateau de La Greffiere Chardonnay ($12 glass/$40 bottle).
Unsurprisingly given Reynolds's farm-related background, the food here is seasonal and uses many local products, like sausage from Quattro's Farm in Pleasant Valley, greens from Sky Farm in Millerton, and cheese from Sprout Creek Farm in Poughkeepsie. Given that it's Woodstock, there is also an emphasis on vegetarian and vegan options. These included, in mid December, the roasted vegetable salad ($7) with butternut squash, sweet potato, beets, and salad greens. There's also the miso vegetable soup ($9) with noodles, braised greens, and tofu.
The focus is on small plates, emphasizing the informal atmosphere. "There's not a ton of causal places to eat in Woodstock," says Reynolds. The menu features 10 selections at any given time, from pretzel bites with beer cheese ($5) to more elaborate offerings like chicken pot pie ($8) with Yellow Bell Farm chicken. (The flaky pastry crust and creamy filling of the pot pie are worth the trip.) And there's always the cheese and sausage board ($12). On a recent visit, sausage from Karl Family Farms was paired with Chaseholm Creamery's tart Moonlight chevre.
While the beer list is well thought-out and the small plates are delightful at Reynolds & Reynolds, for my money, the bar's secret weapon is its 14-foot shuffleboard table—the kind that comes with a can of powdered accelerant you sprinkle on the wooden boards. There's also a bookcase filled with games like Connect 4 and Rummikub (don't forget to bring Grandma). Reynolds is also planning a series of beer tasting and beer education events, as well as a Shakespeare read-along with the Collar City Players, a Troy-based group. Seems that beer can be paired with anything these days, even litterachur!
First thought upon entering Underground Coffee & Ales: Are we really in Highland? Despite the fact that this coffee shop/beer bar is on Highland's main drag, Vineyard Avenue, you'd be hard pressed to believe you were in the sleepy hamlet. This is by design. Owners Erin and Jeremy Intonti grew up in Highland and then moved away for what Jeremy describes as "obvious reasons." Everyone knows Highland has a reputation as a culinary and cultural desert (the Would being a notable exception). But the Intonis are looking to change that with their hybrid eatery, which feels paradoxically out of place and right at home in their hometown, a place that has seen a jump in visitors since the opening of the Walkway Over the Hudson and the Hudson Valley Rail Trail.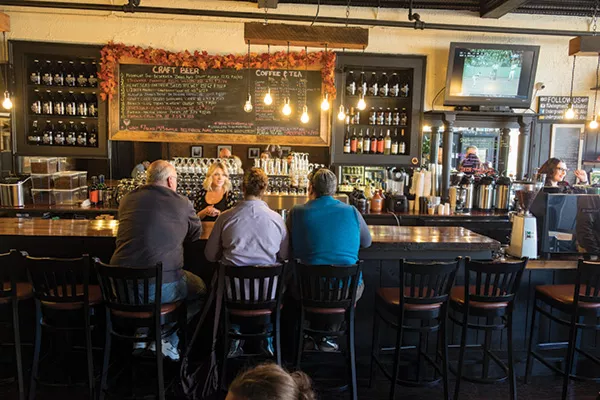 The bar at Underground Coffe & Ales in Highland pours 10 rotating taps as well as serving a wide selection of coffee drinks.
The Intontis don't have service industry backgrounds, but they did have a big idea that took shape in 2013—they launched the Hudson River Craft Beer Festival, which flooded Riverfront Park in Beacon with beer lovers that summer. After selling the festival, the couple looked toward opening a place that brought together their two loves, beer and coffee. Underground opened in October 2015. "We think coffee and beer tend to bring families and friends together," says Jeremy. "We envisioned a place that could be a cornerstone where people could relax. Our atmosphere is best described as a no-rush type of place where individuals or groups of friends can hang out, work, maybe play a card or board game. We won't rush you along."
The twin reasons to linger are the coffee and coffee drinks (beans sourced from Coffee Lab Roasters in Tarrytown, a fair trade outfit). And then there's the beer. The 10 taps are in heavy rotation—according to Jeremy, a keg lasts less than three days usually. Recent offerings included the Vermont-based Von Trapp dunkel lager ($7), Interrobang IPA ($7) from Community Beer Works in Buffalo, and Beanhead Coffee Porter ($7) from Rushing Duck in Chester. The beer is a community builder. "I love craft beer, the people who make craft beer, and meeting people that are into it as much as myself," says Jeremy. "It all kinda validates me a bit. I don't feel like the only beer nerd on the planet."
As Jeremy tells it, when he and his wife Erin first opened Underground, they wanted "to cater to the liquid end of life—coffee, beer, wine, hot chocolate—but our food caught on, and we've been serving two to three times more than we thought we were going to handle when we opened. Out of a kitchen not much bigger than a food truck!" Firstly, order a bowl of the popcorn of the day ($3). On a recent visit it was black pepper. Simple, yes, but it reminds you that despite the fact that the multiplexes suck at making popcorn, it is not a lost art. If you're there for breakfast, the breakfast burrito is a solid option ($9), the house salsa being a smoky, chunky standout. Later in the day, food tends toward upscale pub grub with slight twists, like the fried pickles with Sriracha aioli ($7) or the Underground fries ($8.50), a mound of potatoes topped with bacon and house-made cheese sauce and dusted with paprika, chili, and chipotle. There's a local meat and cheese board ($14) as well as the sandwiches, burgers, and salads you would expect. The grilled cheese ($9), with cheddar and Swiss on pesto'd ciabatta, is the best of the bunch, a hot-and-tangy delight.

The Intontis also host events, another way of bringing the community together. "More than a few times a month, we have something happening," Jeremy says. "We enjoy collaborating with local breweries and having beer release parties. We host trivia nights. Pig roasts. Halloween, St. Patty's Day, Christmas—any excuse to bring the town and craft beer people together. I guess you could say we love the people that craft beer and coffee bring together." Seems like a great recipe for a vibrant neighborhood spot.