photos by Roy Gumpel
Owner Erin Intonti behind the bar at Underground Coffee & Ales in Highland. Underground is minutes away from the Walkway Over the Hudson and the Hudson Valley Rail Trail, which bring streams of cyclists to the spot in warmer weather.
Something quirky this way comes. Or some things quirky, I should say. Three relatively new establishments—the Beverly in Kingston, Reynolds & Reynolds in Woodstock, and Underground Coffee & Ales in Highland—take the cookie-cutter concepts so often associated with eateries and bend them into unexpected shapes. With the exception of industry vets Jenifer Constatine and Trip Thompson, owners of the Beverly, these bar/restaurants are run by gifted amateurs with little restaurant experience. Of course, amateurs work for love first and monetary gain second, this might explains why these places hit the mark. They weren't designed to be cash cows but instead, living, breathing, community spaces. Their shared creative DNA speaks to the rise of establishments designed to encourage lingering and neighborhood gathering. Think of it as an antidote to the rise of soulless fast-casual restaurants like Chipotle or Panera. Think of it as the slow simmering of slow casual.
There are many other places like this around the region—the late, lamented Hop in Beacon was one, Caffe Macchiato in Newburgh is another. Hudson Valley entrepreneurs seem compelled to take an established concept and bend it to their idiosyncratic will rather than hew to formal ideas about what something is expected to be. Maybe that's why we have more bakers than bankers per capita here in the Hudson Valley. Maybe that's why we're eating so well.
The bar at The Beverly is an Art Deco beauty, a Kingston-built Cassidy & Sons masterpiece that was the backbone of the Kozy Tavern for 80 years, a real bartender's bar. Tucked away on a tree-lined street in Midtown Kingston in the emerging Ten Broeck neighborhood, the place was always a neighborhood joint. Chef Thom Hines, who grew up a few blocks away, remembers his grandfather drinking there.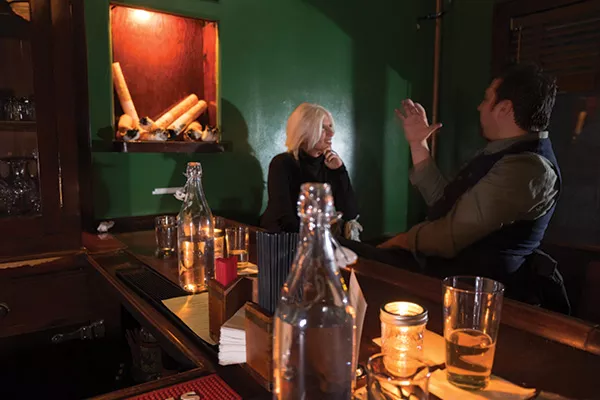 Scenes from the Beverly in Kingston.
The Beverly, which opened in August 2016, encompasses three separate, interconnected spaces. There's the 80-seat banquet room, which once housed a still during Prohibition (as well as seeing later use as a roller rink). The space is available for rent, as well being used to host art events, like a recent evening of avant-garde 16mm films. The dining room, which seats about 30, will open in late January and offer a dining sanctuary. Until then, there's the barroom, with six snug booths across from the 20-seat bar. Much of what owner Trip Thompson (formerly of Rosendale's Market Market) inherited has been left intact, with design decisions made around honoring the past. (The renovation process actually uncovered an original mural behind the bar that had been obscured for many years.)
Scenes from the Beverly in Rosendale.
The food at the Beverly is unpretentious and prepared with a ghost of Southern influence, starting with the fried okra appetizer, served with avocado mousse and chimichurri ($10). Another good place to begin is with the fried Halloumi cheese, served with a pickle platter ($8). The Beverly does pickles very well, and they've not disappointed on several occasions. The rabbit leg with sautéed delicata squash ($18) was a simple, ingredient-first take on the dish. The rocket salad ($10) is a generous mound of arugula tossed with lemon, olive oil, and Pecorino. There are a couple of interesting takes on burgers—one with refried beans, chimichurri, and cheddar and one with caramelized onions, lardons, blue cheese sauce, and balsamic reduction, both $16—and a lentil veggie burger with curried mayo ($12) that's better than most. The vadouvan-crusted lamb sliders with tzatziki served with curried fingerling potato salad ($15) is also worth a taste. (Vadouvan is a French derivative of the Indian spice blend masala that's had shallots and garlic added to it.)
Every corner bar will soon have a cocktail program, but the Beverly delivers, featuring forgotten classics like the rye and absinthe-based Sazerac ($10); twists on better-to-be-forgotten classics like the Cosmopolitan ($10), redeemed by its house-infused citrus vodka; and the classic classics, too numerous to be named here. There's a rotating selection of beer on the three taps (usually $6), and a dozen beers in bottles and cans. (The only off note on the beverage front is the limited wine selection, something that will hopefully be remedied when the dining room opens later this month.)