Caylena Cahill
The vegetarian pizza from Garden House in Rosendale.
Along with the Hudson Valley's growing fame as a food producer, it has become a magnet for restaurateurs eager to put their personal stamp on the farm-to-table movement. Not that long ago, the local diner or bar was often the best (and only) option in town for eating out. Now even small hamlets like Germantown are home to eating houses run by Brooklyn expats (see Gaskins, below). New eateries are popping up all over, putting their creative spin on local ingredients—whether it's Garden House's eggplant carpaccio or Frogmore Tavern's pastrami tacos. There's greater emphasis on setting, too. As the competition has heated up, so has the focus on polished décor and outdoor seating, with enchanting patios increasingly common. From Southern comfort to rustic charm, we break down some of the most interesting newcomers to the Hudson Valley dining scene.
COMMUNE SALOON, SHINDIG, and TINKER TACO LAB
Woodstock's culinary revitalization is in full gear, with new restaurants emerging around town, the Garden Cafe under new ownership, and the Bearsville Complex's renovated courtyard open for business, complete with food service and fire pit. Overlooking the courtyard, the new Commune Saloon serves up tasty, seasonal small plates, such as the grilled Black Horse Farms asparagus with Dijon vinaigrette and cured egg, and exquisite craft cocktails like the pickled ramp martini. Just down Tinker Street is Shindig. The tiny storefront eatery is packing in locals and tourists alike with modest prices and modern takes on comfort food. The mac and cheese offers a rich blend of Gruyère, Fontina, béchamel, truffle oil, and a Parmesan bread-crumb crust—for just $10. Steps from Shindig, Tinker Taco Lab is breaking new ground with its authentic Mexican street tacos and tamales. Owner James Jennings makes his cheese, cream, pickled vegetables, and tamale and taco dough in-house. Try the best-selling pork-belly confit taco with jalapeno jam.
Commune: 297 Tinker Street, Woodstock; (845) 684-0367.
Shindig: 1 Tinker Street, Woodstock; (845) 684-7091.
Tinker Taco Lab: 54h Tinker Street, Woodstock; (845) 679-8226
FROGMORE TAVERN
Frogmore Tavern's new rooftop patio is reason enough to check out this eatery. The sleek pine patio and bar seat 65, neatly doubling the restaurant's capacity. Inside, Frogmore—note the frog figurines above the door—has the dark good looks of an English pub, but save for a nod to the UK with its ultrarich Scotch eggs, the menu smacks of Southern comfort. Here you'll find BBQ shrimp and grits, poutine with fried chicken livers and crispy pork belly, and house-smoked pastrami tacos with pickled jalapeno—as well as many other freshly smoked meats. If these dishes don't fill you up, pile on a side of hush puppies or a bowl of dirty rice.
63 N. Front Street, Kingston. (845) 802-0883
GARDEN HOUSE
Opened last summer by the owners of Rosendale's popular Big Cheese shop, Garden House takes the concept of community gathering place one step further with a huge outdoor garden—the centerpiece of which is a wood-fired oven that produces such delicacies as goat cheese pizza and grilled red snapper. Chef Naheda Hamdan, a Dubai Hilton alumna, is Jordanian, and her Middle Eastern influence permeates delectably seasoned dishes like the kofta kabob with parsley, garlic, onion, and freshly whipped lemon-garlic sauce. Among the numerous satisfying vegetarian plates is a roasted half eggplant with chopped tomato smothered in tahini. In cooler months, the restaurant's cheery farmhouse-style interior makes for an inviting refuge.
4 Hardenburgh Lane, Rosendale. (845) 658-3131
GASKINS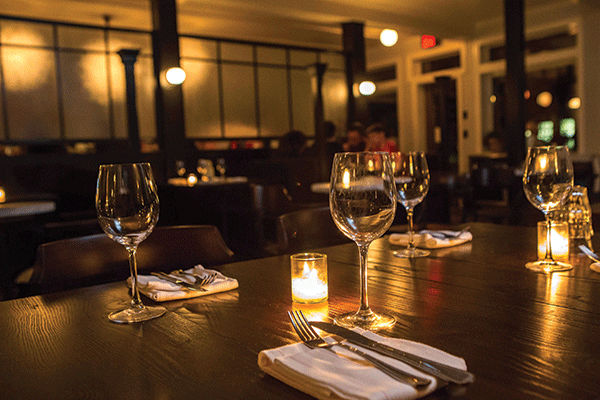 Caylena Cahill
Gaskins in Germantown.
Comfort food has found a new mecca in the Columbia County hamlet of Germantown at Gaskins. Veterans of Brooklyn stand-outs Diner and Marlow & Sons, Nick and Sarah Suarez have brought urban chic to country dining. The restaurant space is airy, sleek, and rustic all at once, with a marble-topped bar offset by rough-hewn wooden tables. Gaskins' connection to local farmers is strong—it sources from 20 farms, including Hearty Roots, Common Hands, and Montgomery Place Orchards—and this shines through in the simple fare. Heirloom tomatoes are tossed with peaches, basil, and chorizo. Fried chicken is served with slaw and honey-butter hot sauce. Mussels and clams are roasted in the wood-fired oven and served with potatoes. Shishito and padron peppers are coated with sea salt and lemon. Gaskins has a well-developed cocktail program and a list featuring small-batch natural wines. There's a small deck on the street for al fresco dining.