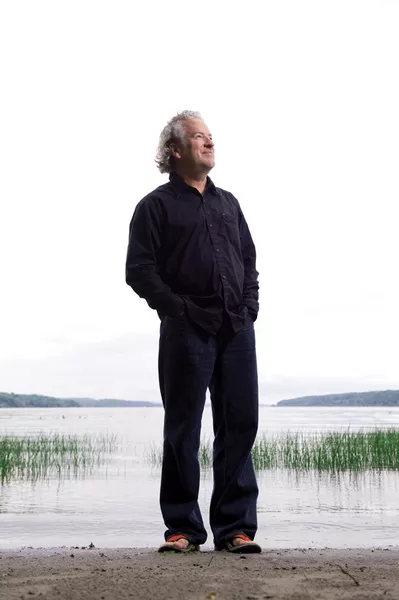 Jennifer May
Jon Bowermaster.
There are some writers you don't interview in a coffee shop. Since National Geographic explorer Jon Bowermaster's 10 books and eight documentaries recount such adventures as dogsledding both poles, making the first-ever rafting descents of wild rivers in Chile and China, and kayaking 800 miles of Vietnamese coastline, it seems only right to propose a small expedition: a photo shoot at the Saugerties lighthouse.
On the morning of our proposed trek, the sky is awash with rain and crackling thunder. Bowermaster answers his phone cheerfully at 7:15am. and reschedules for afternoon. When we meet at the trailhead, he's pulling two extra rainjackets from the back of his Landcruiser, "just in case."
Bowermaster has been to the lighthouse many times, but not overland: He usually kayaks across from the Tivoli Bays. He starts telling travel stories as soon as his feet hit the trail. Last year, he completed his decadelong Oceans 8 project, which he describes as "sea kayaking around the world, one continent at a time, studying the health of the seas and the lives of people who depend on them." The final voyage is the subject of his latest film, Terra Antarctica, which offers sobering evidence of global warming, with shrinking glaciers and rain-soaked penguin chicks dying in unfamiliar mud. After a sneak preview to benefit the Stone Ridge Library, the documentary premiered at the Blue Ocean Film Festival in Savannah, Georgia, where it was nominated for Best in Festival and won Best Ocean Issues. Bowermaster's other Oceans 8 films detail expeditions to the Aleutian Islands, coastal Vietnam, French Polynesia, Gabon, Croatia's Dalmatian Coast, the Andean Altiplano, and Tasmania.
The logistics were fearsome. Each expedition's crew, including videographers and photographers, had to be expert kayakers. International shipments of gear sometimes went wildly awry: Kayaks bound for Hanoi wound up in Ho Chi Minh City ("like dropping them in Miami when you need them in Boston") and the Antarctic-bound kayaks were held up in a container strike in Peru, arriving just hours before their polar vessel went south. The six-man crew traveled heavy as well, bringing 50 bags filled with "at least two of everything. If something breaks, you have to have backup," notes Bowermaster; repair shops do not dot the pack ice.
On some trips, the logistical nightmares were more bureaucratic in nature. The Vietnamese government met Bowermaster's proposal with a terse "That will be quite impossible." The journey, described in his 2008 book Descending the Dragon (National Geographic), was memorably accompanied by a karaoke-loving, ocean-phobic factotum named Linh.
During Oceans 8's 10-year span, its film gear advanced from unwieldy VHS to HD digital. Add computers, portable satellite phones and beacons, Bowermaster says, and "you can be in touch from anywhere." In November 2008, when the tourist ship Explorer hit an iceberg and sank in the Antarctic Ocean, he and his crew were the first responders. Within 90 minutes, Bowermaster had been interviewed by the New York Times and was doing a live feed on "Good Morning America." He's posted Internet dispatches, filed magazine stories, and uploaded photos from around the globe.
But whatever equipment may be available, one ritual remains stubbornly low-tech: Bowermaster writes for an hour every night with a notebook and pen. "Everywhere we go, I'm resolute in sticking with that pen," he says. Since it's impossible to take notes while paddling, he's learned to store up his impressions and let them unfurl in his tent at the end of the day, re-creating sounds, smells, and weather with evocative strokes.
Nothing in Bowermaster's upbringing suggested the life he now lives. He grew up in a suburb outside of Chicago; both parents were teachers. "We weren't a traveling family," he says. "I've never been on a plane with my siblings or parents."  Trained as a journalist, with a graduate degree in government and politics, his first book was a biography of five-term Iowa governor Robert D. Ray. His second changed everything.
Bowermaster's introduction to adventure travel was collaborating with polar explorer Will Steger on his 1989 book Crossing Antarctica (Laurel). As a shakedown cruise, Steger brought the young journalist on a New Year's Eve hike in the thigh-high snow of his northern Minnesota homestead. "I guess he figured if I could keep up—which I did, barely—I'd be all right," says Bowermaster. He joined the international team on training trips in Greenland and Canada, and accompanied them on several stretches of their historic journey by dogsled across the seventh continent.