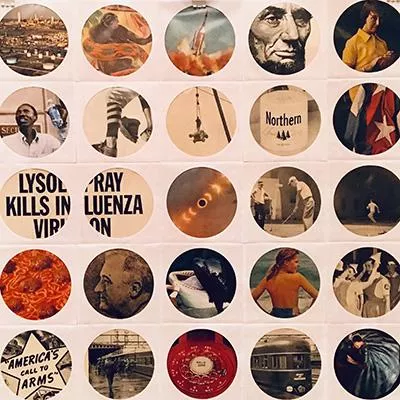 Michael Oatman, Imitation of Life, 2020, collage (detail)
A newly assembled art exhibit titled "Imploding Meaning: Tale-less Tales of About Absolutely Nothing and Everything in Between" will open at
Vassar College
's Palmer Gallery on January 19.
The show, which features painting, collage, and installation, brings together works by 1980s Vassar alums M. Pettee Olsen, Michael Oatman, Roseanne Walsh, and Monica Church. The four artists met at the Rhode Island School of Design several years ago, and while each artist's approach is different, a through line in all of their work is an embodied openness to interpretation, evoking experience, and invoking a call to simply behold the work and the world.
"'Imploding Meaning' is based on the premise that art does not so much as serve storytelling as upend it." reads the gallery statement. "The participating artists actively cultivate positive ambiguity and would like the viewer to 'consider the wordless story; with no beginning, middle or end…' (a Zen Koan for our times)… The artists featured in 'Imploding Meaning' offer a way of approaching their work which takes you, the viewer, beyond the certainty of stories to other ways of seeing and knowing."
"Imploding Meaning: Tale-less Tales of About Absolutely Nothing and Everything in Between" will be on view at the Palmer Gallery of Vassar College in Poughkeepsie from January 19 through March 1. For gallery viewing hours and more information, visit the Vassar College website.