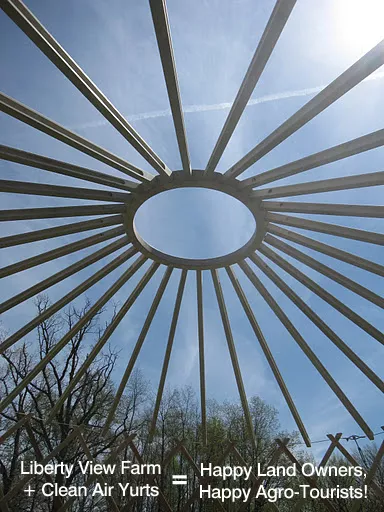 Come to Libertyview Farm in Highland this weekend to see the ultimate in farm-stay style and comfort: a cozy yurt nestled in the apple trees.  The Open House will be October 29th and 30th from 1-5pm, it's free and refreshments will be provided.
Farm-stay programs, like the one at Libertyview farm, have potential to help local Hudson Valley farms stay afloat by providing an alternative revenue stream.  Since June, Farmer Billiam van Roesteberg has been renting out a small yurt, from local company Clean Air Yurts, nestled in the apple orchard of Libertyview Farm.
Using the website Airbnb, he has offered his farm to tourists, mostly from the New York City area, to stay.  Now he is adding a yurt made by New Paltz company, Clean Air Yurts, to his accommodations.  "This has been wonderful for farms like mine," says van Roestenberg, "people like to stay in yurts because it's a unique and beautiful option instead of hotels.  They are looking to do things down to earth, they understand sustainability.  Yurts are perfect for farmers who don't want strangers in their homes."  This new highly insulated yurt with solid walls, allows van Rostenberg to use the space to host tourists even during the winter months.
In the wake of Hurricane Irene, van Rostenberg and owner of Clean Air Yurts, Matt Rogers, experienced first-hand the struggle small farmers go through in order to grow sustainable, natural, and organic foods for themselves and their communities.  These problems escalated as Irene hit, many farmers watched helplessly as their crops--almost ready to harvest--floated away with the flood waters and others, looked on as their soon to be ripe vegetables rotted from the moisture.  So, Rogers and long-time friend van Roestenberg hatched a plan to help.  Yurts have the potential to help local farms in the area stay afloat by providing an alternative revenue stream.
"This open house is only the beginning," says Rogers, "drawing tourists to the area will help to boost the local economy and especially small farmers."  Rogers already has plans to expand, he is currently working from a workshop built on the second floor of his farm's barn but he plans to expand to a warehouse and manufacturing space in New Paltz.
Along with farm-stays, van Rostenberg's farm is available as a venue for Weddings and events.
Visit Libertyview Farm's Airbnb listing at
www.airbnb.com/rooms/186548
Visit Libertyview Farm's website at
Libertyviewfarm.biz
Visit Clean Air Yurts at
www.cleanairyurts.com