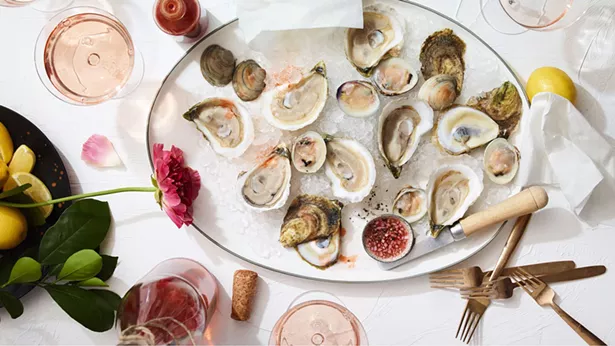 Oyster Party will be at Hutton Brickyards this weekend, July 21-22, for the debut Hutton Fair.
Earlier this summer, we gave you an update on the Hutton Brickyards. The riverside glamping tents have quietly gone up, the collaboration with Bardavon for the 2019 concert season is underway, and finally, finally!
Hutton Fare
is here.
This weekend, July 21-22, and three other weekends this summer, dozens of local culinary masters and craftspeople will descend on the Kingston waterfront for a festival of food and fun. Some of the vendors include
Flora Beauty
,
Tin Can Juicery
,
Oyster Party
, and Rosie's Empanadas. (Full vendor list below)
"We are thrilled to be launching Hutton Fare, developed in the spirt of bringing people together around the best food and drink the Hudson Valley has to offer," says Karl Slovin, President, MWest Holdings, owner of Hutton Brickyards.
In preparation for this summer season, Hutton Brickyards has undergone some improvements—like the addition of 26 bathroom stalls, improved parking, and a new permanent outdoor bar with beer, cider and wine selections sourced locally from the Hudson Valley. The bar also features cocktails carefully crafted by mixologist Jeremy Oertel, previously of Death & Co., and Natasha David, owner of Nitecap.
Game Time
In addition to finger lickin' local food and bevvies from around the Hudson Valley, Hutton Fare will feature live music on Saturday afternoon from local favorite Simi Stone (who is currently touring with none other than David Byrne.) And that's not all—there will be a proper outdoor arcade in the "Game On" pavilion, featuring the public debut of
Upstate Jamboree
.
Taking aesthetic inspiration from medieval France, Moorish architecture, and traveling carnivals,
Upstate Jamboree's
wooden boardgames are exquisite works of art. Handcrafted by co-founder Tyler Alan Mason using locally harvested timber, each game is a blend of old traditions and modern twists, with a clear, helpful placard to help get you on your way to gaming glory. Some of the games include Japanese Billiards, Arches, Dice, Cornhole, Ricochet, Gruyere, and others you've never heard of.
Looking Forward: Field + Supply

It's never to early to start planning your fall. Pencil in October 5-7 at the Brickyards for this year's
Field + Supply
, the premier traveling craft fair, drawing high-end artisans, furniture makers, and wonder-workers from near and far for an exquisite showcase of talent. This year the event goes global for the first time with two international vendors: Denmark-based furniture company
Overgaard + Dyrman
and the UK-based decor brand
Another Country
. Renowned West Coast vintage dealer
DECASO
will also be curating a booth of antiques. Whether you are shopping or merely appreciating, this fair will be a delight for the senses.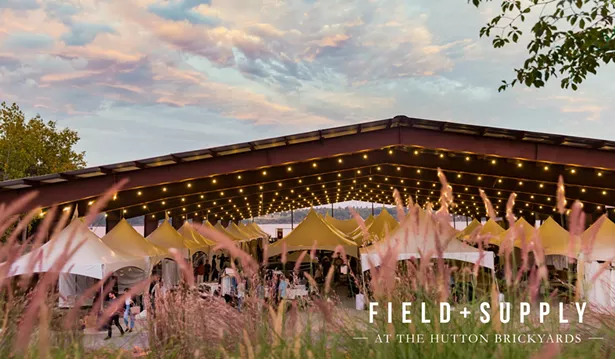 Hutton Fair Vendors: July 21-22
Food
The Grille Wagon

Ono Grinds Poke

Grounded

Oyster Party

Rosie's Empenadas

Nancy's of Woodstock

Jane's Ice Cream

The Bordland House

Crepe Escape

Buns Burgers

Marylin's Food Co.

Muffle Bar

Farmstock

Eemas Cuisine

Oliver Kita

Bee Hollow Farm

Toma

Catskill Provisions

Drink
Tin Can Juicery

Maya's Jam's
Crafts & Goods
Dana Antonia

Cheyenne Mallo

Tellefsen Atelier

En Diva Artisan

Nomadic Knotwork

Curious Vintage Shop

Bold Version

Paws of Distinction

Aware Boutique

Flora Beauty

Reva Vespera