The arrival of sea-level riverfront dining in Kingston would be headline-worthy even if the executive chef Dan Silverman's pedigree didn't include Balthazar and Minetta Tavern. The combination makes a dinner destination worth repeat visits.
The Long and Winding Road
Construction in Manhattan always moves slowly, but throw in a pandemic and things get glacial. Silverman, who trained under renowned French chef David Bouley, was working on a hotel project on the Lower East Side when COVID struck. Luckily, he and his wife had just purchased a house upstate, and he had a place to retreat when the pandemic turned New York's chaotic, sleepless streets into a ghostly grid.
When the property came online in 2016, it was used as a wedding and event venue, with the capacity to host massive al fresco concerts. (In 2017, Bob Dylan played two sold-out shows to a packed pavilion and an armada of freeloading sailboats and kayakers.) As far as events go, Smorgasburg came and went, followed by the proprietary Hutton Fare; Field + Supply has proved its staying power with a twice-annual curated craft fair. There was glamping for a while, with wall tents whose canvas doors opened to the river and the sunrise.
Homing in on Hospitality
It's taken the revamped property a few years to find its feet, but that seems to be changing now. Hutton has continued evolving and expanding, COVID notwithstanding. Last year, they contracted the Salt Hotels group to run the hospitality component of the operation, which now includes a 31-cabin luxury hotel, spa, and open-air restaurant in addition to the multiple events spaces. In February, the group closed on three parcels up the hill including the 30-room Cordts Mansion and 12 surrounding acres.
Silverman was brought in as the executive chef to manage the food program at the aptly named River Pavilion, an open-sided structure offering panoramic views of the Hudson, and eventually at the year-round restaurant that will be housed in Cordts Mansion. Despite his formal French training, Silverman is not restricting himself to bistro classics. "I think my French background is great because it gives me technique—that is always valuable. But I totally am not making French food," he clarifies. "I am just trying to take all of the contacts I've made over the years with farmers, a lot of whom are up here, and make good food."
Some of those producers include Tivoli favorites Migliorelli Farm, Love Apple Farm and the women-owned Ironwood Farm in Ghent, Kinderhook Farm, Sullivan County-based poultry producer Snowdance Farm, Morning Star in Hudson, and Chaseholm Farm for grass-fed dairy products, Churchtown Dairy for cheese.
Perhaps inspired by the open-sided, three-season pavilion, Silverman has designed the menu to be primarily focused on dishes cooked over wood."I'm just trying to get really nice local product and take everything that I've learned and make some simple food," he says. "The emphasis is on the quality of the ingredients, on getting out of the way of that quality. When they create dishes, a lot of younger cooks just want to add, add, add. The question a lot of times in the kitchen is: What else do you think it needs? But the real question is: What can we take away? What can we pare down to make whatever the thing is taste more like the thing—let it reveal its best nature. I hope that we're doing that."
©Jane Beiles
Moules frites
Short 'n Sweet
Both the food menu and wine list are deliberately restricted but well curated. Silverman is aiming for concision—seven and seven is his sweet spot, referring to apps and mains. "I like the idea of a small menu," he says. "It makes it easier to run specials and easier to change. It's a little deceptive, though, because we have that little vegetable section, which I don't consider to be sides; I consider them to be apps."
©Jane Beiles
Fire-roasted asparagus is one of the vegetable sides.
Start with the light and summery fluke crudo ($17), before chowing on a delightful moules frite (mussels and fries, $24). For a tasty turf option, the grass-fed burger ($18) gets high marks. "It's a little bit like a backyard burger, but we make our own lil' special sauce," Silverman says. "It's served on a potato bun and comes with lettuce, onion, and tomato, but you can also accessorize how you like with cheese or a nice bacon from Kinderhook."
©Jane Beiles
Fluke crudo
Silverman's personal favorite? The wood-roasted chicken, served with salsa verde and red cress ($27). He also recently rolled out a Long Island duck breast, which is rubbed with a mix of spices including fennel, allspice, star anise, and black peppercorn. The duck breast is grilled over wood then finished in the wood-burning oven with local cherries and served with a lightly dressed salad of local mustard greens. "The menu is changing as things come into season," Silverman says in mid-June. "I just got peas—I have no idea what I am going to do with them yet. Things are just starting to pop. It's very exciting to think about what is going to be next on the menu."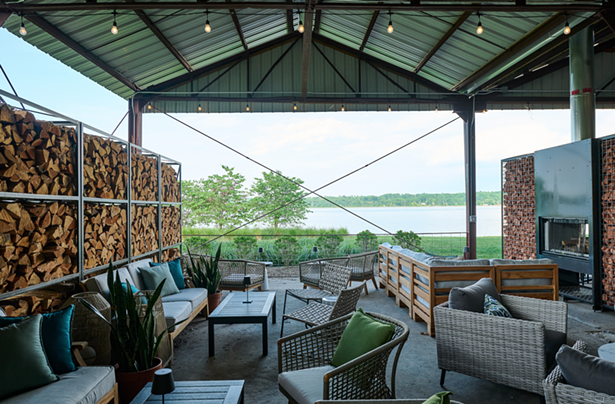 Whether you're sipping on a classic cocktail or ordering a romantic feast for two, the river at sunset—or really any time of day—can't be beat. Lounge in an Adirondack chair by the water and watch the sailboats and barges go by, or take your cocktail for a cruise and explore the paved pathways. Despite the upscale nature of the lodgings, the Pavilion itself has a laid-back West Coast vibe, with a lounge area featuring outdoor sectionals and a gas fireplace. It's also open to the public (though reservations are recommended).

The bar has a limited selection of spirits at the moment, but they can do your standard stable of classic cocktails (the tequila gimlet was especially refreshing). The wine list features around 30 bottles (10 of which can be ordered by the glass), with a transcontinental mix of natural and conventional offerings. The Txakolina is vibrant, lightly effervescent white that makes a great option for a hot, sticky summer night.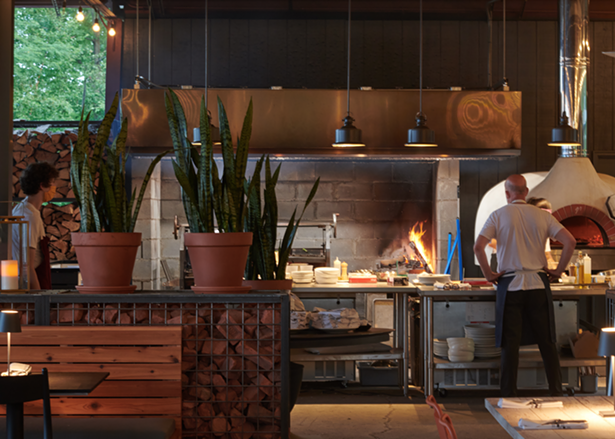 ©Jane Beiles
Silverman at work in the kitchen.
For a more low-key vibe that's a bit easier on the wallet, head to the River Pavilion on Tuesdays for Hutton Hang, when La Ruta Del Sol food truck relieves the kitchen staff with cheap and cheerful Ecuadorian and Puerto Rican food (three dishes for $13), plus live entertainment. Some weeks it's a drag show, some weeks a DJ, always a good time.
And come late fall, when the cooler days and earlier nights make pavilion dining less viable, there'll be dinner service in the forthcoming restaurant at Cordts Mansion. "I think that what we do in the Pavilion is simple and straightforward," Silverman says. "I'd love to do something a bit more elaborate up the hill—just make things just a little bit more elevated. I'm excited."
River Pavilion at Hutton Brickyards
200 North Street, Kingston, NY 12401
(845) 213-4742