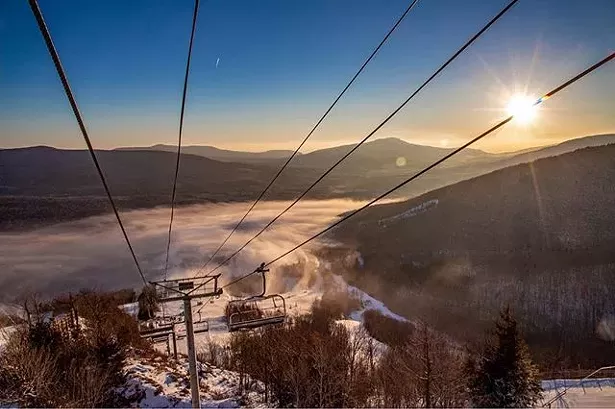 So you're thinking about heading up to
Hunter Mountain
for a weekend on the slopes. With $9 million of investment over the past year, five new trails, four new glades, and one new six-person lift, it's the perfect time to head up there.
Your friends are down, your ski gear game is on point, and your roommate said she'll watch the dog. But let's get down to brass tacks—where are you going to stay? And, importantly, where will you eat?
Staying onsite in one of Hunter's rooms certainly gets you on the ski lift faster in the mornings, but it's not for everyone. And yes, the ski lodge has a convivial atmosphere, perfect for a celebratory beer after you nail the black diamond, but you're probably already going to eat at the buffet for lunch, so that leaves dinner to take think about.
Hark ski bums! To help you get the most out of your Upstate winter adventures, here are our top picks for lodging and dining, plus some other fun activities, in and around Hunter Mountain.
1. Scribner's Catskill Lodge, Hunter
Scribner's Lodge
is an "urban explorer's" fantasy. This 38-root hotel was extensively renovated a few years back and reopened with a bang in 2016. The lodge is the perfect basecamp for weekend adventuring, boasting all the amenities (and then some!) to satisfy sophisticated wanderers. Walking in, you'll be greeted with the heady smell of cinnamon and pine and a fire in the lobby. Stay here for a cozy, modern environment or just pop in for a meal at the onsite restaurant
Prospect
, which has floor-to-ceiling windows facing the mountain. Prospect bills its fare as "a playful twist on local cuisine," which had our editorial director raving.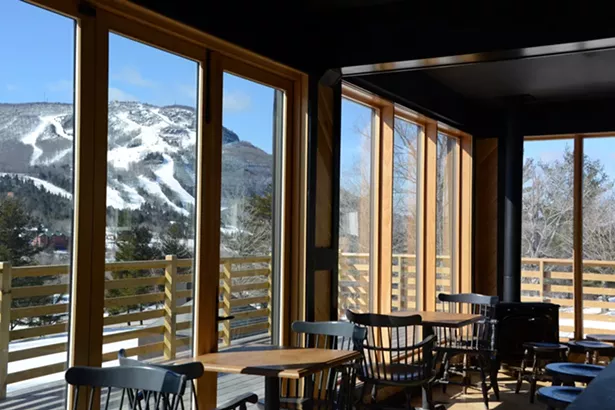 2. Jagerberg Alpine Tavern, Hunter
Since opening right across from Hunter Mountain last winter, Jagerberg has rapidly become the go-to place for people fresh off the slopes to kick off their ski boots, order a brew, and sink back in tired contentment. Head chef and CIA graduate Christie Flanagan has helped to focus the menu's German concept. Spent the day burning calories? Choose from hearty, soul-warming classics like the jagerschnitzel, which is a rich and crispy chicken schnitzel with roasted, sauteed mushrooms—served with mashed potatoes and swiss chard, or the Kaesespaetzle, a traditional egg noodle dish served with caramelized shallots, emmentaler cheese and rye breadcrumbs. Either way you'll leave full and happy.
3. Deer Mountain Inn, Tannersville

We don't exactly have Michelin-starred chefs coming out of our ears up here in the Catskills, but there are a few pedigreed chefs tucked away here and there (ahem,
Bryan Calvert,
Zak Pelaccio).
Deer Mountain Inn
, the erstwhile summer estate of the Colgate family, is now a stunning six-room guest house on 160+ wooded acres laced with trails. In the kitchen, head chef Ryan Tate, who earned a coveted Michelin star for Le Restaurant, whips up delicious treats for guests and destination diners. The concept is organic, and, as Tate puts it, "evocative of nature." The DMI's everyday tavern menu features accessible classics. The seven-course tasting menu ($72) changes seasonally. Request the accompanying wine pairing ($45) and risk losing count.
4. Catskill Mountain Foundation Performances, Hunter & Tannersville

The
Catskill Mountain Foundation
was founded in 1998 to increase access to world-class art performances in Greene County. Their Tannersville location, Orpheum Film & Performing Arts Center is a 12,500-square-foot, 245-seat theater, where they stage dance performances, concerts, film screenings, and plays. This weekend head over for the screening of
The Old Man & The Gun,
featuring Robert Redford. In the town of Hunter itself, the Doctorow Center for the Arts houses a museum; a three-screen cinema, which shows mainstream, family, indie, and foreign films; and a concert hall, which presents dance, theater and music performances.
5. Out of the Closet Vintage, Tannersville
Lucille Martin has always had a knack for finding statement pieces. "I just loved vintage clothes and the process of finding them. Everyone was always asking me where I got my clothes," Martin says, who came of age before vintage was a widespread trend. What began as a hobby morphed into a 40-year career in vintage fashion, throughout which Martin collected, sold, and styled. At her massive storefront
Out of the Closet
, Martin has amassed a treasure trove of vintage apparel and jewelry dating as far back as the Victorian and Edwardian fashions (her personal favorite), all the way through the '70s Levis. "I have things from pretty much every year," Martin says. You'll have to go and see for yourself.
6. Thomas Cole House, Catskill

"Thomas Cole invented the American sublime," remarks Tim Barringer, an art history professor at Yale. Cole launched the Hudson River School of Art and triggered a generation of New World painters to embrace and elevate their environs. The
Thomas Cole House
in Catskill is a national historic landmark site and well-worth a visit if you have time (ski trip or otherwise). Do a guided tour of the epic house and grounds, join a Sunday Salon, or view one of the regularly rotating art exhibits.
Thomas Cole Historic Site