For nearly 50 years, thousands of people have flocked to the Dutchess County Fairgrounds each October for the annual Sheep and Wool Festival. The event is one of the largest fiber arts expos in the country, a testament to the Hudson's Valley deep roots in fiber farming and artisanal garment production.
The agricultural heritage of the region, along with its proximity to New York City's unparalleled fashion industry, and the rise of the maker movement, give the Hudson Valley the perfect confluence of factors to become a thriving style mecca in its own right. Indeed, the growing programs at local institutions dedicated to everything from garment design to sewing and marketing have quietly become a sartorial pipeline, equipping the next generation of fashion professionals with the skills they need to step onto the big stage.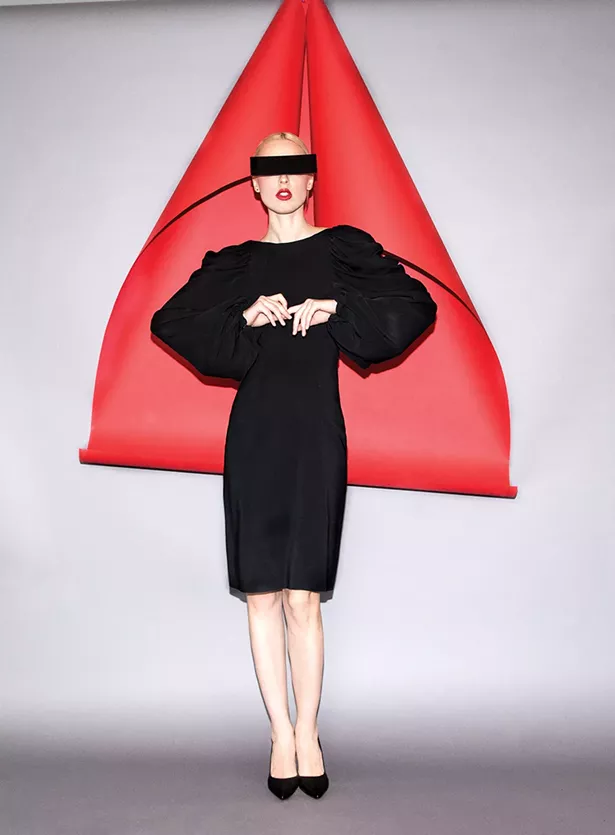 Photo: Rachel Brennecke
Ira Pavlova models clothing designed byMarist fashion student Sarah Rexford '20.
From Ulster County BOCES, where high schoolers can earn up to three college credits in the fashion design and merchandising program, to SUNY Ulster, which draws scores of area residents for the five-year-old program's annual runway show, to the state-of-the-art facility at Marist's world-renowned fashion program, local opportunities for aspiring designers, makers, and entrepreneurs have never been better. And farmers, dyers, millers, designers, makers, distributors, and retailers have joined forces under the Hudson Valley Textile Project, standing firmly behind the students and teachers—all at a moment when the global fashion industry is increasingly embracing sustainability and ethics.

Since 2009, enrollment in the four-year Marist fashion program has risen from 200 to 500. In June 2018, the college announced the $18.1 million purchase of the entire 14th floor of 420 Fifth Avenue, with part of the space dedicated to enhancing that program's New York-facing doings and involvement in Fashion Week. This past January, the program moved into its new on-campus home in Poughkeepsie: the renovated Steel Plant, with state-of-the-art fashion studios, a makerspace, an exhibition gallery, and retail laboratory for merchandising students. In May, a Marist fashion design major won the prestigious Council of Fashion Designers of America Liz Claiborne Design Scholarship, while the student-produced fashion magazine FM/AM took home the coveted Gold Crown Award from the Columbia Scholastic Press Association (CSPA) of Columbia University for the second year in a row.
Photo: Jerry Pena
Clothing designed by 2019 Marist graduates Alexis Alexander and Leander Trotter and featured in Marist's 2019-2020 FM/AM magazine.
The list of accolades goes on. The program also received badges of excellence for Learning Experience and Long-Term Value in fashion design and for Overall Program, Learning Experience, and Long-Term Value for fashion business and management from the prestigious industry publication Business of Fashion in its global ranking of fashion schools for 2019.
"We're in a state of continual improvement," says Lyn Lepre, Dean of Marist's School of Communication and the Arts, of which the fashion program is a flagship element. "Fashion is tremendously fast-moving; the second you blink, something changes. Our faculty are on-point, making sure we stay abreast of the cutting edge. The new building affords us a lot of room to move and grow. In the makerlab space, students can make things with fabric printers; there's a vinyl cutter, 3D printers, pattern-making software. I'm very excited to see us start utilizing the technology to move the program forward."
Along with fully leveraging their proximity to Manhattan's fashion stratosphere, nearly 90 percent of Marist's fashion majors spend at least one term overseas. In Paris, they intern at Mod Spe; at Hong Kong Polytechnic, they're exposed to a rarified intersection of technology, design, and textile production; a group in Italy recently worked with designer Francesca Libertori to help her through this year's Milan Fashion Week.
Sustainable Opportunities
In recent years, there's been a growing awareness that "fast fashion"—mass sweatshop production of low-quality, inexpensive garments based on the latest runway trends—carries enormous human and environmental costs. The alternative—slow or "conscious" fashion—involves sustainable sourcing, ethical labor practices, and the production of garments that are built to last. Fashion students at Marist are encouraged to consider the industry's role in helping make not just a prettier but a better world.
"We offer a stand-alone course on sustainability and fashion, but beyond that, it's talked about in everything we do here, from where clothing is manufactured to the dyes and fabrics used and the merchandising aspect," says Lepre. "Our students did an entire zero-waste collection utilizing every single bit of fabric on the bolt. Three of our students were featured on 'Good Morning America' for an upcycling project with natural dyes. They had a Ziplock bag holding all the waste from the entire project."
Across the river at SUNY Ulster, the fashion program, now run by Kristin Flynn, is five years old. "We've got a chain of students at FIT now, and each one takes the next one under their wing and helps them, it's so beautiful," says Flynn. "There is a pathway from Ulster BOCES to SUNY Ulster to FIT. Then we have grads who've gone straight into business. Calista Allen has her own line of children's wear. Sarah Stitham started Workday Wear in Olivebridge; she just had her first fashion show in Woodstock last spring. Theresa Naske works with Karina Dresses—we always have an intern there, too. This gives people a skill and a way to create a product they can sell, and there are so many outlets for startups: online, Etsy, maker fairs. It's a nice renaissance."
Photo: John Halpern
Spring 2018 student fashion show at SUNY Ulster.
Stitching Together a Vision
Wurtsboro native Rachel Whitbeck decided to study fashion when she was in fourth grade and never wavered. Graduating high school, she was accepted at several schools and ultimately chose SUNY Ulster. "We all work really hard," she says. "We come early, stay late, meet up on Fridays to do draping or CAD together, and it feels like the best thing ever, because we're finally doing what we want to do. I'm three weeks into my second year, and I already feel like if I was dropped into the industry tomorrow, I could swim. I found a dream job online and looked at the requirements, and I had all the skills they were asking for. I'm considering FIT or Drexel for next year. I'm confident I could get into both; it's a matter of choosing between New York and Philadelphia."
Flynn credits her team of instructors for the program's success. "We have accomplished, talented adjuncts who come from the industry side of things, so they're teaching exactly what the students need to know to graduate with a portfolio, a resume, and a business card, all set for more school or job-hunting," she says. The college also offers classes in entrepreneurism for those planning to start their own businesses. They offer a week-long camp for kids ages 8-14, where they learn sewing and design drawing from current students and graduates. The camp culminates in a fashion show. "We had 35 kids this year," says Flynn. "Some kids come back all three years."
When they get to high school, those youngsters can sign up for the BOCES Fashion Design and Merchandising program taught by Marist grad Nicole Foti. "We touch on marketing concepts, design, and technical skills like fashion illustration, portfolio development, and construction, and students sew their own clothing," Foti says. "They work on industry-specific CAD programs and put together a lookbook at the end of the year." Working across departments, students put together photo shoots pulling students from the cosmetology department to prep the models and carpentry students to build the backdrop.
"It's a complete production, and in a lot of ways, it mimics real-world work life, where you need that collaboration and those soft skills," Foti says. "We go to Manhattan at least once every year, see design offices and cutting rooms, talk to buyers and tech designers, see the whole breadth of what the industry has to offer in terms of job opportunities." This year SUNY Ulster had to add a second class to accommodate the lengthy waiting list. "We see a major trend in designers and the industry coming upstate for the same reasons everyone does—affordable space, quality of life," Foti says. "And local factories are coming back, a lot in Brooklyn and increasingly in Newburgh and Kingston, and our workplace coordinator has been building connections." A state agricultural literacy grant will enable Foti to ramp up her menu of guest speakers and field trips to industry sites. "Our grant theme is the future of fashion," she says. "Fabric comes from farms, after all, and I truly believe that the future lies in being more sustainable, conscious, transparent, and local."
Beyond Couture
Foti's predecessor at BOCES, Angela Kunz, graduated from Pratt and had her own clothing line selling in 70 boutiques before realizing she felt alienated by the priorities of the industry. "Consumerism and sexism—ick," she says. "I dropped out of that world completely for a while. I was living in High Falls with my fiancé, rock climbing, waitressing, and working at Rock and Snow."
She made her own wedding dress and stunned the local tastemakers of the Green Cottage, who were friends with Marist's fashion program director at the time. "The next thing I knew I was teaching," Kunz says. "It amazed me. I get to inspire, be creative, and teach what I love without even having to deal with 'the Industry.' "
She's now an adjunct working with Flynn at SUNY Ulster and has watched local students benefit from the proliferation of programming. "My fifth year at BOCES, I had a student who came from intense backwoods Catskills poverty—the dirty and not-enough-food kind. She had dyslexia so she'd struggled academically, but she absolutely loved making clothes. She had to take two buses to get to BOCES, but she got there. We were just getting SUNY Ulster off the ground. I told her to hang in there. She went to Ulster her first year out of high school and studied fine art, then stayed for two years for the fashion program. She's kicking butt at FIT now, off the charts, just blossoming."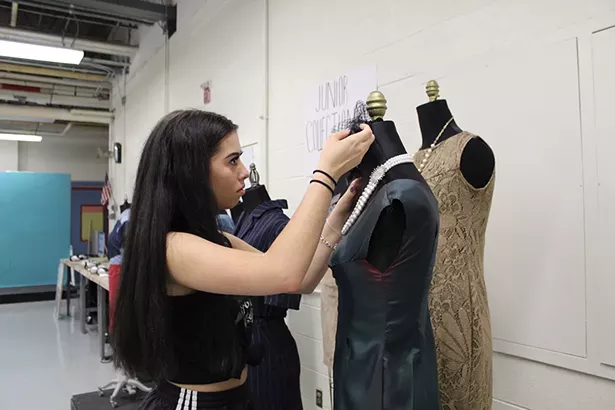 Deena McGarvey from New Paltz High School puts the finishing touches on her dress at the Ulster BOCES 2019 Fashion Design class's end-of-year gallery exhibit.
At White Barn Sheep and Wool in New Paltz, Paula Kucera supplies runway-worthy yarn to Marist students for their Silver Needle Fashion Show projects and serves on the advisory board for Nicole Foti's BOCES program. She's met most of the region's fashion educators over the years. "They're very active in producing graduates who aren't just crazy couture people but can slot themselves into great, solid jobs," she says. "Those BOCES kids have some incredibly impressive lookbooks. The colleges here are churning out kids who are prepared to go into the wider world with great skills and critical thinking, to meet a fashion world that is actually way on top of this already. They're aware of exploitation and climate change, and they want to create viable companies and systems that will do much, much better."
To get a closer look at the local fiber and fashion scene, join the crew at the New York Sheep and Wool Festival, happening at the Dutchess County Fairgrounds in Rhinebeck on October 19 and 20.