David Mamet's plays are known for splashing profanity around like water on a hot day. The characters are abusive and cut-throat. Mamet's plays are explorations into stereotypical masculinity—volatile, determined, and hostile. The 1992 movie version of Mamet's play "Glengarry Glen Ross" was promoted with the tag line "Lie. Cheat. Steal. All in a day's work." And isn't that just what men do? According to the mastermind behind the Starling Production Company's version, Eva Tenuto, the answer is no. "There were places when the lines we read appeared more stereotypically female," she says. Starling decided to tackle this mammoth script for their first official production. And employ an all-woman cast.
It started five years ago when Tenuto was started working in real estate. "I was drawn to "Glengarry Glen Ross." Monologues like that are not written for women. It was gritty." With an extensive background in theater (Tenuto has directed the "Vagina Monologues" twice and recently directed and acted in "Too Much Information"), she plays the part of crass übersalesman Ricky Roma. The story, an adrenalized "Death of a Salesmen," was even jokingly called "Death of a Fucking Salesman" by the 1992 cast, which included Al Pacino (as Roma), Alec Baldwin, and Jack Lemmon. In the play, Roma works alongside three other salesmen at a New York real estate office. They are told there will be a contest. The top performer will be given a Cadillac and the worst-performing salesman will be fired. "We studied the play extensively," says director Shelley Wyant. "We studied the characters' essence and motives. Sure, we could look at moments and say there's a male way to act and a female way to act. Yes, there's vile language. But sometimes people talk that way—women talk that way."
Wyant's production relies heavily on Mamet's dense use of language and abrasive jumps from one character to the next. The fact that these are women playing roles written for men is a neat trick, but ultimately superfluous. "The characters are so sleazy and Roma in particular is not very endearing—the biggest challenge was finding something redeemable in there," says Tenuto. The acting revolves around the script, a script meticulously written to delve into what it means to be male. There's the complexes, the stereotypes, and the pressures of success. But perhaps all that is not as black or white as it used to be. "Women have a different power than they did in the '70s and '80s," says Wyant. "They are single. They take care of families." What could once have been seen as gender-bending may be a tad more flexible in our modern era. The characters evolved into their own entities, according to Tenuto. Viewing the transformation that occurs when these graveled up lines are spoken by a female is its own statement on masculinity. Maybe the gender line is not cut and dry after all. Wyant stresses it simply: "We're doing a David Mamet play."
The Starling Production Company will present David Mamet's "Glengarry Glen Ross" at the Rosendale Theater on May 14 and 15 at 8pm and May 16 at 3pm. The play will also star Julie Novak, Rosie Dale, Jessica Barry, Tiffany Thompson, Mourka, and Jane Brown. Tickets are $15. (845) 658-8410; astarlingproduction@gmail.com.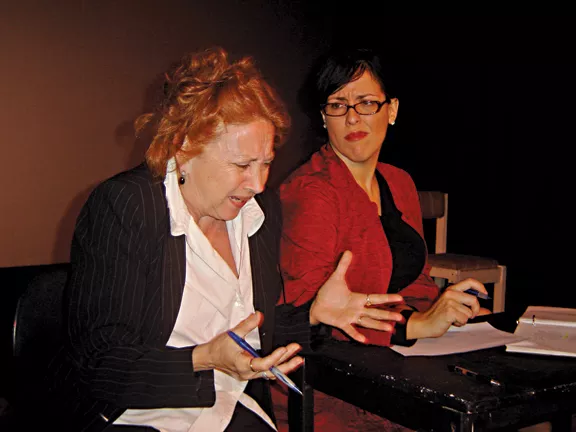 MOURKA AND EVA TENUTO STAR IN AN ALL-FEMALE PRODUCTION OF DAVID MAMET'S "GLENGARRY GLEN ROSS" AT THE ROSENDALE THEATER THIS MONTH.