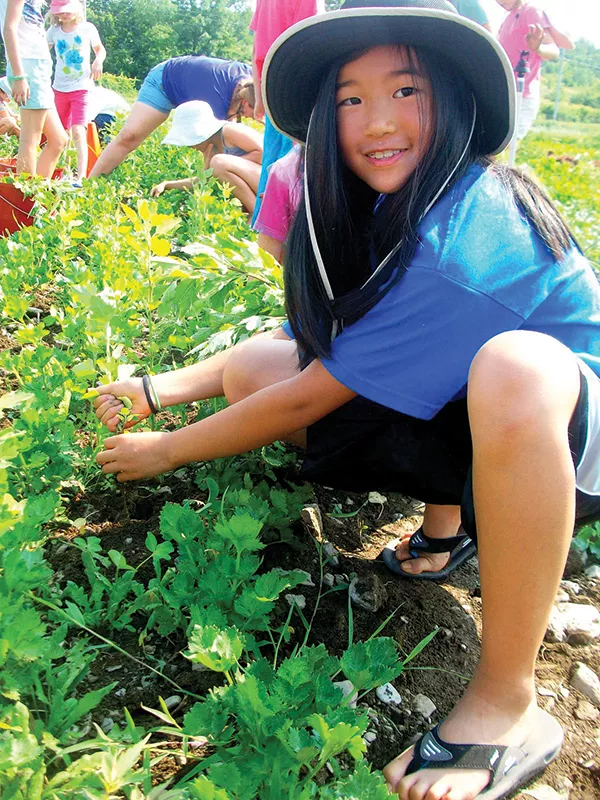 For summer camp memories that include sunburns, semifreedom blowing in the breeze, campfire smoke, ghost stories, and unsupervised (and unscheduled) visits by moonlight to the other camp across the river, you can send your kids pretty much anywhere in the country. But here, in the Hudson Valley, whether you seek a sleepaway or day camp, the experience has been transformed from simply getting outside (and away from parents) to a genuine exploration of who our kids are, and what truly captivates them. Our proximity to mountains, rivers, history, and art combined with the very cool people that live here give our camps both depth and diversity.
And so, if your youngster longs to develop a complex fantasy world, or learn organic farming, or make a documentary film, you will find your kid's place around the proverbial fire in these parts. As Livingston Manor ninth-grade camper Leif Johansen puts it, camp is a place to "work with other people side by side, creating something together and having a conversation not through words." Here is just a small sample of what your campers can not talk about together this summer. View our complete listing of summer camps in the Hudson Valley here.
Children's Media Project
Performing in the school production of Peter Pan, free-writing in an English journal, or creating a photo-essay in art class are standard forms of artistic expression for students, however, the Children's Media Project elevates youth art to a new level. The nonprofit arts and education organization gives kids the tools to participate in shaping our perception of the world through media. CMP is offering experiential camp workshops for students to learn film and video making, as well as storytelling, radio recording, and stop-motion animation. Camps happen on both sides of the river at Upstate Films in Rhinebeck, and the Rosendale Theater in Rosendale, and at the Gardiner Library. They offer two 2-week sessions for children ages 11-15 from July 8 to 19 and July 22 to August 2 for $550. One weeklong session is available for kids ages 7-11 from August 5 to 9 for $295. Third to fifth graders are invited for six Tuesday afternoons from July 9 to August 13 for $150.
Mad Science Camp
Remember when the flour volcano project that smelled like yeasty paint and half-heartedly gurgled vinegar, baking soda, and cherry Jell-O—seemed, well, interesting? Mad Science Camp has left that volcano in the dust with camp sessions like "Secret Agent Lab," "Mad Myth-Conceptions," "Nature Adventure," and "Red Hot Robots." Mid-Hudson Mad Science brings real-world science to life with exciting activities, demonstrations, and discussions in Ultser, Dutchess, Orange, Putnum, and Rockland Counties. The bonus is not just serious fun for your budding innovator, but Mad Science makes the hot fields of science, technology, engineering, and math cool. Weeklong sessions for kids in grades K-6 are available for halfdays for $165-$175. Full days are also available for $295-$315.
Working With the Masters
Have you ever been aghast to hear your nine-year-old suddenly belt out "Call Me Maybe" from the living room and worried about the cultural fate of humankind? There is hope. Housed on the grounds of the Emerson Spa in Mount Tremper, this five-day intensive music program for youngsters will provide a gateway through time and place as they sing and perform an international sampler, ranging from early medieval to contemporary pop songs, from Japanese folk to African rock. The program philosophy is based on the concepts of composers Zoltan Kodaly and Karl Orff, who worked to bring music learning to all children, not just the musically endowed. When campers need a break, they can try their hand at Hula-Hoops and badminton, and take strolls along the Esopus Creek. This camp offers one weeklong session for kids 8-12 from July 22 to 26 for $125. The day starts at 8:30am and goes until 3pm. Call Justin Kolb to register.
Camp Dunnabeck at Kildonan
Do you ever wish that you could go on a sabbatical in order to improve your skills and self-esteem, and kickstart your success? You may not be able to, but your kids can. Established in 1955, Dunnabeck at Kildonan in Amenia is the oldest residential program to address the specialized needs of students with dyslexia or language-based learning differences. Dunnabeck's teaching techniques are grounded in the Orton-Gillingham approach of multisensory, kinesthetic, and phonemic instruction. In addition to daily classroom sessions, every camper receives one-on-one tutoring for one hour each day. Mindful that summer is about fun, the camp incorporates daily activities from flag-football to archery, water-skiing to mountain biking, and woodworking to photography. Camp runs from June 28 to August 9. A full day costs $7,500; halfday is $5,000; and overnight is $10,000.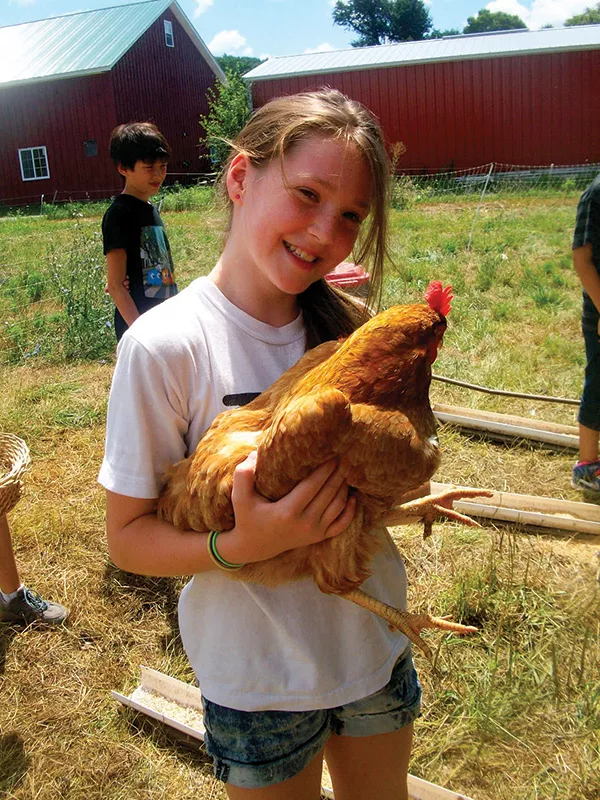 Camp at Hawthorne Valley
Since it's impossible to drive through our neck of the woods without seeing at least one bumper sticker reading "Eat Local" or "No Farms No Food," why not actually help our kids understand what it all means? Since 1972, Hawthorne Valley Farm in Ghent has been producing biodynamic and organic foods on its 400-acres that include vegetables, dairy cows, and an organic bakery. Facilitating the connection between communities and food, they also offer camps for kids. Depending on age, activities range from songs, stories, nature crafts, making healthy snacks, and free play to healthy cooking, gardening, animal care, spinning, weaving, claymolding, woodworking, and working side by side with the farmers. Day and residential options are available. Various two-week sessions are available for different age groups, from July 7 to August 16 for kids ages 4-15. The cost ranges from $400-$500.
Manitoga Summer Nature and Design Camp
If you are not from these parts, a camp offering something called "Picnic Design" might be a head-scratcher, but in the Hudson Valley, we like to think outside of the...basket. Located on the 75-acre grounds of the Russel Wright Design Center in Garrison, Manitoga Camp helps your reflective youngster continue the investigation of the industrial designer responsible for bringing modernism design to household objects. Here, the great outdoors is the classroom for teaching campers how to incorporate nature and design into their daily learning experience. Sessions include "All Creatures Great and Small," "Appetite for Design," and "Sticks and Stones," among others. Weeklong sessions are available from July 8 to August 9 for kids ages 5-12 for $275.
Wayfinder Experience Adventure Game at Omega's Family Week.
Wayfinder Experience
If you would like to steer your science-fiction fan away from the Twilight idols stamped all over Teen magazine, and toward a serious exploration of the classic Tolkien world, look no further. For devotees of light versus dark, warriors and sorceresses versus evil lords and vile creatures, Wayfinder in New Paltz, Holmes, Stone Ridge, and Woodstock is the stuff of legend. Costumes, sets, props, improvisational acting, and swordplay all help the campers channel their own heroes to play out a real adventure game. Weeklong day sessions are available from July 1 to August 16 for kids ages 8 and up for $350-$385. Overnight weeklong sessions are from August 11 to 31 for kids 12 and up for $775-$875.
Rock Sports Park
In the Hudson Valley, not all movement must be conducted while singing or farming or holding a camera or sword, because we love our sporty-sports, too. And what can be better for kids who love summer sports than a sports camp that doubles as a water park? The Rock Sports Park in Chester offers everything from baseball and soccer to sports yoga and karate. Fun water sports include a baseball-field-turned-rainforest-water-park with slip and slide, rain tag, water dodge ball, and rain-delay baseball. Weeklong day sessions are available from July 8 to August 2 for $99-$250, and halfday sessions for $99-$150.