Page 2 of 3
They recently received a grant from the USDA to run an irrigation line from a spring on the hill to their field, so they will have gravity-fed drip irrigation installed by next summer. The resort's old swimming pool will serve as a backup cistern. "This is the first year we're using the whole field," says Muller, standing near the plastic-covered hoop house where they grow the winter vegetables for their kitchen. With almost two acres planted and another two available for future expansion, it's easy to see why they're so happy about the walk-behind tractor they bought this year. The couple built themselves a house up the hill at the end of the driveway, next to the dilapidated former hotel that is listing badly and will need to be demolished at some point. The simple 450-square-foot wood-sided cabin took them two years to build, working part time, and they did it almost without help, even though they had no experience.
The Art of the Seed
The Library sells seeds via their online catalog, which comes out on January first. Many of their seeds are available in Art Packs, which have lavishly illustrated covers. The Library commissions artists to create the cover art, and each year Michael Asbill, an artist who lives and works on the compound, organizes an exhibition of the original works. While they do not grow every seed they sell, they buy only from wholesalers who meet their strict standards for quality and independence. "Our goal is to become less dependent on seeds from outside of our region," explains Greene, though most of the companies they buy from are not local. "There's almost no commercial seed production in the Northeast." The reason for this lack—the short growing season, extreme temperatures, and diseases—is precisely why their work is so important: By developing varieties that perform well in our climate, they help make regional seed sovereignty possible again.
Breeding seeds takes time, of course, since most crops only produce seed once per year. Greene describes the long process by which they developed the Stone Ridge tomato: "We had lots of different results from the donated seeds. We asked the owner what its characteristics were in the past, and over time we arrived at a result we were confident about." He's also enthusiastic about the Oxheart tomato, a "fantastic giant tomato that's really vigorous." Erin Enouen, the sales manager, is fond of the Scarlet Ohno Revival Turnip, a newer variety bred by Frank Morton. "It's sweet, a great eating turnip, and when you cut it open there's this hot pink explosion" of color inside.
Speaking about the King of the North, a sweet red bell pepper that lost its original adaptation to a shorter summer (hence the name) when most seed production moved to California, she describes how they "have selected seed stock from plants that produce tons of ripe peppers in our short season." Muller continues: "We didn't start out intentionally, but because our season is limited by frost, automatically we were choosing seeds from peppers that ripened in time. Now, ours will produce better; we've brought back the characteristics that made it a New York heirloom." Muller also praises the Doe Hill pepper, a sweet orange type that "has a really fruity flavor; everyone seems to love it, since it's really early and easy to grow."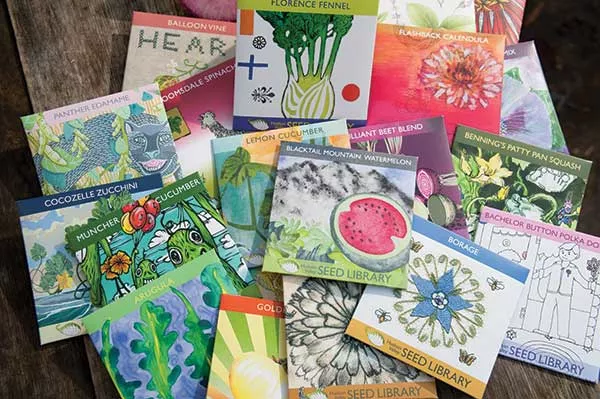 Seed packages designed by local artists.
Biodiversity on the Rebound
Greene regularly gives lectures and workshops all over the region. Their monthly e-newsletter, Seeder's Digest, contains lots of helpful information, and they regularly conduct classes in their test garden. The next step is to recruit local farmers to grow a crop or two for seeds each year, expanding the range and volume of seeds produced in the Northeast. "Besides educating gardeners, we want to help farmers to produce seed so they can diversify their income and build sustainability for them and for us."
Buying seeds with a corporation-free provenance ensures that our dollars—as powerful a civic tool as our votes—support the small local businesses that are a critical part of long-term regional sustainability. Using the seeds to grow our own food also makes for less shopping; many packaged products, even organic ones, are manufactured by companies working actively to prevent labeling of GMO foods. With its extensive range of well-curated offerings, the Seed Library offers an excellent and expanding resource for gardeners who care where their seeds come from. If you don't grow vegetables, fear not: The Library also offers a growing range of flower seeds, including "flashback" calendula, which has an almost tie-dyed gradation of color.