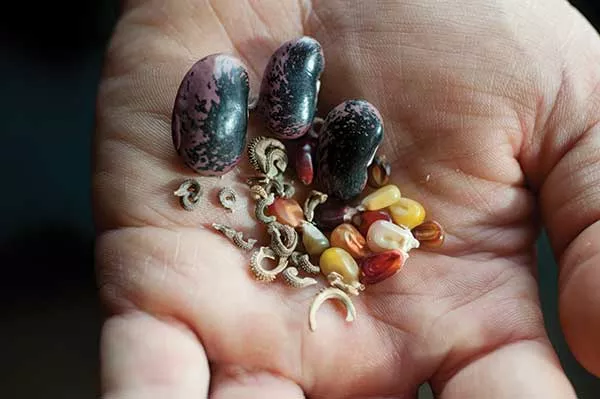 Calico Popcorn, Scarlet Runner Bean, and Flashback Calendula Mix from Hudson Valley Seed Library.
This darkest, coldest part of winter is of course the time when seed catalogs begin to arrive in the mail. The seed companies know that our vulnerability to brightly colored pictures of shiny vegetables and the purple prose that accompanies them is at its peak as we count the days until we can venture back into our gardens and get our hands dirty again. But the number of options can be dizzying, even daunting; finding seeds that thrive in our short season can be a challenge, and choosing seed sources that are not tied to industrial agriculture can require a lot of research. Wouldn't it be great if there were one-stop shopping for conscientious gardeners?
In Accord, right at the base of the Catskill foothills, on the site of a 27-acre former resort and Ukrainian summer camp, in a construction trailer parked among ramshackle buildings in various states of restoration and decay, sits the headquarters of the Hudson Valley Seed Library. Since its inception in 2004, at the Gardiner Public Library, this small business has become one of the leading seed banks in the country, offering an increasingly diverse range of new and heirloom open-pollinated seed varieties to its customers, as well as extensive educational programming in its test garden and throughout the region. This humble and unassuming compound, jointly owned by five people, is a key fortification on the front lines of the battle against Monsanto and the other agribusiness giants bent on controlling the world's seed—and thus, by extension, our food—supply.
Monsanto is the company that manufactured such delicacies as Agent Orange, PCBs, and DDT. They are also a leader in genetically modified seeds and designer hybrids, all of which they have patented, thanks in part to their own personal Supreme Court Justice, Clarence Thomas, who worked for Monsanto in the 1970s; in 2001, he wrote the majority opinion in a decision that found seeds to be patentable. Unlike open-pollinated seeds, hybrids do not reproduce true to type; they cannot be saved and must be bought again each year, creating an expensive cycle of dependence for farmers—bread and butter for the huge conglomerates. This situation begs an overwhelming question: Why is a company that exploits farmers and manufactures poison increasingly in control of our food?
Ken Greene and Doug Muller in their hoop house.
The Business of Growing a Growing Business
Ken Greene, 40, started the Seed Library, and in 2008 he and his partner Doug Muller, 34, turned it into a business that has grown dramatically over the last few years. "We've basically doubled every year," Greene says. "It's been really fast, and more than we expected or prepared for." Besides Greene and Muller, the Library now has three full-time employees and four to six people working part-time in the winter packaging seeds and filling orders. Though the business grossed approximately $300,000 last year, Greene admits that it has been a challenge to pay themselves. "We've been profitable since year one, but all the money has gone back into the business since we grew so fast. People talk about sustainability, but what does that mean? We're a small business, we support the local economy and create jobs, but it's not sustainable for us personally. This is the year we prove that it can be for the long term."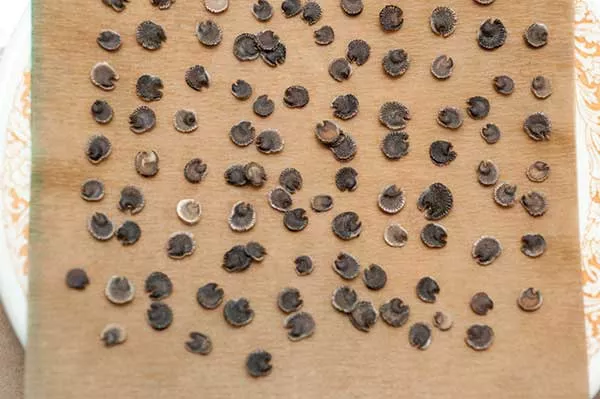 Hollyhock "Single Mix" seeds.
While many of us are conscious about sourcing ingredients, Greene says, "seed growing is basically invisible; even really dedicated consumers aren't engaged with their seed sources. It's harder and harder to know where your seed dollars are going. There used to be regional seed companies all over the country focused on breeding for those regions. As agriculture changed and industrialized, the same thing happened to seed companies." As a result, there were fewer and fewer varieties, all bred for early ripeness, shipability, and shelf life, but not for flavor. "Today, the largest owner of seed resources on the planet is Monsanto, which is a chemical company. They're not about food, nutrition, biodiversity, or food justice. That's not who I want in control."
The Library currently has about a thousand members. Members receive a five percent discount on orders and can participate in the Community Seeds program, where members all grow one crop and save the seeds, which the Library then distributes to schools and community gardens throughout the region. Members can also swap seeds among themselves. All member-donated seeds are strictly segregated from the seeds in the catalog to ensure quality control; the Library conducts extensive germination tests to be sure that each batch will perform well. They welcome mailed donations of heirloom or unusual seeds, especially those that have a history in the area or that produce exceptional produce.
They recently received a grant from the USDA to run an irrigation line from a spring on the hill to their field, so they will have gravity-fed drip irrigation installed by next summer. The resort's old swimming pool will serve as a backup cistern. "This is the first year we're using the whole field," says Muller, standing near the plastic-covered hoop house where they grow the winter vegetables for their kitchen. With almost two acres planted and another two available for future expansion, it's easy to see why they're so happy about the walk-behind tractor they bought this year. The couple built themselves a house up the hill at the end of the driveway, next to the dilapidated former hotel that is listing badly and will need to be demolished at some point. The simple 450-square-foot wood-sided cabin took them two years to build, working part time, and they did it almost without help, even though they had no experience.
The Art of the Seed
The Library sells seeds via their online catalog, which comes out on January first. Many of their seeds are available in Art Packs, which have lavishly illustrated covers. The Library commissions artists to create the cover art, and each year Michael Asbill, an artist who lives and works on the compound, organizes an exhibition of the original works. While they do not grow every seed they sell, they buy only from wholesalers who meet their strict standards for quality and independence. "Our goal is to become less dependent on seeds from outside of our region," explains Greene, though most of the companies they buy from are not local. "There's almost no commercial seed production in the Northeast." The reason for this lack—the short growing season, extreme temperatures, and diseases—is precisely why their work is so important: By developing varieties that perform well in our climate, they help make regional seed sovereignty possible again.
Breeding seeds takes time, of course, since most crops only produce seed once per year. Greene describes the long process by which they developed the Stone Ridge tomato: "We had lots of different results from the donated seeds. We asked the owner what its characteristics were in the past, and over time we arrived at a result we were confident about." He's also enthusiastic about the Oxheart tomato, a "fantastic giant tomato that's really vigorous." Erin Enouen, the sales manager, is fond of the Scarlet Ohno Revival Turnip, a newer variety bred by Frank Morton. "It's sweet, a great eating turnip, and when you cut it open there's this hot pink explosion" of color inside.
Speaking about the King of the North, a sweet red bell pepper that lost its original adaptation to a shorter summer (hence the name) when most seed production moved to California, she describes how they "have selected seed stock from plants that produce tons of ripe peppers in our short season." Muller continues: "We didn't start out intentionally, but because our season is limited by frost, automatically we were choosing seeds from peppers that ripened in time. Now, ours will produce better; we've brought back the characteristics that made it a New York heirloom." Muller also praises the Doe Hill pepper, a sweet orange type that "has a really fruity flavor; everyone seems to love it, since it's really early and easy to grow."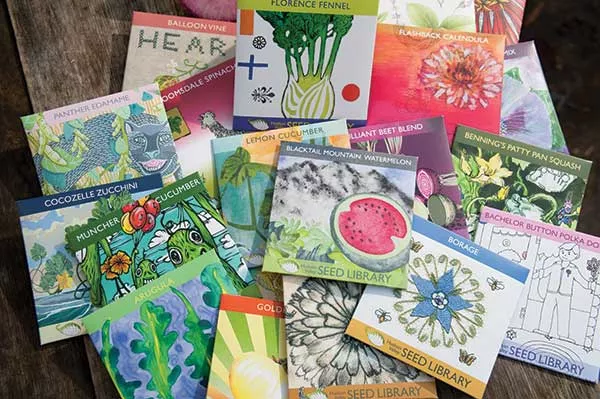 Seed packages designed by local artists.
Biodiversity on the Rebound
Greene regularly gives lectures and workshops all over the region. Their monthly e-newsletter, Seeder's Digest, contains lots of helpful information, and they regularly conduct classes in their test garden. The next step is to recruit local farmers to grow a crop or two for seeds each year, expanding the range and volume of seeds produced in the Northeast. "Besides educating gardeners, we want to help farmers to produce seed so they can diversify their income and build sustainability for them and for us."
Buying seeds with a corporation-free provenance ensures that our dollars—as powerful a civic tool as our votes—support the small local businesses that are a critical part of long-term regional sustainability. Using the seeds to grow our own food also makes for less shopping; many packaged products, even organic ones, are manufactured by companies working actively to prevent labeling of GMO foods. With its extensive range of well-curated offerings, the Seed Library offers an excellent and expanding resource for gardeners who care where their seeds come from. If you don't grow vegetables, fear not: The Library also offers a growing range of flower seeds, including "flashback" calendula, which has an almost tie-dyed gradation of color.
Publicity around GMO labeling has put the issue on most people's radar, and the recent defeat of a labeling law in California (where huge companies outspent the pro-labeling side by nearly five to one) shows how tenaciously the big companies are maintaining their pernicious hold on our food supply. When we spend our money locally, we deprive the huge corporations of the only thing they care about, and we empower our communities. Greene feels strongly that we have arrived at a tipping point: "In the last two years there has been an explosion of awareness about seeds. When we began, there was one other library in the country. Now there are over 60. I get calls all the time from people asking 'How do I start one?'" And there's room for all of them, since the whole point is decentralizing the seed and food supply. "Things got very extreme in terms of loss of genetic diversity, the consolidation of who owns the seeds, and I feel like we're coming back the other way."
Erin Enouen, Hudson Valley Seed Library sales manager, with Scarlet Ohno Revival Turnips.