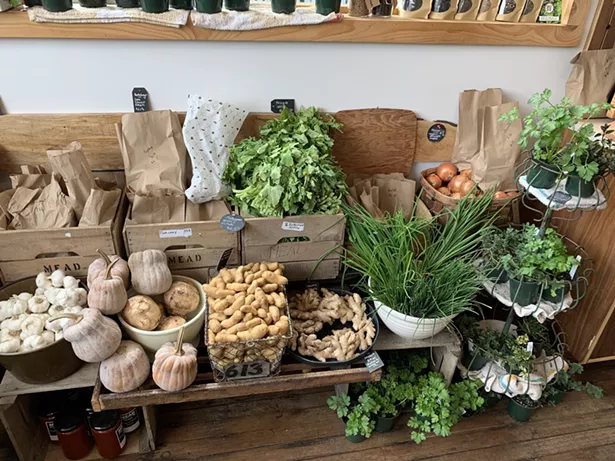 Village Coffee and Goods
Village Coffee and Goods has expanded their grocery section, including a spread of fresh produce.
As they await bailout loans and the far-off promise of a return to normal service, cash-strapped restaurants are in survival mode. But as the proverb goes, necessity is the mother of invention. Since takeout and delivery have become the only life raft for restaurants amid the coronavirus tempest, eateries everywhere have been head-scratching on how to drum up more revenue.
As panicked buyers empty the shelves of supermarkets, some restaurants are filling the supply gap by adding a grocery-style service, peddling everything from loaves of bread to toilet paper, alongside their prepared menu items. With their access to wholesale distributors and local producers, eateries are in a good position to make the transition to retail—and plenty of restaurants in Kingston have hopped on the trend.
Village Coffee and Goods is one Kingston business that has adopted the hybrid hospitality/retail model. In their small market, they have always sold essentials like milk, bread, eggs, and cheese, even prior to the pandemic, but now they have added even more groceries to their selection.
"When we removed the tables and chairs, we just had more room to fill. We were able to add produce that we were already buying for regular service and sell that too," says co-owner Mark Palmer. "Our merchandise fridge is filled to the brim with eggs, milk, cheese, ferments, kombucha, our house-made jarred treats like overnight oats, chia puddings, and chocolate mousse."


Village Coffee and Goods
They are also selling packaged and canned items.
This setup has provided extra income for Village Coffee as well as allowing them to offer a safe place for their customers to shop. "It's kept a core group employed and provided us an income," says Palmer.
Another Midtown Kingston eatery that has gotten aboard the bodega train is The Anchor, a burger joint and bar, which launched online ordering when lockdown went into effect. On their ordering platform, they've recently introduced a new section of "Groceries and Goods To Go." People can purchase condiments, canned goods, beans, baking items, pasta, and high-demand household items like bleach and TP in the same section as prepared food.
Earlier this month, Uptown institution
Boitson's
alerted its customers to a similar pivot, announcing: "We are looking at different ways to make it a more viable business model, but in the meantime, we are trying our hands at being a bodega/market/prepared food/wine/beer/liquor shop." They accept online pre-orders, selling everything from Impossible Burgers to bleach. They're doing set pickup times from 10am-1pm on Wednesdays and Saturdays, and are offering deliveries after those hours for a $10 fee.
Then just a few blocks away, the newest player on the Kingston dining scene, Lola Pizza, has adapted a selection of grocery boxes, dinner packages, and drinks kits. Guests can shop online for a produce box that offers a CSA-style surprise seasonal mix of fresh vegetables grown by Alewife Farm in Clinton Corners ($40) or for a Cachi Negroni cocktail kit ($20-$68). For those tired of coming up with dinner, there are dinner boxes for two which include a selection of ingredients, including vegetarian options, to cook in the comfort of your own home.


This innovative shift in offerings isn't just happening in Kingston. A recent Grub Street article found the trend taking hold all across New York City. Even if it's not a substitute for lost income on eat-in meals at restaurants, at least it contributes something to the bottom line during the shutdown.
And locally, just West of Kingston is Pine Hill Arms Hotel and Restaurant has adopted grocery service through a newly launched outdoor pop-up market, where they sell dairy products, fresh produce, meat, and bread.
Across the river in Pawling, restaurant and venue Daryl's House has been selling 30 to 40 grocery packages a week. Their standard package has essentials like milk, eggs, paper towels, toilet paper, bread, and butter for $20, and the premium version adds produce, pasta, and cheese.
Daryl's House
Daryl Hall standing in front of Daryl's House. The restaurant and live music venue has been selling 30 to 40 grocery packages a week.
"It's a good service, especially for people who have kids at home," says Patrick Ryan, the establishment's marketing director. "They can pick up some stuff to space out the amount of times they have to do a full shop."

Even though their main motive isn't to increase revenue, Ryan mentions that grocery sales do help the business from falling too far behind. "We're not doing this for profit," he says. "We're trying to keep our staff busy and to provide a service to our community. We are tightening our belt through these tough times like other local establishments."
Until guests can again dine in, selling groceries is a growing trend that may just keep some of our favorite Hudson Valley restaurants afloat.