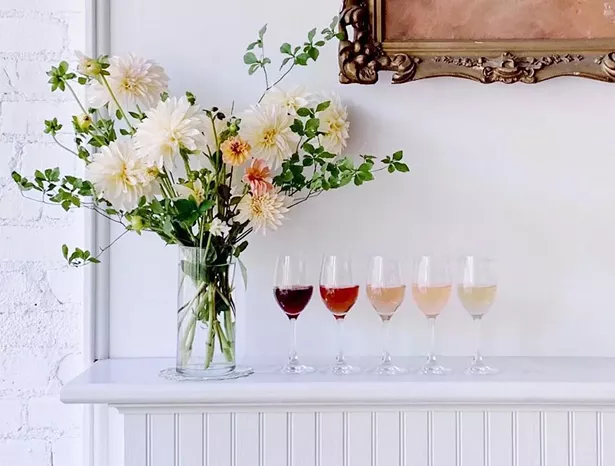 Courtesy of Brunette Wine Bar
The rise of the farm-to-table restaurant movement brought a renewed scrutiny of ingredients and a return to more wholesome methods of food preparation. In the Hudson Valley, many restaurants have also begun applying this ethos to their wine list curation on the principle that wine should be as fresh and unadulterated as the food it accompanies. Enter natural wines. "If you consider the growing appreciation for all the wonderful small farms in the area, it's easy to see that natural wines come from the exact same philosophical place: small, sustainable production devoted to expressing the purest nature," says wine consultant Lila Holland.

While the term "natural wine" is still being clearly defined, the gist is that there is as little human intervention in the fermentation process as possible. These wines are produced using grapes grown with organic and biodynamic farming methods, and are often unfiltered. Natural winemakers stay away from any additives like manufactured yeasts, processing aids, sulfites, and stabilizers. This movement has sparked terminology like "real wine", "raw wine," and "glou-glou," and the most die-hard fans generally eschew conventional wines.
With an abundance of local farms and vineyards and access to New York City's international import market, the Hudson Valley is well positioned to dish up both locally made and international natural wines alongside its farm-fresh cuisine. Whether you're a diehard fan or a natural wine newb, here are handful of Hudson Valley restaurants with great natural wine lists.
Backbar
347 Warren Street, Hudson
Backbar serves Malaysian eats in a casual environment with shared picnic tables and bench seating inside and a patio outside (all dining outdoors in an expanded patio during COVID). Holland and the owners curated a fun, funky, more affordable list of low-intervention, organic or biodynamic natural wines for Backbar, available both by the glass and by the bottle, to fit the setting. The long list features many less-explored selections from the wine world's big three, like an unfiltered Angialico from Campania, Italy; a wild-fermented, direct-press, organic rosé from the Loire Valley, and a darky, earthy Listan Negro from the Canary Islands. Slurp down your dan dan pork noodles with an Austrian Vetliner, chase your cumin tots with a cider from Georgia.

Canoe Hill
3264 Franklin Avenue, Millbrook
If oysters with wine are your thing, Canoe Hill in Millbrook, is your place. In addition to fresh oysters, Canoe Hill is dedicated to fresh, local ingredients that are sourced from over 30 different farms in the Hudson Valley and western Connecticut. The warm and inviting atmosphere is a great spot to enjoy a spectacular meal paired with a glass of natural wine. Chef and owner, Mike DelGrosso works with local foragers as well as farmers. "Our wine list is roughly 70 percent natural and the rest is sustainable being organic, biodynamic, or practicing," says DelGrosso. "We didn't specifically decide to focus Canoe Hill around natural wine, we just prefer more natural methods whether it's wine, food, or anything else we do at the restaurant."
Brunette Wine Bar
33 Broadway, Kingston, NY
Brunette Wine Bar in Kingston's Rondout district has become iconic in the five years since it opened. With its blush-hued exterior, white marble bar, framed vintage oil portraits, whimsical floral arrangements, and stellar natural wine list heralded a new era for Kingston. At the beginning of 2020, the bar changed hands, but new owners Maxwell Botwick and Jessie Harris (also a husband-and-wife duo) are committed to maintaining the same vibe, while upping the food menu. Their by-the-glass wine list usually features between 10-12 selections that change daily, including seasonally available offerings from local producers like Wild Arc Farm in Pine Bush. A random peep at the sample menu included reds from Hungary, whites from Germany, an orange from Italy, and pet-nats from France. (While you're there, head up the block to Kingston Wine Co. to select from their vast selection of hard-to-find natural wines to bring home with you.)
Lawrence Park
260 Warren Street, Hudson


In fall 2019, Lawrence Park opened its doors, a self-dubbed "oenophilic sanctuary," though really they specialize in all things craft: beer, cocktails, cheese, charcuterie, and natural wine. Run by industry vets Matt and Margie Colvin, LP's wine program highlights sustainable, authentic, farmer-made, and small-batch wines. They have upward of 30 wines by the glass, and a generous list of bottles as well, ranging from Czech Republic to Pine Bush, New York. The food program focuses on fine cheese, farm-raised cured meats, and small seasonal plates made with majority local produce. Keep your eyes peeled for the return of LP's popular Pasta, Pet Nat, and Punk nights, where they offer three pasta and sparkling wine specials, to a curated punk playlist.
Lil' Deb's Oasis
Current: 731 Warren Street, Hudson
Permanent: 747 Columbia Street, Hudson
Lil' Deb's Oasis has been pouring out the playful side of natural wine since 2016. Pair their pan-Latin tropical comfort food dishes with a conscientiously made farmer wine. Their low-intervention selections change frequently with a broad geographic range from Puglia to Mexico, Czech Republic to Alsace. Even their wine list itself is a treat, with all the descriptions are wine-poems penned collaboratively by the quirky Lil' Deb's team (busted lip, Marina Abromovic, polly pocket, cold hands, primrose). Currently operating as Fuego 69, a pop-up in the Rivertown Lodge, with a limited menu that packs their signature bold flavors and pescatarian punch.
Lunch Nightly
636 Broadway, Kingston
A deli and butcher by day, bar and restaurant by night, this new Midtown Kingston spot has a lot of spinning plates. Luckily, natural wine is one of them. The fenced backyard, overhung with trees and fairy lights, with its enormous shade umbrellas, and fruiting peach tree is a magical place to sup, worlds away from Broadway. Open for dinner Thursday through Saturday, Lunch Nightly serves up flavor-packed, inventive dishes (that aren't too meat-heavy) alongside simple-but-dope cocktails and natural wines by the glass, carafe, and bottle. In mid-September they had a pet nat skin contact and white, both from Veneta, Italy, an orange from Austria, and several other bottles in the $30-$60 range. For local selections: a piquette Riesling from Rose Hill Farm in Red Hook and a Marquette from Wild Arc Farm. Don't forget to bring home a cut of meat on your way out.
Ollie's Pizza
4 Bruceville Road, High Falls
When Innis Lawrence moved back to his hometown of High Falls as an adult with his wife, they played around with the idea of organizing a pizza and natural wine pop-up on weekends. When the big black barn in the center of town came on the market, their ephemeral pop-up plans found a brick-and-mortar home Along with al taglio and Neopolitan-style pizzas, made Hudson Valley-grown and milled flour, homemade mozz, and specialty ingredients imported from Italy, Ollie's Pizza serves up a rotating selection of natural wines by the glass and bottle, true to their original vision. In mid-September, the natural wine selection included a pet nat rosé from the Loire Valley for $14 a glass or $46 a bottle, an unfined, wild-fermented Albariño from Galicia for $48, a Napa Valley unfiltered Chard $38 a bottle, and more.
Rivertown Lodge
731 Warren Street, Hudson

Byron Bates is a big name in natty, as one of the champions responsible for giving vin naturel a foothold in New York's fine dining scene two decades ago as a sommelier. Now, his small natural wine import company, Goatboy Selections, brings a curated selection of low-intervention wines direct to the consumer. He is also responsible for the wine list at Rivertown Lodge. Serving brunch and dinner, the tavern menu features exciting items such as house smoked trout and spiced carrot pancake with coriander yogurt for brunch, and fluke crudo served with tomato, shiso, and raspberry for dinner. Bates's rotating selections play nicely artful culinary musings of chef/owner Gabriele Gulielmetti.


R & R Taproom
104 Mill Hill Road, Woodstock
R & R Taproom in Woodstock is known for its incredible beer selection and vegetarian-friendly small plates. Owned by cicerone Megan Reynolds, beer is obviously an important part of R&R's business model, but she felt there was a place for a natural wine program as well. "We focus on local food and care a lot about the process by which it's produced, so it seemed like a natural extension to apply that ethos to our wine program," says Reynolds. "Beer can be tricky around the idea of terroir, but the wine, in many ways, is more straightforward in that regard and we wanted to embrace sustainable producers." The creekside outdoor setting or the chic and colorful interior are the perfect spots to enjoy a glass of Eminence Road Pinot Noir from Long Eddy, NY, the unrefined and unfiltered Pastou Sauvignon Blanc from France, and other raw wines on the list.


Sonder
(currently closed, reopening in Kingston August 2022)
In August 2020, Sonder opened up in a beautiful, white-washed space on Warren Street in Hudson. Chef/owner Daniel Bagnall's ethos is minimal intervention. A simple, veggie-forward menu, celebrating regional produce, accompanies the ever-changing selection of fun and funky natural wines by the glass and bottle. The bottle list has around 15 options, ranging from $60 to $120, but the wines by the glass is where Sonder really shines. You can always expect a chilled white ($12), chilled red ($13), pet-nat ($14), rosé ($14), and an orange ($15) on the menu, though what's being poured rotates weekly, highlighting less traditional wine-making regions. (Think orange wines from Hungary, Austrian pet-nat rosés, and reds from Baja California.) The bar is open Tuesday-Saturday, with specials every night.
Restaurant Kinsley
301 Wall Street, Kingston
"Our wine list focuses on smaller producers who farm organically or biodynamically,
and who practice minimal-intervention winemaking in order to highlight their grapes and terroir without additives," says Erin Winters, director of operations for the Restaurant Kinsley. "This falls in line with our food menu, as we will bring in meat and produce from farmers who employ the same respectful techniques with their land, plants, and animals." The large wine list rotates regularly but generally includes a handful of sparkling options, several ciders, five or so rosé or skin-contact orange wines, and close to two dozen each red and white bottles. Crowd favorites include Bariou & Bodet Grolleau rosé from Loire Valley; Domain Jean Baptiste Senat, 'Aux Amis de ma Soeur', Grenache Blanc, whch Winters describes as "very aromatic, interesting blend of juciness and minerality;" and a inot Noir from Liten Buffel in Northern New York, which is a very light, low-tannin pinot noir, unfiltered and made wth partial carbonic fermentation. Wines by the glass range from $11 to $16, making htem comparable to the house cocktails. For a smaller, playful, and more affordable natural list, head a few blocks away to Restaurant Kinsley's sister spot, Lola, a wood-fired pizza joint on Fair Street.
Silvia

42 Mill Hill Road, Woodstock
While Silvia doesn't exactly bill itself as a natural wine spot (they're beloved for their cocktails), the majority of their wine list is natural, spanning all the major "food groups" from pet nat and skin-contact to rose, red, and white, with some choice conventional exceptions. The wines, which span continents and price ranges, are chosen by committee to home in on selections with a broad appeal. "We have a series of boxes that we like to check: our wines must come from independent vineyards that are farmed organically and sustainably. They must ferment spontaneously with native yeasts, be handled minimally both in the vineyard and in the cellar, and have minimal or no sulphur added," says GM Charles Bowe. Most of the wines on Silvia's list are unfined and unfiltered. "We also make a point of carrying obscure varietals that are native representations of the style and culture of a region, and see them as a chance to turn people onto something new," Bowe says. "Our guests love when we find natural Bordeauxs, Rhônes, or chardonnays, but we love to offer them new experiences (and great values) in a braucol or a Corsican nielluciu." If you don't know what either of those things are, maybe it's time for a trip to Silvia. The restaurant is currently open for both indoor and outdoor dining on their vast porch, beneath the pergola. Wines by the glass run $11-$17 and on any given night there are more than a dozen options to choose from.
Gaskins

2 Church Avenue, Germantown
Outside of a pandemic,
Gaskins
usually boasts a wine list with 30 to 40 highly drinkable options by the bottle, and eight to 10 by the glass. "We like wines that are original, real, and honestly crafted," says Gaskins co-owner Sarah Suarez. "Natural wine is alive and inherently joyful. Also the winemakers and growers have respect for the land and the traditions of their regions, just like the farmers we work with in the Hudson Valley." As they've limited service during lockdown and in the recent resurgence, Gaskins is currently operating with a reduced list, while still bringing quality natural wines to their diners. For their weekend takeout menu, they generally offer two to three options by the bottle. A favorite of Suarez's year after year is La Ferme du Vert l'Angelou Blanc, a naturally sparkling Mauzac from Gaillac in Southwest France. "I can never just have one glass," she says. "It's yeasty, floral, and perfectly bubbly."