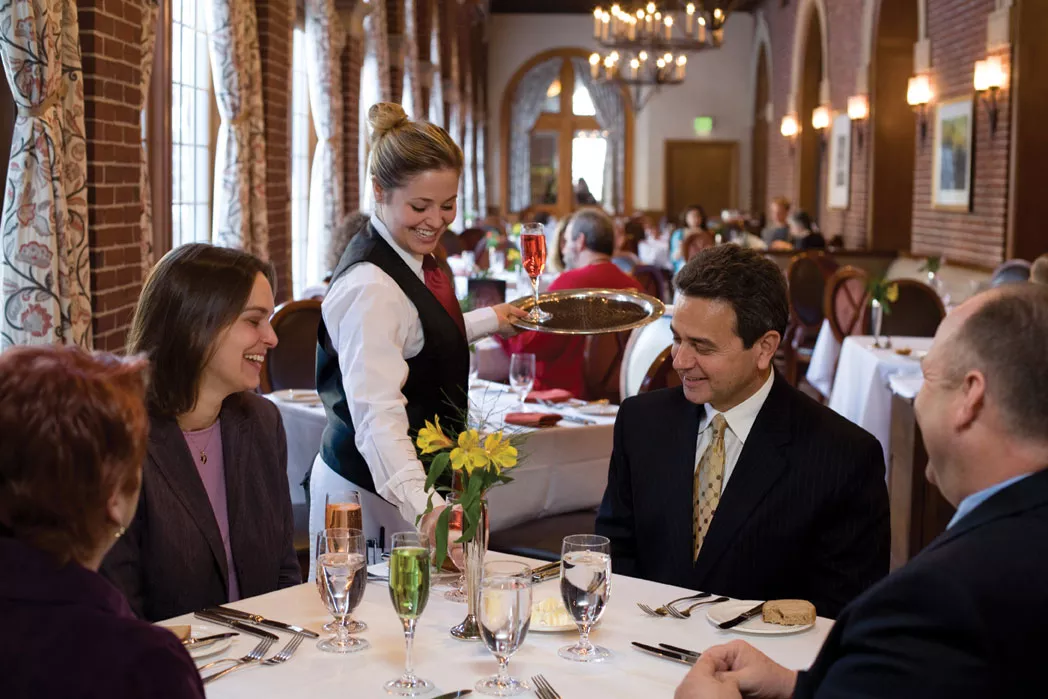 The American Bounty restaurant at the Culinary Institute of America in Hyde Park. All the CIA's restaurants are participating in this year's Hudson Valley Restaurant Week (March 18-31).
It's chow time in the Hudson Valley. For the sixth consecutive year, diners will get to sink their teeth into the region's finest culinary creations at bargain prices during Hudson Valley Restaurant Week, March 18 through March 31. More than 190 restaurants are participating and will offer three-course prix-fixe dinners at $29.95 and three-course lunches at $20.95. These restaurants are located in seven counties along the Hudson River from north of New York City to just south of Albany.
Organized by Janet Crawshaw, publisher of the Valley Table magazine, the event has grown in size each year and an estimated 200,000 diners participated in 2011. Crawshaw says the region is a dining Mecca and notes that Hudson Valley is home to the Culinary Institute of America, one of the country's foremost cooking schools, and the Glynwood Center, a nationally recognized center for sustainable agriculture. Plus the region is known its farms, artisanal cheese makers, wineries, and distilleries.
Crawshaw adds that Lonely Planet recently named the Hudson Valley as the #2 pick on its 2012 top 10 list of places to visit in the US, in part because of the region's farm-to-table food options.
Crawshaw hatched the idea for the event after she attended restaurant week in New York City. "I was taking advantage of New York City's restaurant week and eating food that was from the Hudson Valley because food from the Hudson Valley was all over their menu," she says. After Crawshaw saw Hudson Valley products in New York City's top restaurants she says "the light bulb went off" and the Hudson Valley Restaurant Week was born.
Participating restaurants are listed on the Hudson Valley Restaurant Week website (Hudsonvalleyrestaurantweek.com). Crawshaw said it's always a good idea to call ahead for reservations and make sure of the details of the restaurant's involvement—although many restaurants participate in the event on weekends, some do not. Crawshaw also suggests calling ahead if you have dietary restrictions to see if the restaurant can accommodate you.
Gina Truhe, of Poughkeepsie, is a food lover who's taken advantage of the event the past two years and plans on doing so again this year. "I absolutely love Restaurant Week" Truhe says. "I think that it's a really good opportunity to eat at restaurants that you might not otherwise go to just because of cost considerations or because you just don't have a cause to go out for a fine dining experience every weekend."
Truhe says she usually attends about a half dozen restaurants during the event and plans to do that again this year. She writes about her experiences on her blog Foodismyporn.blogspot.com. "I definitely don't got to the places that are my go to's. I try to pick places that I've never been to before and try to expand my culinary horizons a little bit and try something brand new," Truhe says.
This year the kick-off for the event was held on the Culinary Institute of America's campus in Hyde Park in late February and all the restaurants operated by the CIA are participating in the event. Stephan Hengst, marketing drector for the CIA says the event is a great way to celebrate the food of the region and for the school to connect with its graduates. "So many of the chefs that are also participating in Restaurant Week are graduates," Hengst says. "Many of the chefs that attend college here fall in love with the area and realize what a great place it is to live and raise a family and start a business."
Hengst says that the Culinary Institute has long featured locally grown products on the menu's of their restaurants."We spend a million dollars on local food annually from a network of more than 30 different local farms," he says. Hengst adds that in recent years people have realized that shipping organic products from California is not environmentally friendly and that "'local and sustainable' in many instances is better than organic. When you live in an area as fertile as ours, there's a tremendous opportunity to buy local and source local." Two years ago, Hengst says, the CIA converted one of their restaurants, St. Andrew's Cafe, to feature local foods.
The idea of locally grown food is one that has gained momentum in the last decade or so, said Crawshaw. "Ten years ago we could probably count on a hand or maybe two hands the numbers of chefs [in the region] that were seriously sourcing local products," she said. "Now there are just so many chefs who are using locally grown products and who are making a serious effort to find ingredients locally."
She adds, "I think it's fair to say that the chefs and restaurants of the Hudson Valley are really at the forefront of what's become a national trend."
Diners can experience this trend first hand at affordable prices during Restaurant Week. Bon Appetit!
For a full list of participating restaurants, and more information about Hudson Valley Restaurant Week: Hudsonvalleyrestaurantweek.com.