The Hudson Valley Philharmonic in performance.
"Right now, I'm remembering when I was about six years old," she says, her voice quivering with emotion. "My parents took me to a concert by the New Jersey Philharmonic at the Cathedral Basilica in Newark. It was the first time I heard the Mendelssohn Italian symphony, which our orchestra just recently played, actually. I still remember the feeling that came over me, hearing that piece as a little girl—just the sense of wonder, you know? Even for kids who don't necessarily become musicians, experiences like that can really have a lasting effect on them. And to think that now kids [in the Hudson Valley] might not be able to have those experiences…"
The Hudson Valley Philharmonic has been in existence in some form or another for nearly 90 years. But now its future—or at least the longstanding safety of its home at the Bardavon in Poughkeepsie, where it has been in residence as an official subsidiary organization since 1999—is in jeopardy.
The Orchestra in Peril
In 1932, four local businessmen/amateur musicians founded an ensemble in Poughkeepsie that would come to be called the Dutchess County Philharmonic Orchestra. Eventually renamed the Hudson Valley Philharmonic, and based at the historic Bardavon 1869 Opera House since 1982, the world-class orchestra has been led by such esteemed music directors as Ole Widingstad, Claude Monteaux, Imre Pallo, and Randall Craig Fleischer, and has headlined at Carnegie Hall and other prestigious venues.
Over the decades, the HVP has worked with luminaries ranging from Eleanor Roosevelt (a 1953 performance of the by then fully professional orchestra featuring Prokofiev's "Peter and the Wolf" with the former first lady as narrator) and accompanied big-name pop and rock acts (a concert with the Who took place at the
Bethel Woods Center for the Arts
on May 28).
"Most of us only hear symphonic music in films and in commercials, and a lot of the time that music is made with synthesizers [instead of acoustic instruments]," explains acclaimed local violinist Jay Ungar, best known for his moving "Ashokan Farewell" from Ken Burns's documentary series "The Civil War." "But hearing an actual symphonic orchestra live is a very special, very powerful experience," adds Ungar, whose duo with his wife Molly Mason has performed with the HVP. "It would be a true shame for that experience not to be available in this area."
In the 1960s Monteaux established the school concert series that presaged the orchestra's cherished Young People's Concerts program, and in the 1970s, Pallo, a former director of the German Opera on the Rhine and the New York City Opera, pioneered its opera and pops series. But it was under Fleischer's baton that the organization perhaps experienced its most dramatic renaissance. Through stepped-up outreach and educational incentives and innovative programming like a 2016 concert of popular film scores and the annual string competition for young musicians, the director led the orchestra through a new wave of momentum that, despite a 1998 financial crisis that was abated by the Bardavon's state- and philanthropic organization- assisted acquisition of the Hudson Valley Philharmonic name and assets, firmly cemented its reputation as one of the region's cultural and educational cornerstones.
Tragically, however, the visionary and beloved Fleischer died in August 2020, leaving the orchestra without his highly experienced guidance. Compounding the loss, COVID came along only months after Fleischer's passing to further financially cripple the troupe and its parent body as they battled the blight brought on by lockdowns. And then, in March, the Bardavon board, which also operates UPAC in Kingston, informed the orchestra that it was pausing its 2022-2023 season, citing financial difficulties for the freeze.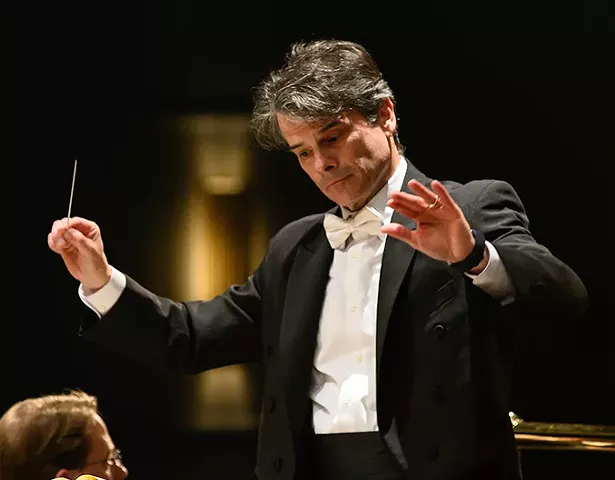 Late conductor and music director of the Hudson Valley Philharmonic, Randall Craig Fleischer
With the HVP's contract set to expire in September and the Bardavon's brass pointing to a mounting deficit and declining seasonal subscriptions and ticket sales for the orchestra's concerts—and, according to a HVP-distributed leaflet, "asserting that the orchestra should 'be reimagined, on your own, as a separate entity'"—Duffy and her fellow players and employees are predictably concerned about the group's fate.
"Management gave us minimal information on the numbers and supposed deficits," says Duffy. "Our orchestra members are waiting for substantial financial information that we have requested almost two months ago but have yet to receive. Originally the Bardavon said they would not bargain with us for a new contract, but after we informed patrons via a leaflet distributed before our April concert, a preliminary bargaining session has been scheduled for June 2."
An Unresolved Progression
When asked to speak to Chronogram about the Bardavon's current view of the situation, Bardavon Executive Director Chris Silva declined to comment until after June 2, citing the National Labor Relations Board's guidelines for ensuring the confidential nature of collective bargaining negotiations.
Although she agrees that ticket sales have been down—especially in the wake of COVID, when the HVP was unable to perform—Duffy, who has been with the orchestra since 2004, points out that symphonic orchestras commonly rely more on public and private grants to sustain operations, rather than ticket sales exclusively. She adds that the HVP, whose individual players earn $87 per session, is already operating at a bare-bones level.
"The Hudson Valley Philharmonic is the second-lowest-paid professional union orchestra in the entire nation," says the orchestra committee in a statement provided by the harpist. "This information is from data provided by ROPA, the Regional Orchestra Players Association, of which the Hudson Valley Philharmonic is a member. This is why it is imperative to focus on growth, not cuts."
In a Bardavon board response quoted in the same committee statement, Silva notes that several major funders "have changed their priorities" away from supporting the orchestra. Duffy feels that, as a fresh start, the Bardavon organization's hiring of a development director to fill the operational vacuum left by Fleischer's passing would be instrumental in helping to right the ship financially as it resumes its musical and culturally vital course.
"There's so much more we could do, and have been wanting to do, especially when it comes to educational programming and concerts for kids and families," she says, recalling how former Poughkeepsie mayor and fervent HVP supporter Sheila Newman, elderly and now using a walker, eagerly volunteered to help pass out the above-mentioned leaflet at the April concert when she learned about the situation. "We'd like to do more chamber concerts in schools. Both the Bardavon and UPAC are such great-sounding halls; it would be so wonderful to do, alongside the classics, more pops and movie scores—Star Wars, Star Trek, or music from the Harry Potter or Frozen films—at either place. Kids just light up when they hear stuff they know, like that."
Duffy describes meeting a couple and their young child in front of the Bardavon. "They recognized me from the concert and told me how much they loved it and said that now their child wants to learn to play the flute," she says. "And that just made me think, 'This is the kind of thing we could lose.'"
At present, with the current terms of the contract between the Bardavon and the orchestra awaiting negotiation before their September 30 expiration date arrives, the orchestra committee is focused on obtaining fuller financial information from Bardavon management. The thought of having to remake the orchestra as an outside, independent entity without a permanent venue would be an overwhelmingly difficult and uncharted prospect, notes Duffy. Nonetheless, she says she's cautiously hopeful that the Bardavon's board of directors will maintain a far-reaching vision when it comes to the orchestra's cultural value and will work with its committee to keep it in place.