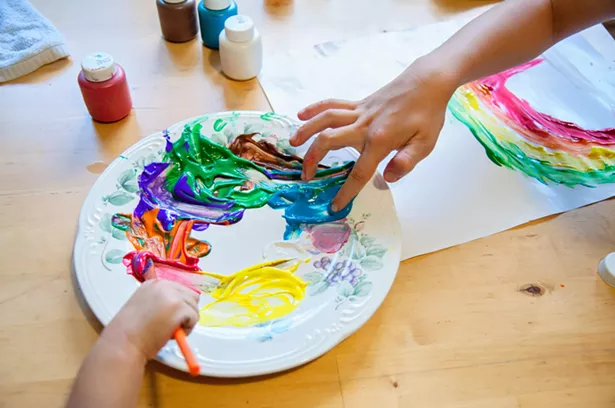 In the absence of the educational, social, and physical engagement kids normally get at school, parents are having to innovate at home while everyone remains on lockdown. Studies show that children that experience prolonged periods of social isolation are more prone to feelings of loneliness and stress. Not to mention unending boredom.

Luckily for youngsters in the Hudson Valley, there are plenty of opportunities available to them online from local outlets that will engage their brains and stimulate their imaginations, and most importantly for parents, give them something to do. Here are 17 online classes, live streams, and blogs to keep your kids entertained and learning while we're all stuck at home.
Music
The New Windsor Music Academy has online music lessons for young kids and teens through the free video chat app Zoom. With music teachers trained at Yale, Berklee College, and Julliard, the academy offers top-notch remote classes in guitar, piano, percussion, woodwind, brass, and voice. Lessons are $31 for 30 minutes.
New Windsor Music Academy
The School of Rock in Beacon is offering weekly virtual music lessons for free as part of their Learning Event Series. The link for each session will be available via their Facebook page, and topics will include song writing, rhythm, music theory, song mapping, and practice strategies.
Art & Crafts
Poughkeepsie's The Artist's Corner has a mission to provide affordable art opportunities for families in the Hudson Valley. Their online classes range from $5 to $10 and require basic at-home art supplies like paper, something to draw with, scissors, and glue. Kids will engage in group video calls with other students as they all draw, color, and make arts and crafts together.
The Scribble Art Workshop in Wingdale offers online art classes for toddlers, ages two to four, and school-aged children from kindergarten to fifth grade. Students will learn various drawing, painting, and sculpture skills twice a week. Some classes are free, and others are either $50 or $80 per week.
Kids can mold vases and shape figures out of clay while following along with online instruction from the Clay Art Center in Port Chester. The one-hour classes range from $18 to $25 and are separated into age groups ranging from ages 7 to 18.
Physical Activity
Are your young ones getting restless at home? Traditional Okinawan Karate of New Paltz will help them burn their extra energy while also developing their sense of confidence, discipline, and focus. TOK offers virtual classes for children on Monday and Wednesday. One free trial class is also available for those who want to test out the online format.
On Thursdays, kids ages 4 to 10 can follow along with Rainbow Body Yoga instructor Michele Anderson as she teaches them how to breathe, manage anxiety, and bend their bodies into positions they never thought they could. Tuesdays are tween and teen yoga, where kids 11 years old and up follow Anderson's instruction. All classes are $10.
For $5 per class (or $40 per week), Gina Marie'z Academy of Performing Arts of Highland hosts online dance classes through Zoom for kids ages five and up. The weekday classes range from sweet and sassy hip hop to divalicious musical theater numbers.
Learning New Things
Now is the perfect time for your kids to learn something new. The Language Learning Institute in Latham has virtual language classes for children of all ages. Choose from Mandarin, French, Italian, or Spanish for beginner, conversational, or advanced levels, as well as "mommy and me" classes. Classes range from $98 to $228, and conversational classes are free.
Bricks 4 Kidz in New Windsor has a virtual classroom for children interested in learning STEM skills. Classes include robot building, movie making, and virtual model making. Some classes are single-day, while others go from April to June, with prices ranging from $10 to $120.
The Catskill Animal Sanctuary in Saugerties has an educational live stream on YouTube every Tuesday and Thursday that takes kids around the grounds and introduces them to the furry residents, including sheep, goats, and a mischievous turkey. Hear the backstories of all the sanctuary's cute critters, as well as lessons from the knowledgeable staff.
The iconic octagon-shaped Red Hook Library hosts "libratory" experiments with Paul every Thursday on the library's YouTube account. Past experiments have included how to home-make edible playdough using pantry staples and how to make color bursts in milk. Follow along with the kids at home for a little science fun.
Catskill-based school Catskill Wheelhouse is providing free at-home prompts for arts and crafts activities, experiments, and homemade instruments on their website. Kids can make homemade kazoos from a toilet paper roll or create a fizzling concoction with vinegar and baking soda. Although the prompts are free, donations are welcome.