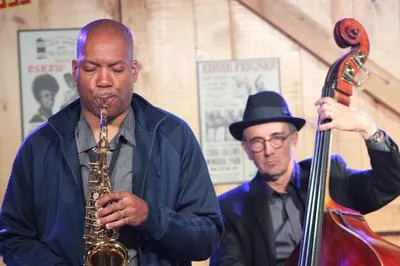 The Hudson Valley Jazz Festival turns 10 next August, and kudos are due to organizer/musician Steve Rubin and his crew for keeping the vital, local, nonprofit musical celebration going since 2009. But, like other labors of love in these times of gutted arts funding, the event relies largely on the largesse of the music-loving public for its lifeblood. Hence, the organization that sponsors the four-day, volunteer-run festival in Orange County has launched a Gofundme page as a means to help make sure it returns this August.
"A percentage [of the proceeds raised by the campaign] will be donated by us to the Jazz Foundation of America which provides performance opportunities to emergency living expenses to medical care to housing," says Rubin. "The Jazz Foundation offers a variety of programs and assistance for jazz and blues musicians in need. For this 10-year celebration, we hope to have an education program, young musicians showcase, and multi-media as part of some jazz performances."
Enjoy this performance by Michael Antonelli and band at this year's festival:
The Hudson Valley Jazz Festival's Gofundme campaign page is live now at https://www.gofundme.com/2019-hudson-valley-jazz-festival.
To find out about more upcoming events in the Hudson Valley, subscribe to our weekly newsletter Eat. Play. Stay.