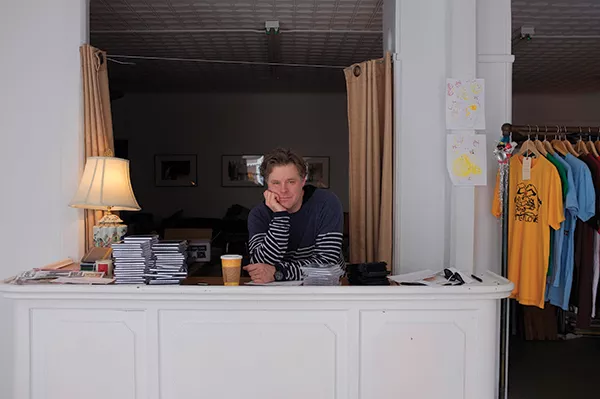 Fionn Reilly
Nate Krenkel in the Team Love Ravenhouse Gallery in New Paltz.
There are those who've sounded the death knell of the record label with escalating volume in recent years. They mainly blame the Internet and its attendant streaming and file sharing—or, more specifically, a generation that, arguably, views recorded music as little more than free, fleetingly interesting, and ultimately disposable bundles of intangible data. As evidence, these pessimists point to the decimation of the traditional commercial model for releasing and marketing music that's been in place since Edison pioneered the wax cylinder over a century ago. The fat lady has sung, they say, and labels are done.
Not so fast, doomsayers. Yes, it's undeniable that the Internet Age has delivered a considerable blow to the established infrastructure of the industry—and it's the majors who've been crying the loudest about it, as they make desperate moves like repackaging their back catalogs into pricey box sets aimed at last-gasping baby boomers and putting in place the controversial "360" deals that take a piece of what artists make from live performances, merchandise, and other sources of income not directly related to record sales. And while theory might posit that the Internet's direct-to-fan marketing mechanisms mean that artists can bypass having to be on a "real" label in order to sell their music, the truth is that many who operate below a certain profile are finding out they have neither the time nor the business acumen needed to run a record label effectively. Thus, after a dip of about a decade, the number of indie labels is on the rise, a phenomenon fueled in part by the renewed interest in vinyl and better systems for managing download sales. And two of today's most vital and respected indies are based in the Hudson Valley: Team Love Records and Fat Cat Records. In the face of file sharing and record store closures, both have been able to hold their own, delivering steady streams of high-quality product by some of the cutting edge's most critically fêted artists. Which in today's downsized reality translates to outright success.
"In the time Team Love's been around, the record industry's only known bad times," muses label head Nate Krenkel, indicating that success is a relative term. "Right now, the business is basically a three-tiered situation. At the top are the majors, who can't really even poach off indie labels anymore because they can't offer artists anything better and still make the money they need to operate; in the middle you've got the big indie labels like Matador and Merge; and below them are all the smaller labels." One could say Team Love and Fat Cat lie just beneath the second echelon; while neither are at the level of recognized indie powerhouses like the two Krenkel cites, both nevertheless have burgeoning catalogs and international followings that regard them as sage, ear-to-the-underground tastemakers.
"What's What I Do" by Last Good Tooth
From the album Not Without Work and Rest.
Update Required
To play the media you will need to either update your browser to a recent version or update your
Flash plugin
.
Krenkel grew up in Utah and worked as an A&R rep at Sony/ATV Publishing in New York for several years before co-founding Team Love in 2003 with singer-songwriter Connor Oberst, whose career he manages. The label's big opening move was a novel one at the time, a "Why fight it?" approach to the file-sharing issue that offered free downloads as a promotional tool to generate interest in its releases. Along with recordings by Oberst's guises as Bright Eyes and Connor Oberst and the Mystic Valley Band, the highly eclectic label encompasses styles ranging from sugary pop to acoustic folk, rock, and rap, and has released, among many others, acclaimed albums by Rilo Kiley singer Jenny Lewis, Tilly and the Wall, Simon Joyner, Super Furry Animals leader Gruff Rhys, and sets by both vocalist Craig Wedren and his venerated band, Shudder to Think. Krenkel ran Team Love out of his Lower East Side apartment until he and his family relocated in 2009 to New Paltz, where he set up operations in the Church Street storefront the label shares with artist management firm Ravenhouse Ltd.
Called the Team Love Ravenhouse Gallery, in addition to housing the offices of both companies the site functions as a retail shop, an art gallery, an occasional performance space, and the physical manifestation of Team Love's colorful, homespun aesthetic. Krenkel was drawn to the Hudson Valley by way of Oberst's sometime tour mates, the locally grown Felice Brothers, who have made two megaselling albums for the imprint, 2008's The Felice Brothers and 2009's Yonder Is the Clock. But that internationally popular folk-country crew isn't the only area act Team Love, which works with artists via one-record-at-a-time contracts, has taken an interest in. In 2012 it released Die Pfalz, a compilation featuring the New Paltz-associated Breakfast in Fur, Bloodletters, Shana Falana, and Cycad, as well as ex-Felice Brother Simone Felice's self-titled debut; more recent signings include a pair of Hudson-based acts, the haunting-voiced folk singer Andrea Tomasi and the alt-Americana band Last Good Tooth. "I found out about Team Love through Willy Mason's second album, Where the Humans Eat [released on the label in 2004]," says Last Good Tooth singer and guitarist Penn Sultan. "I played the hell out of that album, and I was also really into the albums Team Love put out by [Texas singer-songwriter] David Dondero. My band met Nate when we played in New Paltz a year ago. We dropped off a demo at the office and he called us up to say he dug it, and we ended up crashing at his family's place. We've gotten to be good friends."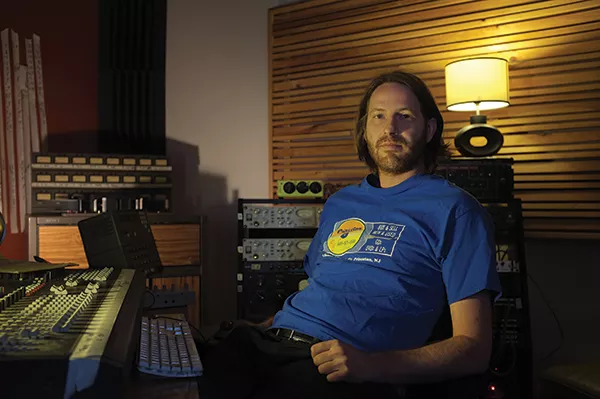 Fionn Reilly
Fat Cat Records US manager Adam Pierce in his home studio in Cornwall-on-Hudson.
Fat Cat Records was started by record store owners Alex Knight and Dave Cawley in England in 1989, and released dance and electronica 12-inches before rising to worldwide prominence with early albums by Icelandic postrock outfit Sigur Rós (1999's smash Ágætis byrjun) and Brooklyn neopsych unit Animal Collective. Like Team Love, it sports a dizzyingly diverse roster, and has released big-sellers by folk legend Vashti Bunyan and Scottish rock bands We Were Promised Jetpacks and Frightened Rabbit, as well as a wealth of titles by acts working in experimental music (U.S. Girls, Merzbow, Psychedelic Horseshit), electronic sounds (Matmos, HiM), noise rock (the Dead C, Transient Waves), folk rock (Vetiver), singer-songwriter styles (Nina Nastasia, Tom Brosseau), and, through its 103701 subsidiary, the "postclassical" sphere (Hauschka, Max Richter, Sylvian Chaveau). The label's US wing is run by Adam Pierce, who splits his time between an apartment in Hudson and a house-cum-recording studio in Cornwall-on-Hudson.
"This River Has a Tide" by Mice Parade
Update Required
To play the media you will need to either update your browser to a recent version or update your
Flash plugin
.
Raised in a musical household (his father performed as a jazz pianist and his brother works with the Dallas Symphony Orchestra) in the Westchester County village of Port Chester, Pierce is also the leader and percussionist of Fat Cat act Mice Parade and discovered music via "classic rock and metal, then punk, Fugazi, the Pixies—the same way most people my age got into it." While still in high school he started Bubble Core Records, initially a cassette label and inspired by Fugazi's Dischord Records. By the 1990s he was drumming for noise poppers the Swirlies, had set up a Bubble Core office in Brooklyn, and was releasing music that got the attention of Knight and Cawley, who were looking for American distribution for the fledgling Fat Cat. After a period of running Bubble Core and overseeing distribution for a clutch of labels that included Fat Cat, in 2005 Pierce jettisoned his other interests to focus exclusively on running the latter as Sigur Rós's jump to the majors saw its back catalog began to blow up Stateside. Given the challenges that he's faced and has seen others face in his chosen field, what's Pierce's assessment of the business these days?
"Well, after doing this for more than 15 years I'd say it's good—and at least semi-predictable, compared to how it was during the first few years the Internet was coming into play," he says. "But I'd tell anyone thinking of starting a label not to do it unless they're seriously ready to sink their teeth into it and know what they're doing. You wouldn't start a pizza shop if you don't know how to make pizza. You have to understand that you're guiding bands' careers and that 'breaking through' nowadays means a smaller piece of the pie."
In addition to the post-rocking Mice Parade, Fat Cat's locally based artists include the New Paltz-area four-piece Brakesbrakesbrakes (fronted by UK expatriate and ex-British Sea Power member Eamon Hamilton; for legal reasons the band is known outside the US as, simply, Brakes) and Beacon singer-songwriter Curtis Harvey, whose second album of roots-leaning music for the label is due out this summer. "I was really stoked to sign to Fat Cat because I'd become a fan of a lot of the bands on their roster," says Harvey, who previously performed with New York band Rex and Tortoise offshoot Pullman. "As far as I'm concerned, the role of a label, to help me get my music out there, is the same as it was when I was playing with my other bands back in the '90s. I've never liked the business end of things or been interested in 'becoming' a label, though I know that works for some artists. The way most people buy music, though, is of course different now. Since a lot of people just buy one or two tunes off an album, a lot of artists now will consciously shape their albums by front-loading them with the stronger tracks because they figure people will only buy the first one or two tunes they hear."
Interesting point, that. Although consumers are, indeed, increasingly purchasing tracks individually and/or listening to them one at a time via taste-targeted streaming aggregator sites like Pandora and Spotify, it's still full-length releases that remain the stock in trade of both Team Love and Fat Cat. But as a format, is the album dying? "There are two realities for listening to music now," says Krenkel. "And as a listener, streaming services are certainly not the only reality I'd want to have access to. But as far as albums going away, I don't see that happening anytime soon. Besides being a format that gets you to take an artist's work more seriously, an album is expressive unto itself, with the way the songs are sequenced and presented to the listener. And even though being assaulted with endless suggestions of other songs by other artists you may like based on whatever you're listening to at that moment might sound like a good idea at first, where's the feeling that comes with discovering an artist or record on your own? That's one of the most enjoyable experiences of being a music fan, and the labels that are known for releasing new and interesting music are still a key part of that experience. So to say record labels are no longer relevant is bullshit. Actually, it seems like there are new labels starting all the time now."
Pierce's outlook is similarly undimmed as he points out that great indie labels can be artistic filters, with passionate music lovers who follow their outputs in much the same way they follow their favorite bands. "In the clubs in Brooklyn, or wherever, the 'cool factor' of the music changes all the time," he observes. "You need labels to be there, at the street level, following it and releasing it. So however the music ends up being marketed and distributed, there'll always be a need for record labels to do that."
Last Good Tooth's Not Without Work and Rest is out now on Team Love Records. Mice Parade's Candela is out now on Fat Cat Records.