Applestone's Meat Vending Machines Arrive in Hudson
Jennifer May, courtesy of Applestone Meat
Joshua Applestone in front of the famed meat vending machines.
The future of farm-to-table meat selling is now open for business in Hudson. In August,
Applestone Meat
opened its second 24-hour automated butcher shop at 21 Green Street. (Its headquarters is in Stone Ridge.) The clean, well-lit shop has seven automat-style vending machines stocked with everything from sausage and roasts to fillets and 120-day aged prime steaks. There is also a human attendant present from 11am to 6pm to help Luddite carnivores navigate the future of farm-to-table tech. While the machines themselves might at first seem imposing, the quality of the products therein is validated by the reputation of owner Joshua Applestone. Cofounder of Fleishers Craft Butchery in Kingston in the early 2000s, Applestone is oft credited as a pioneer of the whole-animal butchery trend within the farm-to-table movement. Read more about
Applestone's meat vending machines on our sister site Rural Intelligence.
RUNA, a French Bistro, Takes Over Village TeaRoom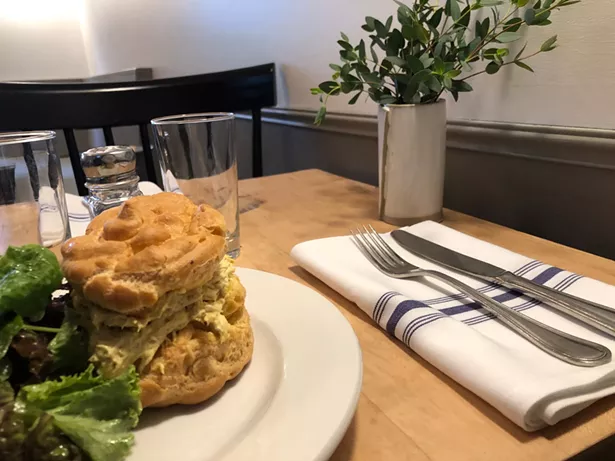 Courtesy of RUNA
Head to RUNA Bistro in New Paltz for classic French fare and gourmet charcuterie made in-house.
New Paltz hasn't seen a French restaurant since Loup Garou closed in the late `90s. Runa is a long-overdue addition to the town's dining scene, overseen by Clare Hussain, a hospitality veteran who took over the historic farmhouse that formerly housed the Village Tea Room. Like Tea Room owner Agnes Devereaux, Hussain is Irish; the menu however, is classic French, with chef Ryan McClintock in the kitchen. The vibe is comfortable and casual at
RUNA Bistro
, which aims to give a casual and comfortable dining experience with elevated, high-quality meals. Lunch includes smoked salmon tartine with capers, shallots, cucumbers and dill aioli for $13. The weekend brunch includes bistro staples like crepes ($14), fines herbes omelette ($13), and croque monsiuer ($14). Dinner entrees include duck breast au poivre, with grapefruit gastrique, wilted frisée, and roasted root vegetables ($28), and steak frites ($28).
Hudson Valley Restaurant Week Returns
November 4-17
Over 200 restaurants are participating in this year's Hudson Valley Restaurant Week, all offering three-course dinners for $32.95 and some also offering three-course lunches for $22.95. Some newcomers to the roster include Joe & Joe in Nyack, Locali in Mount Kisco, and Little Drunken Chef in White Plains. Terrapin in Rhinebeck, a longstanding participant, is offering entrees such as its fetishized barbecued duck quesadilla with mango-avocado salsa on their lunch menu and maple-brined pork chops with Calvados apple demi-glace on their dinner menu.
Red Hook & The Chocolate Festival
November 2
Courtesy of Dutchess Tourism
Red Hook & The Chocolate Festival
is a daylong free festival featuring chocolate galore, with chocolate wars, chocolate Olympics, chocolate arcade, and chocolate fun-do. Live music will play in the streets as you explore the chocolate vendors and tastings, check out the various competitions and cooking demos, and search for the special guest: Willy Wonka himself.
Willow by Charlie Palmer Opens in Rhinebeck

Celebrity chef and restaurateur Charlie Palmer—River Cafe, Aureole, Charlie Palmer Steak—has partnered with Mirbeau Inn & Spa to create Willow, a sumptuous new eatery in Rhinebeck. Open for breakfast, lunch, and dinner daily, Willow offers a journey into Palmer's signature progressive American cooking infused with classical French techniques, and is overseen by Hudson Valley native and rising culinary star Thomas Burke. For breakfast, you can enjoy a $10 grain bowl with farro, avocado, and radish tossed with Banyuls vinaigrette. Lunch includes steak frites with béarnaise sauce for $28. Dinner entrees include caramelized Mary's chicken with sunchoke, spinach puree, pickled trumpet mushrooms, and truffled chicken jus for $27.