<!—StartFragment—>

Hudson Valley food banks are struggling to meet the needs of the communities they serve as the coronavirus creates a surge in demand.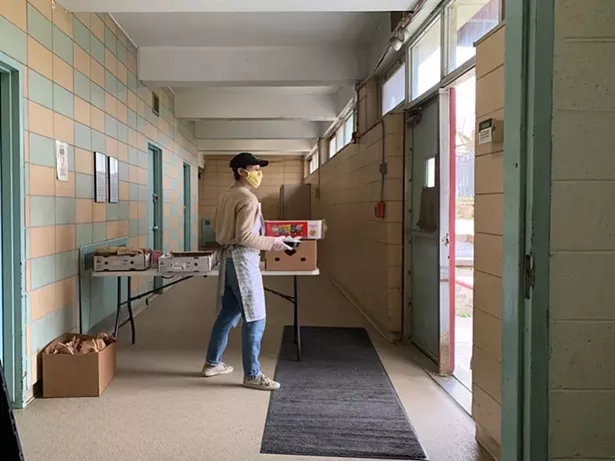 Photo courtesy of Dutchess Outreach
Food banks across the country are experiencing an unprecedented surge in those seeking food assistance amid the ongoing public health crisis. With a skyrocketing demand for food assistance, food banks operating with limited staff, budget, and resources have had to scramble to continue to serve their communities.
The nationwide unemployment rate for the last month is estimated to be somewhere between 13 and 18 percent, an all-time high since the Great Depression. With more than 22 million unemployment claims in the last month, the number of people experiencing food insecurity is ballooning as people struggle to make ends meet with no income source. Feeding America, the nation's largest domestic hunger relief organization, projected that the number of people seeking food assistance over the course of the next six months would reach 17 million.
Resource Shortages
As more and more people are seeking assistance from food pantries and local charities, these assistance programs are facing shortages of their own. Pantries and banks are struggling to meet the demand as they operate with limited staff. "Right now we're working with a skeleton crew of volunteers, less than half of the normal amount we have helping out," said Martha Parke, Chair of the Jayne Brooks Food Pantry's Steering Committee in Rhinebeck.
Most rely on a volunteer workforce, consisting largely of retirees and seniors, who are at increased risk for COVID-19 infection, causing many of these older volunteers to stay home. "When this all started we lost about 95 percent of our normal volunteers; a majority of them are over 70 or live with someone over 70 or are immune-deficient in some way, so they need to stay home now for their health," said Christine Hein, Executive Director of People's Place in Kingston.
In addition to struggling with a limited staff, food banks and pantries are dealing with a decrease in food supply. Under normal circumstances, these food relief organizations receive a large percentage of the goods they distribute to their communities through donations from supermarkets with an excess in these goods and individual members of their communities. While grocery stores and other major food suppliers struggle to keep their shelves stock amid pandemic panic buying, food assistance programs are no longer receiving the volume of donations needed to serve their communities that are struggling. "We have had to pause our acceptance of donations of physical canned goods from members of the public because of our limited capacity to sanitize them, meaning we have to purchase more food items than we typically do from the regional food bank, stressing our budget further," said Sarah Salem, Director of Development at Dutchess Outreach, an advocate and provider of hunger and relief services in Dutchess County.
Hudson Valley Food Banks
With Governor Cuomo's NYS on PAUSE order, which went into effect on March 22, all non-essential businesses were forced to shut down to help prevent the spread of COVID-19, effectively leaving large numbers of New Yorkers out of work and suddenly in need of food assistance. The Food Bank of the Hudson Valley, which serves more than 23 counties, has already provided over a million pounds of food—or enough for 850,000 meals—through daily distributions to partner agencies, helping them serve the growing number of people seeking assistance.
"Since the pandemic started about 6 weeks ago, we've seen around a 400 percent increase in people asking for help from the pantry," said Hein. People's Place has served over 400 households new to the pantry's services since March 11—an equivalent of 155,919 meals.
Dutchess Outreach is experiencing double their normal demand. "We're serving some clients who haven't had the need to visit our pantry in over 20 years," says Salem. "The hardship our community is now faced with has left many with no other option.". The Jayne Brooks Food Pantry is also noticing an increase. "In 2019 we served about 25 to 40 households a week—a couple of months into 2020 now, and we serve about 75-80 households a week on average," said Parke.

Innovative Offerings
As a result of the influx of those looking for help, these local food assistance programs have had to adjust their operations during this global health crisis to account for the influx of residents seeking assistance. Dutchess Outreach recently added grocery delivery services to their pantry program and has begun purchasing more food items than normal from the regional food bank to accommodate for the increase in demand.
Others have begun offering pop-up food distribution events to minimize person-to-person contact within the food pantries. Instead of having residents come inside to browse the pantries' shelves, pre-packaged bags of groceries are being handed out for curbside pick-up and even available for delivery for those unable to leave their homes. The Jayne Brooks Food Pantry has moved to this social distancing model of operating in order to be able to continue to serve the community while also protecting volunteers and those seeking assistance. "We've really had to reorient how we do things," Parke said.

Photo courtesy of Church of the Messiah - Jayne Brooks Food Pantry
How to Help
Food assistance programs need community support more than ever to meet the demand of those in need. So, how can you help?
On a national scale, Feeding America has set up a COVID-19 Response Fund which will be used to distribute food and funding to local food banks across the US.
Locally, the Food Bank of the Hudson Valley is seeking financial donations to be able to hire additional staff, expand deliveries, and assist agencies with covering the costs of purchasing food to supplement donated inventory. Monetary donations direct to your local food pantry can help in more ways than just the purchasing of food. "Donations help with operating costs and paying the bills to keep us running like the electricity needed to power our freezers 24 hours a day," said Hein.
Aside from donating money to these programs, many are seeking volunteers to maximize output to their communities. To volunteer at a food bank or pantry, contact individual feeding programs directly for more information. To find your local assistance program, Hudson Valley Food Bank has a search tool to find food banks and pantries within your zip code.
In general, food banks are urging consumers to practice conscious buying when at the supermarket. As the demand for food and supplies grows, food banks are receiving far fewer donations from retailers as people are buying in bulk, so stocks are low. Try to avoid panic buying and only purchase what you need to allow for food assistance programs to be able to purchase what they need to provide essential goods to those in need.
<!—EndFragment—>