"We Wear the Mask" is at the Dorsky Museum this month.
Music, movies, and museums are on the menu as arts events continue their careful return to the Hudson Valley.
"We Wear the Mask: Race and Representation in the Dorsky Museum Permanent Collection" | 9/12-12/22
With hand sanitizer stations, mask requirements, and other social-distancing and safety steps in place, the
Samuel S. Dorsky Museum
on the campus of SUNY New Paltz will reopen on September 12 with a new exhibit in the Seminar Gallery titled "We Wear the Mask: Race and Representation in the Dorsky Museum Permanent Collection." Curated by artist Jean-Marc Superville Sovak, the exhibition runs through November 22 and presents a range of artwork and artifacts that span almost 3,000 years, from ancient Egyptian funerary figures to polaroid photographs by Andy Warhol. See website for museum hours and more information.
Cyro Baptista and Glossolalia | 9/12
Innovative and adventurous percussion polymath Cyro Baptista has worked with a wildly diverse range of artists: everyone from Trey Anastasio to Sting, John Zorn, Herbie Mann, Laurie Anderson, and his fellow Brazilians Tom Zé, Caetano Veloso, and Marisa Monte. For this night during
the Falcon
's outdoor Waterfall Series, he brings his own exciting Glossolalia band. (David Amram returns September 13; Jim Campilongo jams September 19.) 7:30pm. Donation requested. Limited seating, reservations recommended. Patrons must order a meal.
Bard Music Festival Concerts | 9/12-9/26

On September 12, 19, and 26, the
Bard College Music Festival
will present "Out of the Silence: A Celebration of Music," a series of free livestream concerts by The Orchestra Now, conducted by Bard College President Leon Botstein, Andrés Rivas, and Zachary Schwartzman. Each of the programs will include works by prominent Black composers alongside a selection of pieces from the Bard Music Festival archives; taken together, they trace the history of classical music from the late 18th century to the present and affirm the centrality of music to life and public culture. Although viewing is free to all, reservations are required for each event. See website for a full concert schedule and registration information.
"Women" Exhibit | through 9/26
Through September 26,
Queen City 15 Gallery
in Poughkeepsie is hosting "
Women
," a group show featuring works by a diverse cast of area artists. Part of this month's citywide WE RISE Poughkeepsie project to celebrate the 100th anniversary of American women gaining the right to vote, the exhibit includes works by Rita Bolla, Jessica Baker, Harriet Forman Barrett, Sarah Bartolotta, Samantha Brinkley, Dorothy Brodhead, Linnea Brown, Isabel Cotarelo, Carla Mintz, Donna Faranda, Steena Fullmer, Atticus Lanigan, Lin He, Li Lin-Liang, June He, Dan McCormack, Emily Nomer, Michaela Pohl, Mary Mugele Sealfon, Joe Radoccia, Julia Santos Solomon, Marlene Wiedenbaum-PSA, Maureen Winzig, Zoha Malik, and Jill Ziccardi. The gallery is open on Fridays from 3 to 7pm, Saturdays from 12-7pm, and for private viewing by appointment.
Lukas Milanak: Allegory and Apparatus" | 9/12-10/4
With the mind of an experimenter and an artist's approach, Lukas Milanak's zany body of work seeks to delight, entertain, and spark curiosity with viewers. Spanning countless materials and formats, his art projects draw on science and engineering in a whimsical modern study of alchemy. Using mundane objects, Milanak builds complex systems that, when taken as a collective exhibition challenge our notion of the common. "What happens in between seeing potential and realizing it goes well beyond simply building an object. There is magic in the making, alchemy in the experimentation, and joy in sharing that with others," he says. September 12–October 4; opening reception September 12, 12-9pm at
BAU Gallery in Beacon.
Joan Osborne | 9/19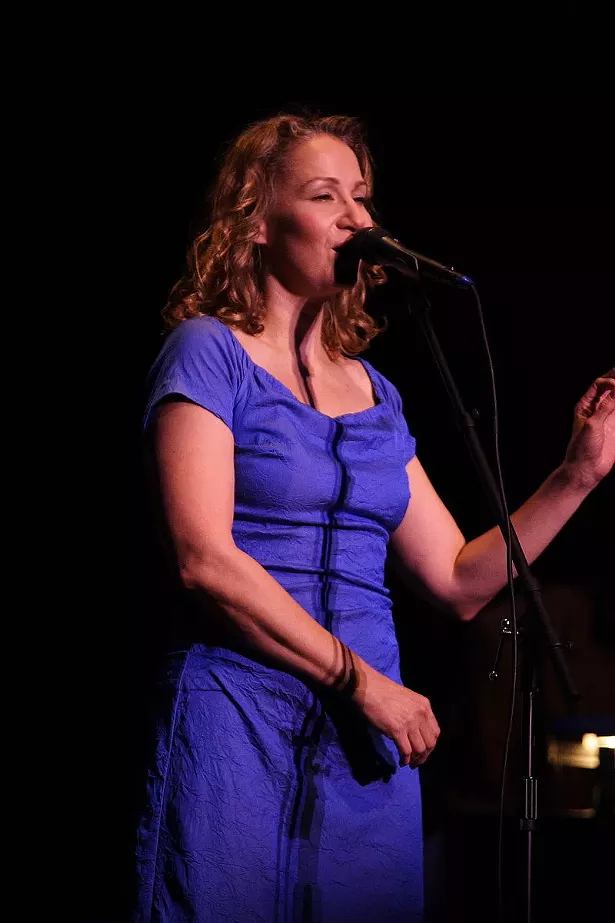 Singer-songwriter Joan Osborne struck Top 10 gold with her 1995 smash hit "One of Us" before going on to perform with the Dead and Phil Lesh and as a member of Black Crowes drummer Steve Gorman's super group, Trigger Hippy. Here, the Lilith Fair songbird lands at
City Winery Hudson Valley
as part of its Outdoor Concert Series for a special performance at the site's lawn, which is partitioned off into socially distanced "pod" sections, each with space enough for two to ten people. As of this writing, Rear Lawn area pod tickets are available. (Amy Helm appears September 5; Chris Thile holds forth September 12.) 3pm. $240 per pod. Montgomery.
Big Eddy Film Festival | 9/25-9/26
Since 2012,
the Big Eddy Film Festival
has brought indie and classic films to the Sullivan County hamlet of Narrowsburg. In years past, the festival's home venue has been the historic Tusten Theatre, but of course 2020 is different: This year, the Big Eddy will present movies online and outdoors at the Bethel Woods Center for the Arts and at a pop-up drive-in at a nearby farm. The selections are
Grease
,
Jimmy Carter: Rock & Roll President
,
Gossamer Folds
,
The Dilemma of Desire
,
Women in Blue
, and
My Darling Vivian
.
Shaun Leonardo | through 12/22

On view now through December 22 at
Mass MoCA
in North Adams, Massachusetts, is "The Breath of Empty Space," a showing of works by Brooklyn-based visual artist Shaun Leonardo. Organized by Laura Thompson, the museum's director of education and curator of its Kidspace programming, the exhibit addresses how in America public perceptions have been shaped by mediated images of systemic oppression and violence against young Black and Brown men. The display encompasses a series of drawings based on Leonardo's impressions of images that have been widely disseminated in the press. See website for museum hours and admissions information.