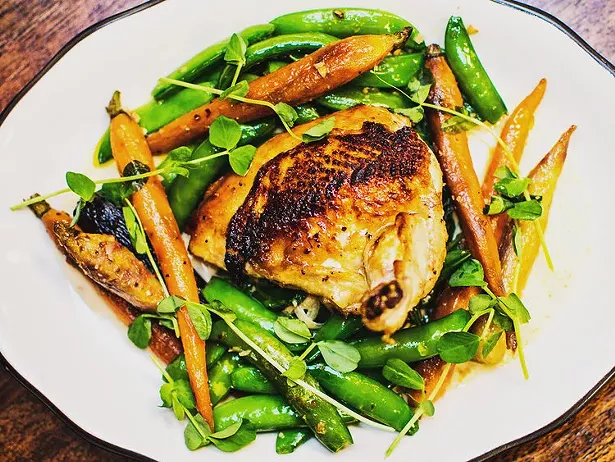 A dish at the Dutch Ale House, one of the restaurants participating in Hudson Valley EATS Birthday Club.
"About 2 years ago, I noticed that there was no place in the Hudson Valley that compiled everything food related in one place," says Janet Irizarry long-time restaurant owner, consultant, columnist and Culinary Institute of American adjunct professor. So, in 2018 Irizarry created Hudson Valley EATS, which is quickly becoming the ultimate online guide to where to dine and drink in the area.

The website is divided into four sections—articles, events, news, and a searchable restaurant directory. Hudson Valley EATS offers one of the most detailed and refined search engines in the area for picking just the right place to dine, customizable to meet any diner's needs and desires.

"Hudson Valley EATS is a robust website that features not only stories about local food businesses, but also an event calendar so you can find all the local foodie happenings, plus information about new restaurant openings, and a searchable directory," Irizarry says.
Hudson Valley EATS Birthday Club
With the website up, Irizarry turned her attention to launching the Hudson Valley EATS Birthday Club, which went live this month. For the program, Hudson Valley EATS is teaming up with some of area restaurants to offer birthday boys and girls (of all ages) gift certificates . Celebrate your birthday all month long by visiting the Hudson Valley EATS website and selecting as many participating restaurants as you'd like. After completing the short form, you'll be sent a generous gift certificate for each restaurant. And the perks aren't just a free dessert or glass of wine—these are generous discounts on your entrée and free to those who are celebrating their day with friends, family, or colleagues.
Hudson Valley EATS prides itself on quality and diversity in its online offerings, and that's exactly what you'll find from participating Birthday Club restaurants. Some of these places include The Dutch Ale House in Saugerties, The Hoot Owl in Gardiner, The Beekman Arms in Rhinebeck, Dvine Pie in Piermont, and Trattoria Marbella in Ellenville. The newest restaurants to join the club are Jason Patricks and Trattoria Marabella, and others are joining all the time, so check back as your birthday approached. If your favorite isn't on the list, or if you've got a restaurant you'd like featured, let Hudson Valley EATS know.

Celebrate your birthday month with friends, family or colleagues through the Hudson Valley EATS Birthday Club. For more of the latest on the Hudson Valley food scene, follow Hudson Valley EATS on
Facebook
and
Instagram
.