The Village of New Paltz hosts SUNY New Paltz
Normally, spring is a lucrative time of year for businesses in college towns. Students hunker down for seven-hour final exam study sessions in coffee shops. Restaurants cater campus music festivals and end-of-year shindigs. Families arrive in droves for hotel stays and celebratory meals with newly minted graduates.

Since higher education institutions transitioned to distance learning amid the coronavirus pandemic, students are hundreds or thousands of miles away from campus and the retail businesses they help keep in business. This spring semester, they are not filling the countertop seats and side booths of the local diners or celebrating the end of an exhausting week at their favorite bar. Without students spending money, villages like New Paltz are reeling from the economic hit.
Economic Impact of College and University Students
Colleges and universities are key engines of their local economies. In 2018, State University of New York (SUNY) students and employees spent $825 million in restaurants and bars and $350 million in retail stores. In the Hudson Valley, SUNY operations and students contributed $1.6 billion to the regional economy, not including private colleges and universities such as Marist, Mount St. Mary, the Culinary Institute of America, and Vassar College. A 2015 study by the Center for Governmental Research estimates that students and visitors at independent, private colleges and universities in New York State spent $4.5 billion in their host communities.
Vassar College didn't respond to an inquiry about their regional economic impact, but neighboring Arlington Business District Director Robert Legacy says the loss of students has hit them hard. Legacy says revenue for most businesses is down by 75 to 90 percent. Vassar announced its shift to precautionary distance learning over spring break, effective March 26. Roughly 200 of the school's 2,456 students still remain on campus due to extenuating circumstances. Students at nearby Marist also patronize the business district and greater Mid-Hudson area, spending roughly $25 million. Marist spokesperson Julia Fishman says there are "very few remaining students" of the college's 6,068 student body after the college started remote learning March 30.


Arlington-based fusion restaurant Twisted Soul, which serves up a mix of Asian, Latin American, and soul food and is a 10-minute walk from Vassar, normally gets about 75 percent of business from Vassar and Marist students, faculty, and staff. But due to COVID-19 precautionary measures, co-founder and owner Ira Lee is counting this year as a loss. Still, his and all other businesses' doors in the district remain open. "We're trying to stay open so that we don't lose everything," he says.
Chamber of Commerce officials on both sides of the river say it's too soon to gauge the full impact of distance learning on the local economies. "Current business impact is still unknown at this point and it may be a bit early to make assumptions as hard data is limited or unavailable at this time," says New Paltz Chamber of Commerce Executive Director Christopher Short. Though concrete data is limited, local college town business owners throughout the region can attest to their hardships as they rely on local residents to stay afloat.
Business owner Theresa Fall says she furloughed all employees at her bar Jar'd and all but one at her restaurant The Parish when Governor Andrew Cuomo limited bars and restaurants to take-out and delivery effective March 16. She was uncertain how much she'd make with the new industry restrictions. The Village of New Paltz businesses are within walking distance of SUNY New Paltz, whose 7,565 students spent $128.9 million at restaurants, retail stores, and other businesses between 2017 and 2018. SUNY New Paltz spokesperson Melissa Kaczmarek says 173 students remain on campus, and "a number of students remain in off-campus apartments in New Paltz, including about 200 international students."
Since the governor's order, Falls says she's only made an eighth of her average daily sales, mostly from loyal, long-time customers. It was enough to pay utilities, her business partner, and her chef. Then, she qualified for a Payment Protection Plan (PPP) loan, a forgivable loan program introduced by the coronavirus stimulus bill aimed at helping small businesses keep staff on payroll. She's brought back additional staff since then. "Now I'm reopening [Jar'd] just for the delivery of quarts of pre-batched drinks," she says. "At the Parish, we're going to open up for a little bit longer so we can bring back some of the employees."
Owners of the "Historic" Village Diner in Red Hook and nearby Bard College, Arleen Harkins, her husband, and their business partner gave up their salaries and provided their full-time employees limited hours to keep them all on payroll. "Our main goal was to make sure everybody can at least support their families," Harkins says. The restaurant qualified for a PPP loan last week, and Harkins and her team regained some of their previous salaries while paying their employees with the loan.
According to a Commission on Independent Colleges and Universities of New York economic study, students and visitors at Bard pumped $29,000,000 into the Red Hook and greater Mid-Hudson economy in 2015. Bard spokesperson Mark Primoff says approximately 275 of the roughly 1,900 student body remain on campus and continue to support local businesses.
Owner of the Red Hook burrito joint Bubby's Take Away Kitchen Bjanette Andersen shared that some of those students are coming back. In the first week after Cuomo's executive order, she was uncertain if it was worth staying open. Business slowed to a trickle. "And then little by little I feel like people are getting comfortable with how curbside pickup goes and the new normal of quarantine," she says. "Now, we're pretty busy doing lunch only and there's only two of us working, so we're scrambling."
Arlington Crafted Kup owner Tanner Townsend explained that with decreased business, they safely manage customers who pop in to pick up their orders. Some of Townsend's customers thank him for remaining open—a cup of coffee salvages a bit of their normal routine in a world undergoing a seismic cultural shift. "For the mental state of people, it's a small thing they can do to feel like they have a sense of normalcy," he says.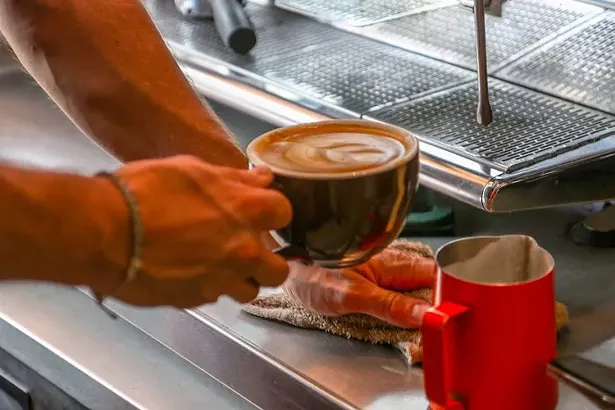 Town/Gown Support Networks and Reopening The Economy

While some business owners such as Harkins and Falls qualified for PPP loans, a majority of businesses didn't make the cut before those funds dried up. And for the most part, businesses' daily sales are still a small fraction of their pre-pandemic averages.
Some colleges and universities are discussing these challenges and brainstorming support opportunities with their respective communities' public officials. At the April Town/Gown Committee meeting, Kaczmarek says SUNY New Paltz representatives, the New Paltz Regional Chamber of Commerce, and other local municipality officials met via WebEx. "The Committee discussed with Chamber Director Christopher Short these economic impacts and ways we continue to support the region," she says. According to Kaczmarek, the university advocated with Senator Jen Metzger, D-Rosendale to secure $200,000 in the 2019-20 state budget for the Village of New Paltz. The funds, known as SUNY Impact Aid, offset the local police and fire departments' costs to serve the university.
Some counties in the Hudson Valley await the governor's greenlight to gradually reopen their economies and save struggling small businesses. As New York's "PAUSE" order nears its May 15 end, Cuomo will only extend the restrictions for counties and regions with higher novel coronavirus cases.
Dutchess, Ulster, and Orange County advocated to state officials for separate consideration from other upstate municipalities such as Westchester County, which reported 29,883 cases as of May 3. Dutchess reported 3,086 positive cases the same day. "We think the governor understands the difference and that he'll allow us to start to return some activities and industries to normal or close to normal sooner than those downstate," says Dutchess County Assistant County Executive Ron Hicks.
Texas, which had 32,296 cases as of May 4, initiated its first reopening phase on Friday by allowing retail stores, restaurants, movie theaters, malls, museums, and libraries in roughly 50 percent of the state to operate at 25 percent capacity. The state saw an additional 1,033 positive cases the day before these reopenings, and health experts say the state's testing is too low to gauge accurate infection rates.
Economists say reopening the economy depends on people feeling safe enough to brave a new normal. The elderly and those with underlying health conditions might be hesitant to get a haircut or sit in a movie theater. Widespread testing or a viable vaccine might be necessary to put consumers at ease and accurately assess if reopening is safe.
For college towns, students' return to campus could also make or break their businesses. Vassar, Marist, Bard, and SUNY New Paltz representatives anticipate in-person fall semesters, though this depends on directives from the Governor's office and state and county health departments.
Cuomo named Vassar president Elizabeth Bradley to the New York Forward Re-Opening Advisory Board developing a multi-phase plan to gradually reopen the state. Bradley, a global health scholar and former director of the Yale Global Health Leadership Institute, will present the college's tentative fall semester safety and operation plans to the advisory board.
Even with an on-campus fall semester, Legacy believes many students may return without funds to patronize local businesses. "The 2,400 students on Vassar's campus will be a major factor in how the businesses district goes—if they go out and spend money in the coffee shop or go out to dinner once a month," he says. For now, business owners can only play things by ear and hope for the best. "I take it day-by-day and week-by-week, and hopefully this doesn't last long," Lee says.
---
Twisted Soul: Checks hours on website for pickup; call (845) 454-2770
Crafted Kup: Curbside pickup, take-out, and delivery through GrubHub and DoorDash Monday-Friday, 8am-3pm
Jar'd: Pick-up hours for rosé sangria on Friday, call (845) 401-4499 for more info
The Parish: Take-out, curbside pickup, and delivery through Carry Out Kings and DoorDash Monday-Sunday, 4pm-8:30pm; call (845) 255-4205
"Historic" Village Diner: Curbside pickup Monday-Sunday, 6am-8pm (845) 758-6232
Bubby's Take Away Kitchen
: Take-out and curbside pickup 11am-3pm; call (845) 758-8226 or text (845) 514-4066