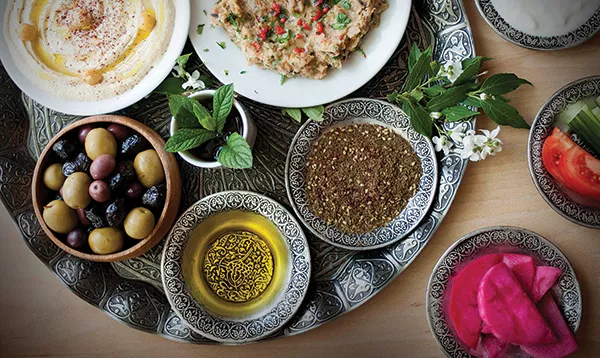 Middle Eastern delicacies from Ziatun in Beacon.
As The Byrds once crooned, there is "a time to every purpose, under heaven"—a time for saving, a time for splurging, a time for fancy dinners, and a time for cheap eats. In the New Year, while some of us are watching our waistlines, others will be watching their wallets. So we set out to bring you 23 affordable restaurants we love in the Hudson Valley. Our rubric? A decent bite to eat for under $10 (pre-tax, pre-tip). Here they are folks, gobble 'em up. If we missed your favorite inexpensive dining destination, let us know—and don't worry! We revisit this list every year.
Bread Alone
Rhinebeck, Kingston, Woodstock, & Boiceville
Bread Alone was baking organic bread long before it was in vogue. Since 1983, their flaky loaves have been a cornerstone of the local food scene. Try their bread at the source at any of their four cafe/retail locations. Order from the all-day breakfast menu for a $4 egg-and-cheese or opt for a hearty soup, salad, or sandwich. Bread Alone cooks use New York State ingredients and their bread is made fresh daily.
Our Pick: Carrot Bahn Mi ($9)

Circle W Market
Palenville
With a quaint white-and-red exterior, a candystripe awning, and a picket fence, this little roadside market looks straight out of another time. Serving breakfast, lunch, coffee, "bonkers" doughnuts and other baked goodies, this small and homey general store is the perfect place to pull up a chair at a creaky old table, and soak in the view.
Our Pick: Avocado Toast with Sriracha & Eden Shake ($7; add eggs for $2)
Gracie's Luncheonette
Leeds
This little luncheonette has taken the familiar comfort of a local diner—with its counter stools, milkshakes, coffee top-ups, and all-day breakfast menu—and elevated it. Everything from the bread to the ice cream and the condiments is made fresh, in-house; dairy, produce, and meat are from surrounding farms. The convergence of hyper-fresh sourcing and a dedication to laid-back approachability makes this little eatery a pleasure to frequent.
Our Pick: Poutine ($8)
Frida's Bakery + Cafe
Milton
Founded by the owner of Buttermilk Falls Inn and Henry's at the Farm, Friday's offers breakfast, lunch, and baked goods, all made from scratch daily. With a build-your-own salad bar that includes everything from quinoa to whitefish to kale (priced by the pound), paninis, wraps, and burgers, this is a great spot for a quick lunch that hits the spot.
Our Pick: Frida's Farmers Salad ($8.50)
Top Taste
Kingston
In a squat, snub-nosed flatiron building at a funny six-way intersection in Midtown Kingston sits an inconspicuous gem. From the outside, Top Taste could be mistaken for a bodega, but inside you'll find all the finger-licking, bone-in Jamaican delicacies you could ask for—oxtail, jerk chicken, curry chicken, stew chicken, beef patties, and goat curry, which is to die for. There is also a hot bar and rotating daily specials. It's small, though, so be prepared to order out.
Our Pick: Jerk Chicken ($7)
Palace Dumpling
Wappingers Falls
Sharing a strip mall with Smokes4Less, a nail salon, and a dry cleaners, Palace Dumpling doesn't exactly have, er, palatial digs. But it's not lofty setting that has people coming back. Palace Dumpling offers over 30 varieties of steaming dumplings alongside a host of soups, salads, noodle dishes, and tea. For between $8 and $13, you get a plate of 12 dumplings, enough to fill you up on your lunch break, or accompany with a salad for dinner.
Our Pick: Pork with Cabbage Dumplings ($8.95)
Ziatun
Beacon
Savor the flavors of the Middle East in this Oriental rug-clad eatery on Beacon's trendy main drag. For lunch, the pita wrap offers an affordable preview of the dinner mains—shawarma, lamb, kofta, chicken. Vegetarians will find plenty of soups, sides, and rice dishes to satisfy, from the addas (red lentil stew) to the hand-rolled grape leaves to the falafels.
Our Pick: Shawarma Wrap ($9)
Tony's Newburgh Lunch
Newburgh
Tony's has been a fixture in the waterfront city of Newburgh for going on 50 years, beloved by locals for its cheap hot dogs, homey feel, and special sauce (which you can order online). With breakfast specials ranging from $1.50 to $3.40, hot dogs for $2.25 a piece, and cheeseburgers for $2.75, you have to really be hungry to spend more than 10 bucks a head here. Just don't forget your cholesterol medication!
Our Pick: 1 Hot Dog with Everything ($2.25) + 1 Cheeseburger with Texas Sauce ($2.75)
Pete's Famous
Poughkeepsie
In a Dutch barn-style building on Poughkeepsie's Main Street, the Drivas family cooks up a sizzling mix of breakfast food, deli sandwiches, and pub grub. Build your own breakfast skillet, dig into an egg platter with corned beef hash, sink your teeth into a chicken chipotle sandwich, or get an order of wings and mozz sticks. The common denominator? They're all delicious and all under $10.
Our Pick: Italian Breakfast Skillet ($7.75)
Historic Red Hook Diner
Red Hook
Gleaming chrome exterior, neon signage, swivel stools, and aquamarine tiling—aah the splendor of the Red Hook Diner. It's everything you want out of a 20th-century, all-American roadside eatery—breakfast all day, bottomless coffee, stacks of flapjacks, and friendly staff. Nothing new or flashy here, just all the classics.
Our Pick: Long Horn Special ($9.75)
Underground Coffee and Ales
Highland
In an undeniably stark culinary landscape, Underground Coffee & Ales is a bastion of good taste, serving up a rotating slew of craft beers, fair trade coffee, and elevated pub grub. The breakfast menu, available from 9:30-11am, offers a variety of cheap options (the Caboose Sandwich stands out, with two eggs, sausage, white cheddar, salsa, and avocado for just $7). Later in the day, it's harder to get in under the $10 mark, but still affordable.
Our Pick: Breakfast Burrito ($9)
Meyer's Old Dutch
Beacon
From the owners of the acclaimed Kitchen Sink Food & Drink, Meyer's offers a range of good ol' American eats at a reasonable price, including beef, lamb, and vegan options. The New York State Special, their quarter-pounder, comes in at just $7. Taking inspiration from their initials, the playful interior features mod accents and cool lighting.
Our Pick: Crispy Chicken Sandwich ($9)
Big W Roadside BBQ
Wingdale
Warren Norstein traded a pedigreed French restaurant for a roadside barbecue joint, and he couldn't be happier. The meat is all dry-rubbed with spices and smoked for 5 to 17 hours. As a rule, sauce and slaw are served on the side. Extras like smokey beans, something green, and corn pudding are made daily from scratch. For the "truly sensible" you can get away with a pulled chicken sandwich for $6.85, but if you want a "Try It All" combo platter, plan to spend upward of $30 (and share with a friend).
Our pick: "Sensible" Pulled Pork Sandwich ($9.75)
Mexican Kitchen
New Paltz
On Taco Tuesday, this shoebox Mexican joint is swarming with college kids clambering for $1 tacos and $2 beers. True, it's a hell of a deal, but you can't go wrong at Mexican Kitchen any day of the week. Full price, the tacos hover around $2.85 a piece, and are melt-in-your-mouth good. The tostadas are also a bargain, loaded with beans, queso, meat, lettuce, and onions.
Our Pick: Carnitas tacos x3 ($8.55)
Taqueria Poblano
Kingston
Off Broadway in Kingston, on a little side street, this little "hole in the wall" serves up hot, delicious, authentic Mexican food at a bargain. The owners used to operate a beloved food truck that could be seen parked in Midtown. Now with a brick-and-mortar location, the menu has expanded and there is room to sit down and eat. The tacos are delicious, traditional street-style fare, with heaps of raw onion and cilantro, starting at $2. You can feast like a rey for $10, but don't forget to bring cash, no cards allowed.
Our Pick: Shrimp Enchiladas ($7)
Nelly's
Poughkeepsie
One Yelper affectionately called Nelly's "A hole in the wall full of goodness!" This small Dominican restaurant offers all the Caribbean's island's hearty eats from pernil to oxtail to stewed chicken, empanadas, and plantains-a-plenty. With budget-friendly prices and big portions, this is a great place to eat with a family.
Our Pick: Small "Tres Golpes" breakfast ($5)
Main Street Bistro
New Paltz
On weekends, Main Street Bistro is a smoothly oiled madhouse. Innocent weekenders retreat into corners as broke college kids storm the halls to rejoice over the $1.95 special: two eggs, home fries, and toast. The omelettes start at $3, the breakfast sandwiches at $2.50, and if you're willing to fork over a Hamilton, there is a smorgasbord of options, from the Alamo Scramble to the eggs benedict for just under $10.
Our Pick: Breakfast Special ($1.95)
The breakfast special at Main Street Bistro in New Paltz is still $1.99.
The B-Side Grill
New Paltz
B-Side is a combo breakfast and burger joint. The holy grail of budget dining in this college town, most of B-Side's menu items are under $10. If you're very broke (and very hungry) try the Burger Challenge—two one-pound cheeseburgers, a pound of fries, a pound of onion rings, and a milkshake all in 30 minutes. If you fail, you'll have to fork over $25, but if you succeed, glory!
Our Pick: Green Eggs 'n' Ham ($7.95)
Nana's Creative Cafe
Woodstock
Nana's is locals' favorite spot for a cheap and cheerful breakfast. Offering up a variety of scratch-cooked dishes, sandwiches, soups, fresh-baked goods, and rotating lunch specials like teriyaki chicken, you can always find something to fit the bill. Lunch sammies are classic deli fare, from the chicken Caesar wrap to the tuna melt and the BLTA (A is for avocado).
Our pick: Crazy Egg Sandwich with Bacon ($7.20)
The Cascades
Hudson
From its appearance to its menu, The Cascades straddles a careful line between old-school deli and classy espresso bar (pinstripe awning, tin ceilings, deli paper, cortados). As Warren Street's neighborhood deli and coffee bar, their motto says it all: "Good Food. Reasonable Prices. Friendly People." Breakfast is dominated by bagels and waffles, while lunch is all wraps and classic sandwiches, all for under $10.
Our pick: Mountain Morning Bagel ($8.95)
Peace Nation Cafe
Kingston
This Guatemalan breakfast and lunch joint was founded with a focus on sustainability. Most of the cafe's ingredients are organic and locally sourced, with the corn tortillas made in-house by hand. Fill up with a hearty burrito, a trio of pupusas, breakfast tacos, or fried garnachas—all for under $10. Vegans, fear not, there's a whole plant-based menu!
Our Pick: Chilaquiles ($9.95)

Tinker Taco Lab
Woodstock
Tucked down a little alley with a patio overlooking the Tannery Brook, Tinker Taco Lab churns out authentic Mexican street tacos and tamales in a cozy space. Owner Jim Jennings makes his cheese, cream, pickled vegetables, tortillas, and tamale dough in-house. Try the best-selling pork-belly confit taco with jalapeno jam or go the tamale route.
Our pick: 1 Carnitas Taco ($5.25) + 1 El Niño Taco ($4.95)
Pine Plains Platter
Pine Plains
With several loaded salads for $9, affordable all-day breakfast sandwiches, and a slew of Boar's Head deli wraps and melts, you can easily fill up on a budget at this beloved Pine Plains establishment. The namesake dish is a hearty $9 smorgasbord with two eggs, bacon, sausage, roasted potatoes, and toast.
Our Pick: Triple P Cheese Steak ($8.50)
Simone's Kitchen
Coxsackie
This Coxsackie eatery is give a Mediterranean twist to the build-your-own poke bowl trend. Starting with a base of rice, quinoa, or fresh greens; add protein (like souvlaki, meatballs, or falafel), salata (mmm, kale tabouli), dip (tzatziki, anyone?); and drizzle in dressing to finish it off. Choose either a small bowl ($6.25) or a large ($8.25), and for extra, add cheese, grape leaves, or double your protein.
Our Pick: Big Bowl with Falafel, Crunchy Beets, Creamy Avocado, and Tahini ($8.25)
The Egg at the CIA
Hyde Park
This 28,000-square-foot, Adam Tihany-designed food court overlooking the Hudson River is the CIA's student dining hall. An open secret: The public can eat here as well. Dining stations—such as noodle bowls, wood-fired pizzas, and artisanal sandwiches—use local, responsible, and sustainable ingredients whenever possible. There's also some of the nicest furniture you'll find in any college cafeteria.
Our Pick: Crispy Pork Cutlet Noodle Bowl ($9)