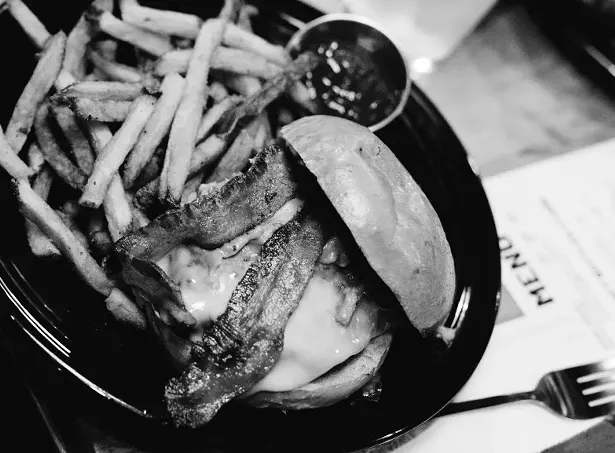 Burger and fries from the Anchor in Kingston.
When you dine out, you're indulging in an experience. Food, service, and atmosphere are all a part of what makes your night memorable, whether you leave satisfied or exasperated. Here in the Hudson Valley, there is no shortage of fine dining establishments at which artfully plated dishes and gracious servers are the modus operandi; our region grows more fortunate each time a Culinary Institute of America grad falls in love with their surroundings and decides to call the Valley home.

But great food is an art, and not all fastidious feasts need to break the bank—there are plenty of eateries in the Mid-Hudson region to dine on a dime, without sacrificing flavor or quality. This year, our annual cheap-eats roundup includes 15 dinner options for $15 or less (bring a little extra for tax and tip) that delight even the pickiest gastronome.
Burgers, Wings, and Things at the Anchor
Though they've been bringing indie acts to Midtown Kingston for close to a decade,
The Anchor
is much more than a music scene. It's become an inclusivity-centered public house known as much for its revolving craft beers on tap, as it is for its mouthwatering menu. Choose from a selection of burgers for $15 or less, like the Johnny Cash, with root beer pulled pork, jalapenos, and bacon ($15); or the Bob Marley, with melted blue cheese crumbles and buffalo sauce ($12). And don't miss Wednesday Wing Nights: Get a full plate of saucy chicken wings or cauliflower "wings" for less than $10.
Sandwiches of All Stripes at Brio's
Heading toward the Catskills? Stop by Phoenicia's quaint Main Street to enjoy a budget-friendly meal at
Brio's Pizzeria and Restaurant
. Try the Tuscan chicken sandwich: asiago bread with fresh mozzarella, roasted peppers, and pesto mayo served with fries ($11.95); or a classic roast beef on asiago bread with horseradish sauce, lettuce, tomato, and onion ($12.95). If you're craving Italian, personal pizzas start at $10.99. Don't miss the goat cheese with sun-dried tomatoes, roasted peppers, portabellos, garlic, and olive oil ($11.99).
Two-and-Change Tacos at Mexican Kitchen
There's no shortage of great places to eat in New Paltz, but the deals can't be beat at Mexican Kitchen. Plus, they serve breakfast all day; you can have your huevos rancheros with bacon and beans ($6.50) before you hit the town's vibrant nightlife. But tacos, less than $3 each, come in hard-to-resist flavors like pork and pineapple, chorizo, vegetarian, or
lengua
—beef tongue. Add a horchata to drink for an authentic treat.
(845) 256-5070
Fried chicken and biscuits from Mama Roux in Newburgh.
Big Easy Meets the `Burgh at Mama Roux
You don't need to travel to New Orleans to get your fix of classic Creole cuisine. (Though, you really should. At least twice.) At
Mama Roux
in Newburgh, you can enjoy the Big Easy's finest, like the fried oyster po'boy, divinely dressed in Cajun remoulade with chicory slaw for just 14 bucks. Indulge in some true bayou eats with the gator and crawfish Sausage ($15) served with Creole mustard. When it comes to classic soul food, you can't go wrong with Mama's fried chicken, tender and juicy chicken under a crackling crunch, two pieces for $6, a half-chicken for $11. Order up a Sazerac from the bar, and as they say in Nawlins, "Laissez les bon temps rouler."
Ten-Dollar Tortas at El Azteca Mexican Deli
Don't let the name fool you; this authentic Mexican eatery in the City of Poughkeepsie is much more than a grab-and-go deli. With true south-of-the-border flavors, festive decor, and low-cost meals, you'll want to stay awhile. Tostadas go for $8, and a tamale platter for $12, but at a mere $10, their filling torta sandwiches are hard to pass up. Try the ham and cheese Oaxaquena; the Nortena with grilled steak, onions, and mushrooms; or the Azteca with ham, chorizo, and chipotle chicken. Don't leave without dessert—churros are just $4.
(845) 483-7677
Brisket Sandwich at Brothers Barbecue
This
New Windsor-based barbecue joint
makes authentic, Southern smokehouse delights; the three brothers behind the smoker spent much of their childhood visiting family Down South and brought those flavors and techniques back to the Valley. Meats are smoked daily with a signature blend of woods and spices, like the pepper-crusted brisket, which comes as a sandwich for only $14.99. The pulled pork sandwich, piled high on a brioche bun, is another popular option for just $12.99.
Allan's Famous Falafel Plate at Allan's Falafel
A belly-filling platter of delicious falafel and sides for $12.50? You can see why it's considered famous.
Allan's Falafel
is a cafe in Chester well known for its authentic Israeli cuisine, including fresh chickpea falafel with parsley, cilantro, and spices that are fried to a perfect crisp on the outside while staying moist within. The famous falafel plate comes with green salad, hummus, tahini salad, rice or fries, and two pitas. If you're not as hungry, try the pita version, which comes with lettuce, tomato, cucumbers, hummus, and tahini served in warm pita ($6.95) or the four-falafel appetizer for just $3.50.
Budget Burritos at Bubby's Take Away Kitchen
Bubby's made a name for itself as a burrito stand in Red Hook. Now that it's become an eat-in or to-go cafe, it's become an absolute staple for health-conscious Caribbean and Latin American cuisine. Their generously stuffed burritos are made for two hands and come in a variety of flavors: chicken, pork, chorizo, brisket, or guacamole for $10, with a side salad. Single tacos topped with salsa come in sweet and savory flavors like pork and pineapple or chicken tomatillo for just $3.25 each. Vegetarians love the cauliflower curry ($11) with cilantro, cashews, garbanzo beans, and brown or coconut rice.
(845) 758-8226
Chicken Pad Thai at Wasana's Thai
Wasana Nicholos spent her childhood in Thailand, where she learned traditional cooking from her family. She and her husband Harold, a CIA grad (1994), have been serving up authentic Thai dishes at
Wasana's Thai Restaurant
in Catskill for more than two decades. Sure, there are plenty of exotic curry and stir-fried meals with varying levels of spicy heat to try. But the wallet-friendly chicken pad Thai keeps diners coming back for more, at $12.50. Save room for desserts like black rice pudding topped with coconut cream, fried banana with palm sugar sauce, or a simple slice of chocolate cake, each just $5.
Boitson's Weeknight Deals
Boitson's has been known for its quality, gourmet meals in Uptown Kingston since before the neighborhood established itself as a hotspot for weekenders. But those who visit town for just a weekend are missing out on some great deals. On Monday night, Boitson's features a chef's choice Blue Plate Special for $10; past dishes have included beef stew over pappardelle pasta and grilled pork tenderloin with a pineapple-cherry gastrique. On Wednesdays, enjoy a hearty burger and hand-cut fires for just $10, or fill up with a fried chicken dinner on Thursdays: two pieces with mashed potatoes, veggies, and honey for just $14.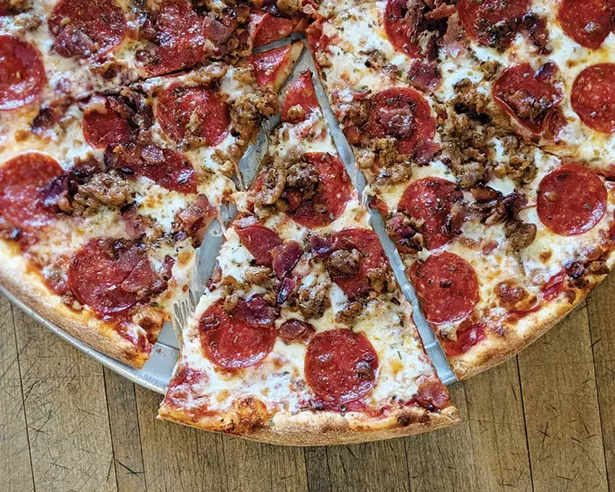 Catskill Mountain Pizza in Woodstock.
Sunday Special at Catskill Mountain Pizza
Woodstock has no shortage of gourmet restaurants and fine fare. But sometimes you just want a simple slice or two of New York-style pizza. On Sundays at
Catskill Mountain Pizza
, you can enjoy your pie at a bargain with the Sunday Special: Get a large cheese pizza—that's 18"—for the price of a small ($11, normally $15). More of a sandwich person? Grab a Philly cheesesteak or chicken parm hero for only $10 all week long.
A Dozen Dumplings at Palace Dumpling
Though it looks like an unassuming hole-in-the-wall,
Palace Dumpling
is a family-owned eatery offering top-notch dumplings, noodles, and other cuisine of the Dongbei region of North China, where owner Hu Yanmei grew up. As the name implies, dumplings are the star of the show—firm on the outside, fluffy and flavorful with each bite, in a variety of flavors. And the fact that you can enjoy a dozen delicious dumplings for less than $14 is a deal that's hard to resist. Try popular options like pork with chive or chicken with onion for $8.99 each, or beef with carrots for $9.99.
Bargain Bar Food at Dutchess Bier Cafe
Dutchess Bier Cafe
, a Belgian-inspired biergarten, is well known for its craft brew selection, but their menu of high-end pub grub shouldn't be overlooked. You can't go wrong with poutine—fries with gravy, local cheese curds, and chives for $12, or a hearty bowl of chili at $6. Try the loaded BLT with a half pound of bacon, plus lettuce, tomato, and dill mayo on Texas toast; on the lighter side, there's crispy Brussels salad with Belgian endive, fried Brussels sprout leaves, local apple, pecorino, and pomegranate dressing (both $12).
Grass-Fed and Organic at Grazin' Diner
Grazin' in Hudson
maintains that vintage diner vibe while appealing to today's palates and sustainable values, with a focus on local, grass-fed and finished, and organic food. Here, even a burger and fries is thoughtfully made with grass-fed beef and hand-cut organic potatoes fried in non-GMO organic oil. Try the Grazin' burger, lightly seasoned for just $11.99, or the veg-friendly Bello, a whole marinated and grilled portobello cap with roasted red peppers and buttermilk aioli for just $13.
Monday Flammkuchen at Jägerberg Beer Hall & Alpine Tavern
Mondays are made better when ended with comfort food and a hearty pint—especially when you can save some cash.
Jägerberg Beer Hall & Alpine Tavern
serves German classics like schnitzel, sausage, sauerbraten, and flammkuchen, a German flatbread pizza. On Mondays, they offer a Flammkuchen special: $15 will get you a flatbread pizza and a draft beer. Pick your pint from a rotating selection of German-style beers, some brewed locally, including pilsners, Kolsch, Shwarzbier, and others.