As COVID-19 continues to wreak havoc in communities across New York, many businesses have closed their doors, causing unemployment rates to reach their highest point since the Great Depression. As people struggle to make ends meet with little to no income, the crisis is shining a spotlight on the stark need for more affordable housing. While homeless shelters provide an important safety net, they are meant to be only temporary.

Hudson River Housing, which has operated an emergency homeless shelter for nearly 40 years, knows that providing permanent, affordable housing is the best way to keep people out of crowded shelters, minimize the risk of infection, and help them start a new life. The Poughkeepsie-based nonprofit is working to provide longterm and affordable apartments for those in need. The organization, which started in 1982 with only three staff members, now operates multiple housing programs for a variety of needs. Its newest project, Fallkill Commons on Rose, will add 78 new affordable studio and one-bedroom apartments to the Poughkeepsie area.
Housing Crisis in The Hudson Valley
Homelessness in New York has risen 14 percent in six years, and the recent health crisis is exacerbating the problem. To make matters worse, gentrification in the Hudson Valley has caused housing costs to increase dramatically. According to the
National Alliance to End Homelessness
, there can be up to 399 homeless people in Poughkeepsie on any given night, though Hudson River Housing knows official numbers underplay the true scale of the issue.
"Before the COVID-19 crisis, I heard from a Poughkeepsie resident that they got a letter from saying their rent was being increased by $400 a month," says Elizabeth Celaya, director of strategic initiatives for Hudson River Housing. "Someone in Millerton said their rent was almost doubling. We're seeing rising income disparities in the Hudson Valley."

Celaya anticipates a surge in the need for housing services from marginalized communities as people face unemployment and the depletion of their savings due to COVID-19. "In the span of just a few weeks, this crisis has exposed the true scope of homelessness in our community, and the precariousness of so many families who are teetering on the brink, who are just a paycheck away. New data is also showing the disparate impact of COVID-19 on black and brown communities. And low-income communities in general will be hit the hardest by the immediate and lingering effects of the pandemic."
This Feels Like Home
Hudson River Housing is mostly funded by government grants and provides emergency, transitional, and permanent housing for people of all ages and income levels. Hudson River Housing also provides services for veterans and at-risk youth. At Fallkill Commons on Rose, staff will be on-site 24/7 and trained to help residents thrive in their new environments, with a focus on mental wellness. "We're not creating an institutional setting," says Celaya. "This is permanent housing. We want to make sure people feel like this is home."
The new addition to the Hudson River Housing portfolio, Fallkill Commons on Rose in the City of Poughkeepsie, will feature 41 studio apartments and 37 one-bedroom apartments. Eight of the units have been adapted for wheelchair accessibility, four units have been outfitted for individuals with audio and visual impairments, and 39 out of the total 78 units are reserved for those with mental illnesses.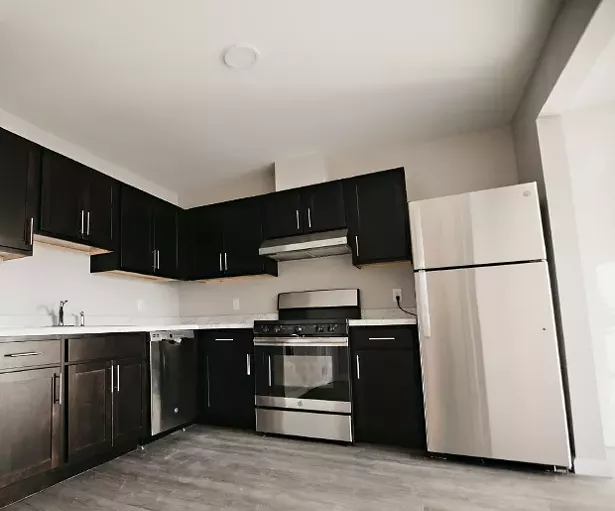 A newly installed kitchen at Fallkill Commons on Rose.
As part of its preparations to build Fallkill Commons, Hudson River Housing surveyed current tenants to get an idea for what kind of interior design elements future residents would prefer in their new homes. The windows are intentionally large, allowing for plenty of bright, natural light, and the color schemes are graphically appealing. A photographer, fabric artist, and a muralist were contracted to bring high-quality art to the site. "We're proud of how these apartments came out and how the whole project looks," says Mary Lange, director of real estate development.
Far From Over
As proud as it is to provide 78 news units for the community, they know the fight against homelessness in the region is far from over. (Four hundred people applied for the 78 units.) "We really need everyone fighting for greater affordable housing in all our communities," says Celaya. "It's not just a Poughkeepsie issue, it's an issue in all of the Hudson Valley."
On Tuesday, May 12 at 6:30pm, Hudson River Housing will host Evening at Home, a virtual fundraiser to sustain the organization's critical operations and strengthen services for the homeless and low-income community members during the pandemic.