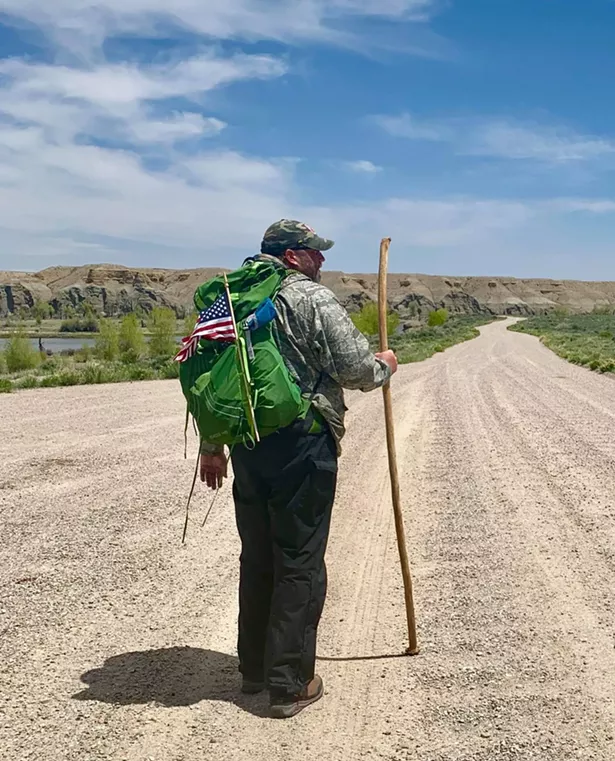 Tommy Zurhellen walking along the Green River in Wyoming, 2019
"I always knew being a veteran can be hard, but on my walk across America I discovered that being a homeless veteran can be so much harder," says Navy veteran Tommy Zurhellen, a Marist College professor who in 2019 walked 2,866 miles across the country—from Portland to Poughkeepsie—to raise awareness of veteran suicide and homelessness in the US.
Zurhellen's recently published memoir, The Low Road: Walking the Walk for Veterans, recounts his experience walking 22 miles a day (a reference to the average daily number of veteran suicides in the US) with nothing but the bag on his back. "This walk showed me that we have a long way to go to support our heroes, many of whom are experiencing homelessness, unemployment and mental health issues," says Zurhellen.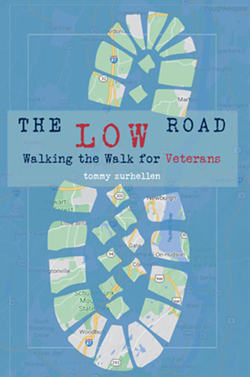 Cover of Tommy Zurhellen's forthcoming memoir The Low Road, VetZero Heroes edition sold exclusively by Hudson River Housing to support our veteran support programs, printed by Epigraph Press, Rhinebeck.
In support of the services for veterans provided by Poughkeepsie-based Hudson River Housing (HRH), where Zurhellen is a board member, the organization will be the exclusive seller of a "VetZero Heroes" edition of the book that contains extra sections, inserts, and photos. One hundred percent of the edition's profits will go directly to the organization's VetZero Heroes programs, which include specialized housing, transportation, advocacy, and care management for veterans in Dutchess County. To celebrate the launch of the book, Hudson River Housing is hosting a virtual reading and Q&A with Zurhellen on April 9 at 6pm.
Along with the special edition publication of The Low Road, Hudson River Housing is introducing a new VetZero program this spring: Heroes Making Heroes. The aptly named social enterprise sandwich-making business will provide culinary training, mentorship, and employment for veterans and others in Hudson River Housing's network who are experiencing homelessness. "We want to provide a safe and supportive environment for veterans who have experienced homelessness and are struggling to reenter the workforce," says Elizabeth Druback-Celaya, Director of Strategic Initiatives for Hudson River Housing.
Employees of Heroes Making Heroes will take part in every aspect of the program, including food preparation, customer service, and raising awareness about homeless, food insecurity, and veteran issues in the community. "The new VetZero Heroes Making Heroes program will give local veterans an opportunity to gain meaningful employment and vital job skills while enjoying the camaraderie of other veterans," says Zurhellen.
The seasonally driven menu of affordable sandwiches, which will be named after locally or nationally famous veterans, will be prepared at Hudson River Housing's shared-use Poughkeepsie Open Kitchen at The Underwear Factory and distributed and sold throughout Dutchess County. Every week a portion of the food prepared by Heroes Making Heroes will be given away for free to households facing food insecurity with the goal to provide over 4,000 meals annually. Staff will also stock a community fridge on Main Street in Poughkeepsie with sandwiches that will be free for the taking.
Throughout this spring, summer, and fall, Heroes Making Heroes will also be popping up at local farmers' markets and festivals throughout the county, starting at the Walkway over the Hudson on May 8. A sliding scale menu will allow paying customers to support the program's efforts through donations or by purchasing a "pay it forward" meal for someone in need.
According to Zurhellen, both the VetZero Heroes edition of The Low Road and Heroes Making Heroes are being launched at the same time in the hope of creating a critical mass of support for the area's veterans in need. "Both initiatives show Hudson River Housing's commitment to making a real difference in the lives of our local veterans in need," he says. "And I am so thrilled to be a part of that."
To learn more about The Low Road or to purchase a copy, visit The-low-road.square.site.