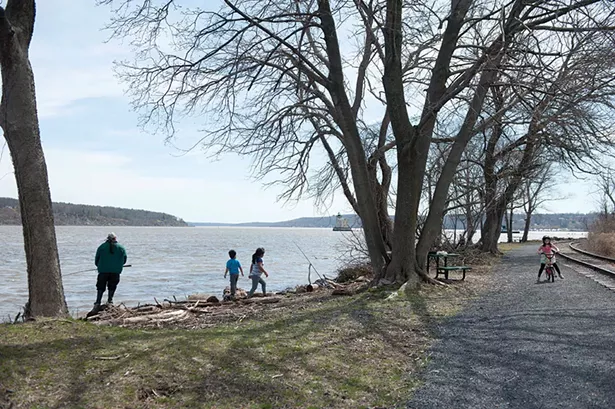 Newburgh's water contamination crisis has spurred a protection movement among local organizations to restore safe drinking water from the Hudson River.
While we're all well aware that nine and a half million New York City residents drink from the vigilantly protected, pristine reservoirs of the Catskills (what the New York Times calls "the champagne of drinking water"), many people aren't sure where those communities in the Catskills get their own drinking water. The Hudson Valley sips from a variety of sources: municipal reservoirs, lakes, and the Hudson River—a body of water which 100,000 people in the region rely on for everyday consumption. The river also has a storied history of contamination: Over 30 years, General Electric discharged polychlorinated biphenyls (PCBs) into it, sparking a second wave of the Hudson Valley's environmental movement.
Award-winning author Fran Dunwell grew up getting inoculated before her family's boat outings, in case she fell in the polluted Hudson River. Two books later, when she encouraged local watershed alliances to advocate for the health of the Hudson River's tributaries, the Quassaick Creek Watershed Alliance took to the woods. They call themselves a gang. "There are some people who have nicknamed us the COGs, which has a double meaning. Like, cogs in the wheel, but it's really an acronym for Crusty Old Geezers," the Alliance's Peter Smith says with a mischievous laugh. Actually, they're all hikers, cross-country skiers, snowshoers, kayakers, and canoers, and they began to trace the streams and lakes that feed the City of Newburgh's drinking water. "We knew that identifying the watershed was the first critical thing to do."
Within the Hudson Valley, there are about 25 watersheds—land that feeds rain, snowmelt, rivers, and streams into a single body of water. Watersheds connect with each other to create a network that drains into progressively larger water bodies. Within the Hudson Valley, they all fit within what's called, overall, the Hudson River Estuary watershed, which eventually feeds into the Atlantic Ocean.
What Smith and other members of the Quassaick Creek Watershed Alliance discovered in the woods, and, later, in Newburgh's historical archives, was that the city's primary water source, Washington Lake, had been misidentified. So, assumptions and characterizations for building projects had resulted in the land around Newburgh's source drinking water to become overdeveloped with shopping malls, fast food restaurants, and parking lots. The New York State Thruway was built through Newburgh's watershed. Tracking the limits of the watershed on topographic maps, the COGs were shocked to learn that the Stewart Air National Guard Base (ANGB)—the joint civil-military airport also known as Stewart International Airport—was within the Washington Lake Basin.
That's where the group's connection with Riverkeeper started to inform a broader policy agenda. Riverkeeper is an environmental organization that has been protecting the Hudson for 50 years. One of their core programs is community science and water quality monitoring. Individuals go into Hudson River tributaries to gather water samples for a program designed with scientist partners. "One of the places we did that for a couple of years was in the Quassaick Creek, which runs through Newburgh and forms the southern border of the city," explains Dan Shapley, water quality program director at Riverkeeper. "And part of what we learned from the local advocates, the Quassaick Creek Watershed Alliance, was just how vulnerable Washington Lake was to contamination." When Stewart ANGB sought a renewal of its pollution discharge permit, Riverkeeper knew to take a closer look. "We sort of painted the picture that this facility, particularly in this place, is of concern, and what's coming off the base is putting at risk the drinking water downstream. And in fact, that's exactly what happened."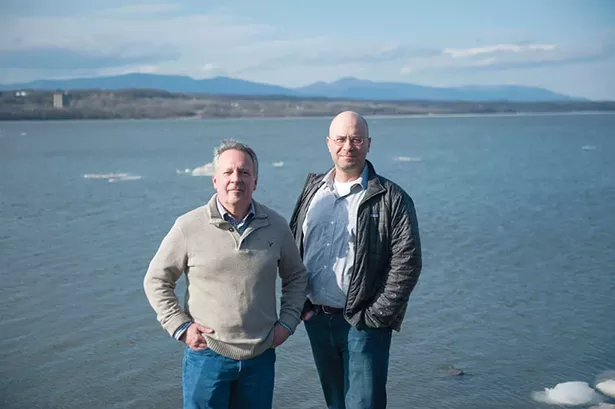 Hillary Harvey
Rhinebeck Mayor Gary Barrett and Riverkeeper's Dan Shapley near the Rhinebeck water treatment plant's intake line in the Hudson River.
Superfund
The state identified Stewart ANGB as a source for perfluorooctanesulfonic acid (PFOS) contamination in the City of Newburgh's public drinking water. PFOS is a key ingredient in firefighting foam.
The contamination was first reported to the US Environmental Protection Agency (EPA) in 2014, and the city began to collect samples. When Governor Cuomo launched his Water Quality Rapid Response Team in February 2016, the New York State Department of Health reviewed EPA data and, in May, dropped the advisory level for PFOS presence from 200 parts per trillion (ppt) to 70. Newburgh's samples ranged between 140 and 170 ppt, so the new advisory level put Newburgh's drinking water well above the limit.
Newburgh City Manager Michael Ciaravino declared a state of emergency, and the DEC swiftly worked with the city to transition to Newburgh's alternative drinking water supply, Brown's Pond, in early May, and then to New York City's Catskill Aqueduct in early June. The Stewart ANGB site was investigated and listed as a state Superfund site in August, which means the US Department of Defense is now responsible for full site clean-up. In November 2017, Senate Minority Leader Chuck Schumer and Representative Sean Patrick Maloney (NY-18) demanded that the Department of Defense and the Air Force put Stewart Air National Guard Base at the top of their priority list for new funding awarded for the cleanup of contaminated military facilities. In April 2017, Governor Cuomo signed the Clean Water Infrastructure Act—a $2.5 billion investment in New York's drinking water infrastructure and water quality protection.