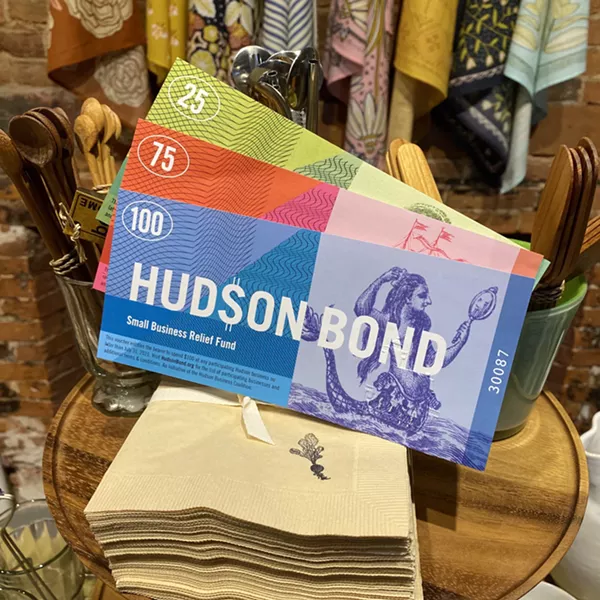 Images courtesy of the Hudson Business Coalition
As the coronavirus pandemic wracked the region's economy this spring, the idea for a town-wide bond program quickly came to Hudson business owners Monica Byrne and Peg Patterson. Both Byrne, who owns Home/Made Hudson and Patterson, who owns Dish Hudson, were inspired by hand-drawn bonds a restaurant in Red Hook, Brooklyn sold as a way to community-source relief after Hurricane Sandy.
Half the value of the bond immediately went to the restaurant and the other half could be used for food and drink after it reopened. "We all bought them and very few of us redeemed them. We were just proud we could show our support," says Byrne.
As board members of the Hudson Business Coalition, a nonprofit dedicated to stimulating the city's business district, Byrne and Patterson took the memory and ran with it, spearheading the launch of the Hudson Bonds program in May. "As a community we thought 'Well what can we do?'" says Patterson. "There are people that can't pay their rent. We don't want Hudson to become a ghost town again."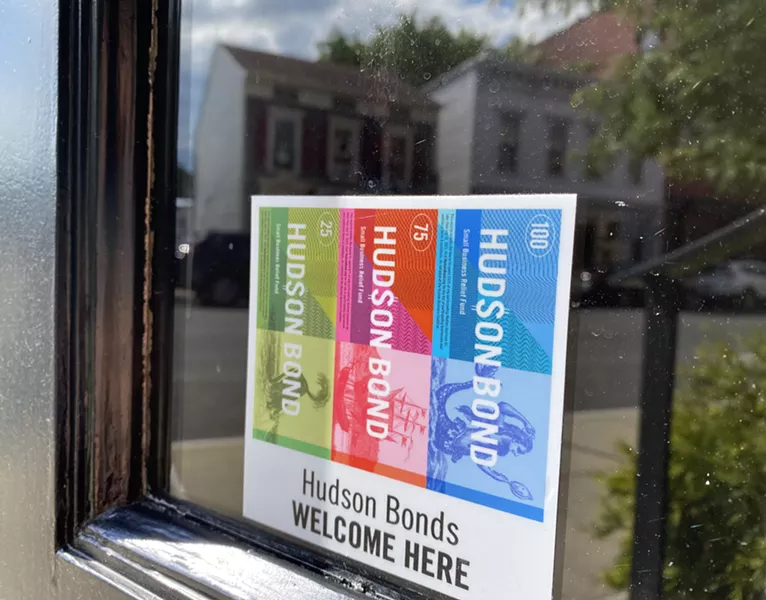 Images courtesy of the Hudson Business Coalition
The Hudson Bonds program is designed to lift up Hudson's entire business community, which is still struggling despite increased summer sales for some. The program was launched with support of the Columbia Economic Development Corp. (CEDC), which acts as a fiscal sponsor for the program, allowing a portion of every bond purchase to be tax-deductible.
The purchase of a $50 Hudson Bond gives you $25 to spend at any participating business and allocates $25 to a grant fund where those same businesses can get direct relief. "We're all in the same boat even though our businesses and our business models may be very different," says David Chicane, whose restaurant Hudson Food Studio is participating in the program.
In the first few months, the program has been successful in calling the city's residents to action. "My husband and I bought the bonds because we really wanted to do everything we could to support the Hudson business owners," says resident Geri Schachner.
The visually striking bonds, also designed by Patterson, feature iconography sure to thrill any Hudson history aficionado. A whale, a mermaid, and Henry Hudson's ship, the Half Moon, all pay homage to the Hudson's nautical and whaling-industry past. Hudson Bonds can be purchased through the website. The paper bonds arrive by mail and are valid through July 2021 for in-person use at any open participating business or can be held onto for the future.
In addition to their value as keepsakes, the bonds' bold colors and prominent messaging provide a clear message of the community's support. "It made me even more touched by the person paying because I realized that they knew when they were buying the bond how it worked," says Amanda Bruns, owner of participating business Flowerkraut. "And I also felt a little thrilled that they came to my store to use it."

To help promote the program to a wider audience, the Hudson Business Coalition recently secured a grant from the City of Hudson's Tourism Board, which has been working extensively to support creative events and initiatives throughout the city during the pandemic.
For more information on the program and a full list of participating businesses, visit hudsonbond.org.