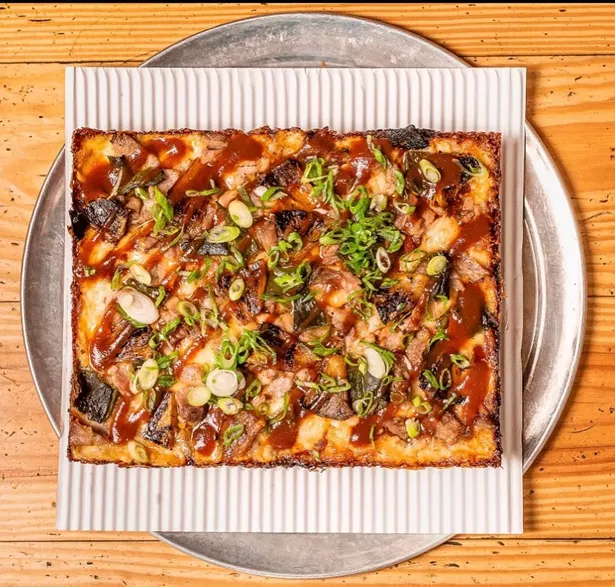 The El Camino features caramelized pineapple, roasted poblano, slow-roasted pork shoulder, Stubbs BBQ sauce, parmesan.
When you think of Detroit, the cuisine is probably not the first thing that comes to mind, but the Motor City does have its own signature style of pizza. In fact, the history of Detroit-style pizza is inextricably linked to its automotive identity. In 1946, America's first square pizza was born in the eastside kitchen of Buddy's Rendezvous, baked in steel pans borrowed from the local automotive plants.
Chef-owner of the newly opened Hudson & Packard pizzeria in Poughkeepsie, Charlie Webb's own story is quintessentially linked with Detroit. Webb grew up in the Michigan city's suburbs, in Wayne County. His father worked in the auto industry, making clay models for cars and parts. He was also the go-to guy to ask for food recommendations. "My dad is responsible for showing me the value in good food," Webb says. "He was one of those guys that if you needed a hot dog or a pierogi or you were looking for Latin cuisine or Middle Eastern or Lebonese, he always had a place for it."


After an eight-year stint in the army, which ultimately landed him in Syracuse working as a recruitment officer, Webb reached a decision point to decide whether he would be a career military man or transition into something else. When Webb had traveled around the country for work he had rarely been able to find his beloved Detroit pizza, so he started making his own, which got him thinking. "I thought I'd be happier working in food. Particularly pizza," he says. "I was 27, I didn't have time to go through the industry and spend three to four years coming up through a line and learning that way." So, he took advantage of the GI Bill to attend the Culinary Institute of America in Hyde Park.


After graduating in 2019, he worked for the summer as the pizza chef at Market Street in Rhinebeck, and then in the fall, he launched the Hudson & Packard brand as a weekly pop-up based out of the Poughkeepsie Underwear Factory. (Although the name seems a tribute to our region's namesake river, it's actually a reference to two luxury automobile manufacturers that were based in Detroit in the first half of the 20th century. The menu is full of references to cars...and Michigan).
"The only day the Underwear Factory had available was a Monday, which is usually super slow in the restaurant industry," Webb says. "So we built it up as a Motown Monday theme. We'd play Motown music and have games on the table for families to come and have game night. We were selling 100 pizzas in two hours. It was super crazy." Through the pop-up, he found investors looking to back a brick-and-mortar pizza shop.
"Halfway through developing that, the pandemic came barreling through," Webb says. "If we could have opened in a summer without a pandemic that would've been great, but we got winter with a pandemic." Still Hudson & Packard, which opened its doors at 29 Academy Street in October, has gotten a warm reception.

Detroit pies are not pies at all, but rectangles with a thick, chewy, crispy crust. Shelf your New York skepticism for a moment, this isn't Pizza Hut, we're talking about. Webb describes it as a "Sicillian-focaccia hybrid." Unlike New York pizza, Detroit dough is not stretched and tossed, but fermented and baked in a pan 2.5 to 3 inches deep. "The dough itself is super light, fluffy, and airy in the center, but still crispy on bottom," Webb says. The crust itself is the most distinguishing feature. Unlike Sicillian style, we take the cheese to edge. So the crust is essentially fried cheese."
Webb's Detroit style combines with the elevated palate of his culinary training. Pick from selections like the Ford Funghi, a blend of roasted cremini, shiitake, and oyster mushrooms; caramelized onions; goat cheese; truffle oil; and lemon zest ($18); or the S-Class with roasted garlic parmesan cream sauce; fresh baby spinach; artichokes; and banana peppers ($17).
"I wouldn't say we are bound by Italian cuisine, so much as we are taking flavor combinations that work and channeling different cuisines from around the world to come up with really good pizza," Webb says. In summer, a Mexican street corn pizza special called Maize & Blue (another Michigan reference) featured a charred corn salad with lime and jalapeño jam, topped with cotija or queso fresco. "People were literally tripping over themselves for it," Webb says. (Don't worry, it's coming back.)
Webb gets his sausage and bacon from a former CIA professor, Chef Mark Elia, through his Highland-based company Hudson Valley Sausage Co,, and come summer, he'll source his produce through the Farms 2 Tables app, headquartered in Rhinecliff.
As for other food offerings, don't hold your breath. Aside from select salads and apps, Webb is committed to limiting his scope to pizza in order to maintain his from-scratch standards. The Hudson & Packard take on Hawaiian pizza, for example, uses housemade slow-roasted pork, caramelized pineapple, and poblano peppers. "One week we might have a cheeseburger pizza special or a Philly cheesesteak pizza," he says, "But I've never been a fan of these pizzerias that have trifold, bifold, quadfold menus. That's great, you're going to capture a wider audience, but what are you actually preparing in-house versus what is coming frozen off a truck?"
Another thing Webb doesn't like? Slice shops. He's waiting on pans that will let him roll out a smaller size pizza for the lunch menu. "It offers a cheaper price point but also a size for people that come in looking for a slice," he says. "And it can still be made fresh to order, it's never sitting around."
As for how to dig into your Detroit pizza, whatever size it may be, Webb offers a tip: "If you're me, you're taking a bite out the crust and the pizza at the same time. You're not going to fold this. Pick it up and go at it."
Hudson & Packard is open for takeout and delivery via GrubHub.
Hudson & Packard
29 Academy Street, Poughkeepsie