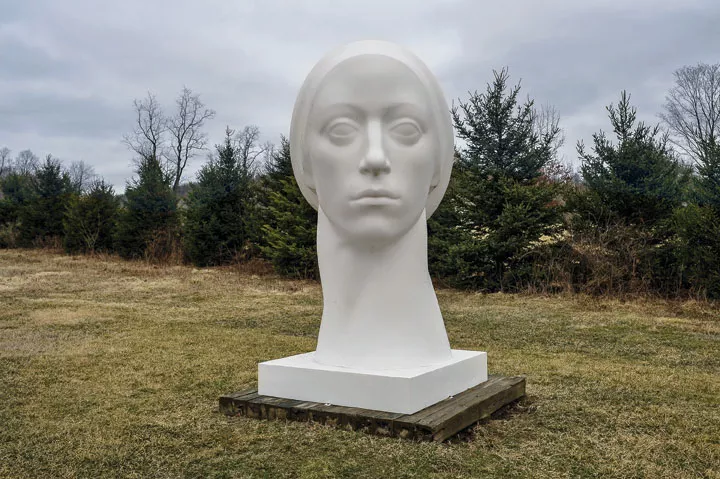 Leucantha a sculpture by Philip Grausman at the OMI International Arts Center in Ghent.
One could easily say Columbia County encapsulates all the best things about the Hudson Valley. Yes, the entire greater region is vibrant, beautiful, and variously marked by the pockets of charm its residents and visitors love. But what makes Columbia County so unique is the way in which the many assets found spread throughout the Hudson Valley as a whole all come together in one exceptionally active, geographically varied, 648 square miles. Starting from the riverfront edge of its core capital of Hudson, the county fans out eastward and rises to meet the Taconic and Berkshire mountains along the Massachusetts border as it encompasses wide swaths of agricultural acreage, numerous parks and protected areas, and dozens of idyllic rural towns and villages.
As with everywhere else in America, Columbia County's first residents were Native Americans. They were the Mahicans, whose name translates as "people of the waters that are never still"—a clear reference to the Hudson River, and one that assumed a double meaning when the influx of European settlers caused the native people to go elsewhere. In 1609 Captain Henry Hudson's Dutch-hired vessel the Half Moon stopped for repairs along the river that would later bear his name, and within a few years waves of traders had begun to colonize the adjacent land. The Dutch arrived first, naming the waterfront area Claverack Landing, and were followed by the English. Officially chartered in 1785, the city of Hudson was largely developed by New England whalers and merchants who mapped out the busy port city's gridded streets as it grew to become, for a time, America's 24th largest city. Today, Columbia County is in the throes of an economic and cultural rebirth driven by a new breed of settlers: hip transplants and weekenders of varied backgrounds, many of them New Yorkers pulled north by the county's comparatively affordable properties, eye-pleasing architectural and natural surroundings, and agreeable pace of life.
Diamond District
Although Hudson now basks in its Sunday-spread profile as a hipster's haven, for decades the city was branded with a different, much less welcome reputation. From the "disorderly women" who strolled the now-gone Vinegar Hill and the vice dens that catered to sailors during its earliest years, up until the dawn of the 1950s, when the blocks of brothels and gambling houses that flourished on Diamond Street (since renamed Columbia Street) were raided and shut down by the state, Hudson was known worldwide as a red light district nonpareil—"the Las Vegas of the Northeast." While trying to find its feet in the 1960s and '70s, the city descended into a steep decline that lasted until the mid '80s, when antique dealers began opening stores on Warren Street, its main artery, and buying and refurbishing the disused estates built by whaling magnates. Along with new waves of dealers and residents came restaurants, artists and galleries, and a buzzing nightlife scene.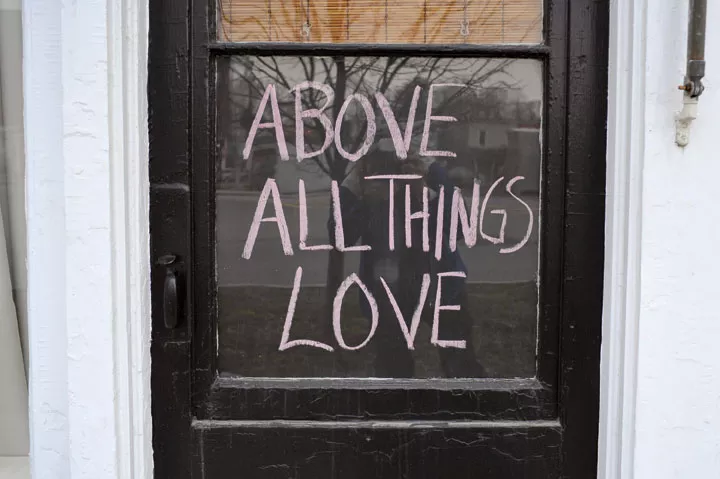 A doorway on Columbia Street in Hudson.
"Besides being easy to get to, there are a lot of things that make Hudson uniquely appealing as a destination," says Karen Squire, co-owner of the multi-dealer Carousel Antique Center, whose dozens of neighboring dealers include Hudson Supermarket, Stair Galleries, Moderne, Benjamin Wilson Antiques, and A Collector's Eye. "There's a real diversity of stores, and a lot of nice restaurants and B&Bs, all within one very walkable mile. And the diversity of the architecture is also something people really love." Indeed, the staggering range of historic architectural styles in central Hudson—everything from 18th-century stone structures to 19th-century brick row houses, stoic Federals, and gingerbready Victorians—is rivaled by few other US cities.
Also rarely rivaled is the selection of places to eat in Hudson, among which number fine-dining establishments like Swoon Kitchenbar, DABA, and Ca' Mea; casual boites like Le Gamin cafe, Baba Louie's (wood-fired organic pizza), Mexican Radio, locavore burger joint Grazin', Red Dot, Park Falafel and Pizza, and American Glory BBQ. In the warmer months, hip street food trucks Tortillaville and Truck Pizza operate on an open lot in Warren Street's 300 block. (Reportedly, similar vendors offering Indian and Thai cuisine are in the works.) For hot beverages head to Verdigris tea shop, Nolita, Parlor Coffee & Tea House, or Swallow, which shares space with LOAF artisan bakery. If you're nursing a sweet tooth in the spring and summer, the place is to go is scoop-sized ice cream shop LICK. Looking to burn off all those calories you just enjoyed? Sign up with Hudson Barbell, the area's only CrossFit training-affiliated gym.
Hudson's many tony boutiques include new apparel stores like White Rice and de Marchin Cothing, artisanal cheese monger Olde Hudson, children's store The Bee's Knees, and Shana Lee Jewelry. A handful of vintage clothes stores include Sideshow and Five & Diamond, and in addition to music shop Musica and used record stores John Doe and Devil in the Woods, the town has three bookstores: Fairview Books (in nearby Greenport), Hudson City Books, and the Spotty Dog Books & Ale, which not only boasts a bar but doubles as a vital music venue booking edgy experimental and indie acts.
Hawthorne Valley Farm Store
Speaking of venues, on Columbia Street is Helsinki Hudson, which houses a 250-seat nightclub that consistently presents music's foremost legends and a world-class restaurant with outdoor summer dining. Across from Helsinki is the venerable Time & Space Limited, a multi-discipline arts/community center that bravely pioneered Hudson's renaissance when it opened in 1973 and screens Met Opera broadcasts and indie films. Standing since 1855 is the grand Hudson Opera House, New York State's oldest surviving theater, which holds performances, lectures, exhibitions, after-school programs, classes, and other events. Nearer to the river is Basilica Hudson, a colossal foundry remade into another adventurously curated arts and performance center by its owners, who include ex-Smashing Pumpkins and Hole bassist Melissa Auf der Maur. The town is still abuzz from the recent news that artist Marina Abramovic tapped architect Rem Koolhaus to transform the former tennis center on Columbia Street she bought into the international Center for the Preservation of Performance Art.
Alongside all the arts and entertainment growth has been smart business growth. New and socially responsible companies that have opened in town include large-scale sustainable fish hatchery Local Ocean and handmade/vintage goods e-retailer Etsy, which looked to Hudson when it wanted to expand from its Brooklyn offices. "[Founder] Rob Kalin has family in the area and knew it has a vibrant arts community, which is very important to us," says office manager Ami Lahoff, who oversees operations at the firm's office, opened last year in a brick Industrial Age factory. "Our Brooklyn employees love coming up—having the train [Amtrak] in town definitely doesn't hurt."

South of the Hud
Of course, Hudson's top-notch arts scene didn't start in the 1980s. Below the town's main district is Olana, the stunning 19th-century Persian-style home and studio of Hudson River School painter Fredric Church. Now a State Historic Site, the house is open for tours, and the heart-stopping view from its grounds is perhaps the best in the Hudson Valley. In the early 1700s English colonists brought approximately 1,200 Palatine German pine-tar harvesters to what was then called Livingston Manor, a site that later came to be called, for obvious reasons, Germantown. Brimming with Norman Rockwell cuteness, this diminutive spot is anchored by Otto's Market, a restored 1927 neighborhood grocery store that sells local and organic products within its period-accurate decor. "After having a sensational 17-year career at Whole Foods Market, I had a good ol' mid-life crisis," says owner Otto Leuschel, an ex-vice president at the chain. "I happened upon [the former] Central Market while driving around looking at farm properties. The minute I walked in, I knew it was what I wanted to do." By June, he expects to open the Germantown Variety Store, an old-style general store, across Main Street from the grocery. Around the corner from Otto's, on Church Avenue, is Eve's International Flea Market, an eclectic shop filled with vintage finds, and further up Main Street is the historic Central House inn.
Eastern Attractors
An eastbound jaunt from the Hudson hub first takes you through the town of Claverack, whose nine hamlets include the similarly named Claverack and Claverack-Red Mills. The town has its own throwback grocer, Claverack Market (inside, there's a formidable display of model trucks and cars), and Mexican restaurant Coyote Flaco. It's also the headquarters of smart quarterly
Our Town
. "Each issue has a universal theme, such as media, animals, or family," says co-publisher Enid Futterman, who started the magazine in 2004. "Judging by the feedback we get, it feels like we've been successful in our aim of creating a magazine appealing to everyone."
In the Village of Philmont is the restored 1860 Vanderbilt House inn and restaurant, which is neighbored by the Main Street Public House, a roadhouse-style pub serving breakfast, lunch, and dinner. Also in town is the innovative farm-to-table eatery Local 111, whose entrees are as surprising as the structure in which they're served: a converted gas station. The village also contains the High Falls Conservation Area, with 47 acres and the county's tallest waterfall.

Zipping Along
For more outdoor activities head farther east to Hillsdale and visit Catamount, a ski resort and aerial adventure park with zip lines. Opened since January is CrossRoads Food Shop, a full-service restaurant that prepares locally sourced fare four days a week; the nearby Hillsdale General Store provides unique housewares and gifts.
To the northeast is Ghent, site of the acclaimed Hudson-Chatham Winery and the truly wondrous Omi International Arts Center, a sprawling, 300-acre sculpture park open year-round that hosts dance, music, literary, and visual art residencies and has a sleek modern indoor gallery and cafe. Ghent's Harlemville section is home to the Hawthorne Valley Association, a progressive education and agricultural complex with a 400-acre biodynamic vegetable and dairy CSA farm (with its own market) and diverse schooling for children from nursery level through grade 12. "Our major emphasis is on providing children with opportunities to learn in nature and on the farm, where they literally get to see where their food comes from," says Hilary Corsun, Hawthorne Valley's marketing director. "Along with making stronger connections between the kids themselves, we also strive to make stronger connections between kids and adults." Newer to the area is Camphill Ghent, billed as "the only elder community in the world that welcomes all income brackets, denominations, and ability levels."
Crandell Theater in Chatham
Charming Chatham
Six minutes north of Ghent (and about 15 minutes northeast from Hudson) lies Chatham. Its diminutive downtown is triangulated by three major thoroughfares and populated with small businesses, as well as the historic Union Station railway station (reopened as a bank in 1999). The fiber arts are big in Chatham: Among its quaint shops is knitter's paradise the Warm Ewe, and nearby are wool producers Chatham Alpacas (visitors welcome). Eateries include the 1859 Chatham House, world-fusion bistro Blue Plate, the Peint O Gwrw tavern, and Ralph's Pretty Good Cafe. Much-loved back alley microbrewery Chatham Brewing Company is open Saturdays from 11am to 5pm, or, says co-owner Jake Cunningham, "whenever you come by and see the door open," adding that, "we hope to extend our hours, though. We've been here since 2007 and offer 10 different beers."
The town's architectural anchor, however, is the Crandell Theater, the county's oldest movie house (ca. 1927), which shows mainstream and indie films and every October hosts the five-day international Film Columbia festival (directed by author and film historian Peter Biskind). Close by is the 350-seat Mac-Haydn Theater, which has been presenting musicals and children's theater since 1969; the Old Chatham Sheepherding Company, makers of award-winning sheep's milk cheese and yogurt; artisanal family-run bakery Our Daily Bread; and scenic Borden's Pond Conservation Area.
Slightly afield is the Village of Valatie, a subdivision of the Town of Kinderhook (birthplace of Martin Van Buren), among whose notable spots are gourmet pizzeria Mark's Pizza (toppings include alligator and crawfish) and gift shop the Cross Eyed Owl. Like Chatham, Valatie has a small-batch maker of "hand-made hootch": Harvest Spirits Distillery, which is run by a third-generation apple grower. "A big part of what makes Columbia County such a great place to visit and live in is that it's basically equidistant to Boston and New York," says Colin McConvill, Harvest Spirits's assistant brewer. "Everything you need is here, but it's also just a great place to come unwind."