A diamond is a lump of coal that did well under pressure.
And anyone looking to understand the metamorphic process that produces a solidly successful and enormously delightful small city from the pressures of the late 20th century might do well to begin in Hudson. At midcentury, the onetime whaling port's Diamond Street was its primary claim to fame. Packed solidly with brothels and gambling dens, the two-square-mile city attracted plenty of customers—for all of the wrong reasons. Notoriety overbalanced practicality, and Governor Thomas E. Dewey sent in the state troopers to clean up the town in 1951.
F. Scott Fitzgerald to the contrary, second acts in American lives often outshine the first acts. After a fitful low spell that came in the wake of the raids, Hudson could be said to be proceeding into at least Act IV, and the audience continues to be utterly rapt. Teeming with entrepreneurial life and creative energy, today Hudson sparkles with world-class retail and dining, a vibrant art and music scene, hundreds of beautifully preserved historic buildings, all in a 24-karat natural setting—an urban gem that
Budget Travel
rightly deemed "One of the coolest small towns in the USA."
One & Only Olana
This part of Columbia County is where Hudson River School painter Frederic Church sited his Persian-style, Moorish-inspired estate,
Olana
, and made its grounds a work of art. Paintings by Church as well as other period artists are included in daily tours. "Olana is very much part of Hudson. The Church family went to church on Warren Street," says Sara Griffen, president of the Olana Partnership. "We're constantly referring visitors to the B&Bs and restaurants in the city, and we try to maintain a resonant resource. We do everything from educational programming to fun stuff like OlanaReggae, movie nights, parties everyone can afford. I like to steal that old line, 'We ain't just paint.' You can go hiking or birding and we've reopened more of the vistas, so people can wander through this lush, grand landscape the way Church created it."
Antiquing & Boutiquing
"The antique dealers and artists were already a cohesive group when we got here in 2000," says Windle Davis, who operates
The Inn At Hudson
with husband Dini Lamott (aka drag queen Musty Chiffon). "We moved here from LA, mostly because it was beautiful. We found a very creative and concerned bunch and you could've fit that bunch into a restaurant." (They often did, notably at the still-thriving
Red Dot
.) Today, there's a connected downtown crowd of hundreds of people and the upscale boutiques almost outnumber the antique dealers—the original urban pioneers who started to put Hudson on the map a couple of decades ago as a mecca for decorative arts, antiques, and collectibles.
The
Hudson Antiques Dealers Association
, representing over 80 local businesses, purrs on its website of the city's nine walkable blocks of premiere destination enjoyment and offers a block-by-block breakdown, the better to plan your wanderings. Warren Street, the center of the business district, is a miracle mile of retail stores and restaurants, pubs and performance spaces, antique shops and art galleries, with exhibition openings happening year round. As one Madison Avenue decorator was heard to say, "When I can't get to Paris, I go to Hudson."
Like streams joining forces to become a mighty river, the entrepreneurial energy just keeps gaining momentum. Take Mary Vaughn Williams and her husband Rudy Huston, world travelers and adventurers. When the couple was ready to choose a physical location to retail their passion for batik and Balinese treasure, they chose Hudson.
White Rice
, their Warren Street store, is a treasure trove of Asian-inspired clothing, home furnishings, and antiques.
Marine Corps vet and artist Michael Molinski grew up in the area and returned in 2005, opening his studio,
Photographic Solution
, downtown. He recommends the entrepreneurial life in Hudson: "It might not be instant gratification, but it will be one of the best experiences of your life, and Hudson will be there to help you every step of the way."
There's a spirit of cooperation that's key to Hudson's journey from the bad old days of lust to what today can fairly be described as true and epic love. The
Hudson Business Coalition
, the
Hudson Development Corporation
, and
Belo3rd
, all lively groups, can be located via www.gotohudson.net, one of several fascinating virtual communities that keep the city's intelligentsia connected.
Eat it Up > > Hudson Dines
A casual Internet check reveals upwards of 70 listings within the city for stellar edibles and a Wordpress blog,
Hungry in Hudson
, devoted to chroniclaing the eating scene.
Tea and coffee shops, a simple yet savory sandwich or slice—these are easy to find. Then there are the offerings that constitute destinations in themselves:
Tortillaville
, the Mexican chuckwagon at 347 Warren Street that peddles what the New York Daily News rates as "the most satisfying taco this side of Mexico."
Mexican Radio
, where Mexican comfort food, margaritas, and hospitality blossom into a steady stream of "best of" accolades spanning 15 years and still improving, as the farm-to-table trend grows and thrives. The wood-fired pizza at
Baba Louie's
, the classic regional Italian at
Vico
, and the down-home BBQ at
American Glory
are other local faves.
The Inn at Hudson
proudly offers locally brewed Strongtree coffees and bread from Loaf to its guests.
There's a classic diner opening in the middle of the 700 block that will feature fresh local ingredients.
Swoon Kitchenbar
smokes all of their own bacon.
LePerche Bakery
has a bread oven from France. The
Loaf
bakery has hearth-baked bread. It used to be open only in the winter, and in the summer the space was an ice cream stand named
Lick
. But Loaf became so popular that, when Lick opened back up, they moved Loaf up the street to
Swallow
, a popular coffee shop. In Hudson, it seems businesses not only don't want to leave, they're happy to move over to make room for more.
Day & Night Lights
When the sun sets behind the river's other shore, more good times in Hudson are just getting started; buildings that used to work hard all day now play hard long into the night. The
Hudson Opera House
has remade the 1855 city hall building into an arts center with a rich array of cultural offerings; art openings and gallery walks are plentiful throughout the city. New venues keep evolving.
The Basilica Hudson
, a reclaimed factory just steps from the train station, is a performance and art space where Patti Smith played before the place even had bathrooms.
Time and Space Limited
, a reclaimed warehouse, has showcased live theater, movies, and art since 1991.
Helsinki Hudson
, another reclaimed factory, is now an acoustically designed, three-level, live-event theater and music venue. Rock bands, drag queens, puppeteers, opera singers from Italy, comedians…discos and poetry…jazz and heavy metal—like so many aspects of this proudly reimagined town, the nightlife is meant to be explored and experienced.
In August (12-14), Hudson will show the world why some are beginning to call it "music town." The first annual
Hudson Music Festival
will include jazz brunches, buskers on street corners, dueling DJs, dance parties, country bands, classical music concerts, singer/songwriter contests, New Age music and old-time Dixieland, salsa and soul—music day and night, indoors and out.
Out & About
The glittering gem that is Upstate's Downtown has a setting worthy of its dazzle in some of the most stunning countryside of the Hudson Valley. Ghent, just a pretty 20-minute drive inland along Route 66, is where you'll find the
Hawthorne Valley Association
's educational programs and farm store—and the
Omi International Arts Center
, guided by its vision that "creative work is a vehicle for knowledge and understanding that transcends political and cultural boundaries." In Ghent you'll also find
Ghent Wood Products
and
Countryside Woodcraft
, purveyors of fine lumber and furniture that are worth the trip.
Ten more minutes along the same scenic country road bring the visitor to Chatham, where one can combine state-of-the-art wellness services from
Chatham Holistic Healing Arts
, where founder Lynn Van Allen will custom-design you a personal wellness program; 11 different healing modalities are available, along with yoga instruction, films, and lectures devoted to every aspect of balancing one's existence. The associated art gallery, along with Chatham's
ArtView Gallery
(currently showing "Perspective: A Photography Show"), make this an outstanding afternoon art excursion.
"People used to look for a place to stay outside the city, then come in during the day for antiquing and shopping, with, maybe, side trips in the area," Windle Davis observes. "That's turned around. People come in and stay right in town." A decade ago, there was one B&B. Now there are 11.
RESOURCES
3FortySeven Antiques
www.3fortyseven.com
American Glory
www.americanglory.com
Artview Gallery
www.artviewgalleryny.com
Baba Louies
www.babalouiessourdoughpizzacompany.com
Basilica
www.basilicahudson.com
Bodhi Holistic Spa
www.bodhistudio.com
Ca' Mea
518-822-0005
Columbia Land Conservancy
www.clctrust.org
Countryside Woodcraft
(518) 392-8400
Dakota
(518) 392-3222
De Marchin
www.demarchin.com
Discipline Park
(518) 828-1161
Five and Diamond
(518) 828-4140
Ghent Wood Products
www.ghentwoodproducts.com
Hawthorne Valley Associates
www.hawthornevalleyassociation.org
Herrington's
www.herringtons.com
Hudson & Laight Gallery
www.hudsonandlaight.com
Hudson Music Fest
www.hudsonmusicfest.com
Hudson Opera House
www.hudsonoperahouse.org
Hudson River Tattoo
www.hudsonrivertattoo.com
Hudson Valley Bounty
www.hudsonvalleybounty.com
Hudson Vintage
(518) 828-7484
Julia Wilson Chiropractor
(518) 567-3184
Kinderhook Farm
www.kinderhookfarm.com
Look Apparel and Accessories
www.lookhudson.com
Mexican Radio
www.mexrad.com
Mod Restaurant
www.modhudson.com
Musica
www.goodmusica.com
Olana State Historic Site Partnership
www.olana.org
Red Dot
(518) 828-3657
The Second Show
www.thesecondshow.com
Sideshow Clothing Co.
(518) 828-2810
Strongtree Organic Roasters
www.strongtreecoffee.com
Tortillaville
www.tortillaville.com
White Rice
(518) 697-3500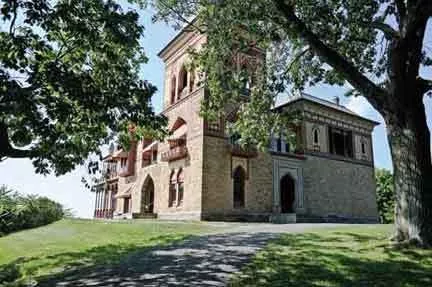 David Cunningham
Frederic Church's Persian-style, Moorish-inspired estate, Olana.

David Cunningham
Dana Wagner, Hawthorne Valley Farm store manager.
David Cunningham
Emil Meltz at Ghent Wood Products.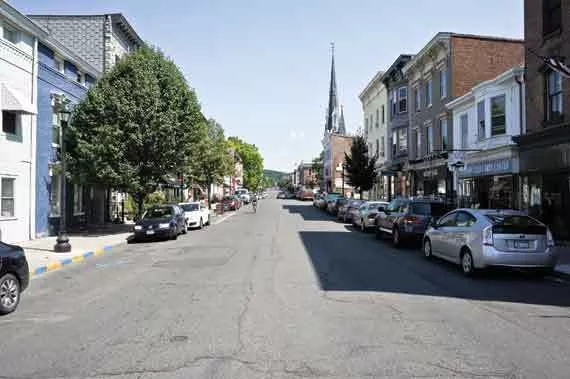 David Cunningham
Warren Street looking west.