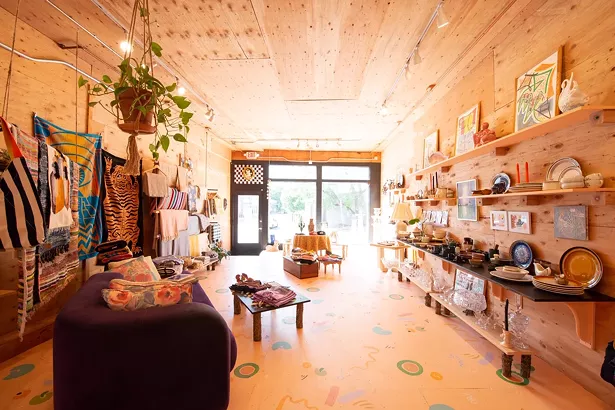 Photo by Stephan Schacher
YIN Shop + Sound Healing Studio
Tucked in the majestic Sullivan County Catskills, the secluded hamlet of Mountaindale has become known in recent years for its cultivated resurgence. Its once-sleepy Main Street is now home to a vibrant constellation of hip independent businesses, from well-curated lifestyle shops to a sound meditation studio to a pizza shop slinging naturally fermented pies and biodynamic wines.


Though it's quiet on the weekdays, Mountaindale offers an idyllic weekend getaway for those seeking respite among gorgeous mountain scenery while still enjoying the pleasures of city life now commonplace among larger Hudson Valley towns. Below, we've rounded up some places to dine, shop, and rest your head during your visit.

Where to Stay
The Outlier Inn
Situated on a bucolic 12-acre property just five minutes down the road in Woodridge, the Outlier Inn offers a peaceful and inspiring respite for anyone dreaming of decamping to the Catskills.
The Inn is home to a year-round retreat center, event/workshop/location space, fiber and vegetable farm, and a world-class recording studio. With 13 one-of-a-kind lodging options, ranging from geodesic domes to tiny homes to vintage trailers to traditional bungalows and homes, there's something to suit everyone here.

Website: Outlierinn.com
Instagram: @theoutlierinn and @outliermusic

Majestic Farm

Want a heaping helping of Sullivan County farm life? Majestic Farm is a family-owned, sustainable u-pick apple orchard and farm specializing in boutique apples and heritage, grass-fed pork, chicken, and beef that also offers a few cozy accommodations.


A tiny house at Majestic Farm
Its four campsites, which are bookable on
Airbnb
or
Hipcamp
, include three private tiny houses in the orchard and one more secluded campsite off the orchard. It's the perfect spot to relax in the woods and catch sightings of the pigs roaming in the sun. Plus, depending on when you visit, you can leave with a bounty of farm-fresh apples or meat to squirrel away back home.

Website: Majesticfarm.com
Instagram: @majesticfarmheritage

Also check out:
The reimagined 1940s bungalow colony at
The Glen Wilde
What to Do
Wild Bower Studio
Just a short walk from downtown Mountaindale along the Rails to Trails you'll find Wild Bower Studio, a small batch, green energy-run ceramic studio. While there you can purchase handmade pottery at the studio shop or sign up to take a pottery lesson with owner Nicole, where you can learn the magic of handbuilding or wheel throwing.


Website: Wildbowerstudio.com
Instagram: @wildbowerstudio

Nicole Helen Brunner, owner of Wild Bower Studio
Where to Shop
Yin Shop + Sound Healing Studio
YIN is a lifestyle shop and sound meditation studio by Rebecca Conran—a self-funded artist, musician, and multi-modality healing practitioner. Conran designed and installed the space herself during quarantine in March 2020 using found and recycled materials, and painted the happy Memphis-esque Reiki-infused murals on the floor.

Photo by Stephan Schacher
YIN Shop + Sound Healing Studio
YIN is a place to be artistically inspired and to find a multitude of adornments for you or your home, as well as practice mindfulness and self care. There, you'll find a mix of mostly female-driven local artisans and carefully curated vintage and you can also book a private Energy Healing Sound Meditation (or "sound bath"), an ethereal psychedelic experience using tonal and vibrational instruments and vocals. Experience Conran's musical style for yourself: her album, also titled YIN, is available on all streaming sites.

Open Friday-Sunday
Website: Rebeccaconran.com
Instagram: @yinspiritualcenter


Witchey Handmade
Owned and operated by model and certified health coach and herbalist Hollie Witchey, this herbal apothecary specializes in herbal and wellness products that are crafted locally and organically.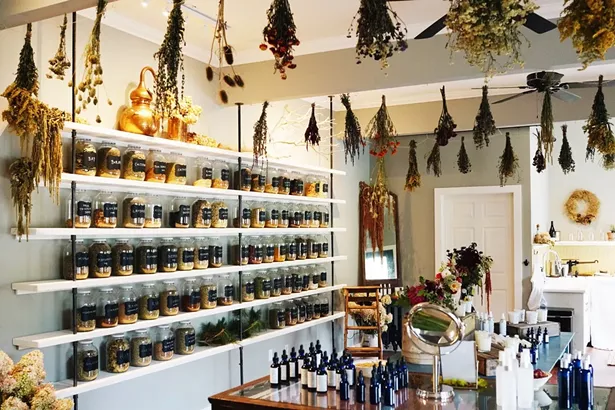 Witchey's line was born out of a desire to create sustainable and useful products during her over 20 years in the modeling industry. She uses her knowledge as an herbalist to bring the essence of nature straight into your self-care routine. Alongside beautiful natural products, she also offers health coaching focusing on weight loss and chronic issues. Stop by for a mini-consultation to tackle your issues or start with a specialized tea remedy.
Open Friday - Sunday 11am-6pm
Website: Witcheyhandmade.com
Instagram: @witcheyhandmade

Also stop by: Ambika Boutique for vintage and handmade items and Willow + Post for boutique spirits, wine, and cider.
Where to Eat
High Voltage Kitchen + Bar
Owned by Sonia Jozajtis and Jason Thomon, this quintessential Catskills restaurant specializes in classic American with a twist. Think juicy burgers and herbaceous fries, pulled pork, fried chicken with a local hot honey drizzle, housemade latkes, and an array of local craft beers, ciders, cocktails, wine, and coffee from Brooklyn's Partners Roasters.

Photo by Greg Scibior
Creek Bar at High Voltage
The cozy interior is complete with antiques, vintage finds and taxidermy lining the walls, candlelit tables, and an intimate six-seat bar. But the real magic happens out back at the High Voltage Creek Bar. Walk past the garden (replete with fresh veggies and other produce used in the kitchen) and into the woods to find a vintage camper bar, fire pits to keep you toasty on chilly nights, a stage for live music, and the star of the show, a picturesque babbling creek.

Open Thursday-Sunday
Website: Highvoltagecoffee.com
Instagram: @highvoltagecatskills

Also stop by: The Dale for sourdough pizza, live music, and drinks and Forage + Gather Market for cafe bites and other tasty provisions to keep you sailing through the weekend and beyond.

For all the local events and happenings, head over to VisitMountaindale.com or follow @visitmountaindale on Instagram.