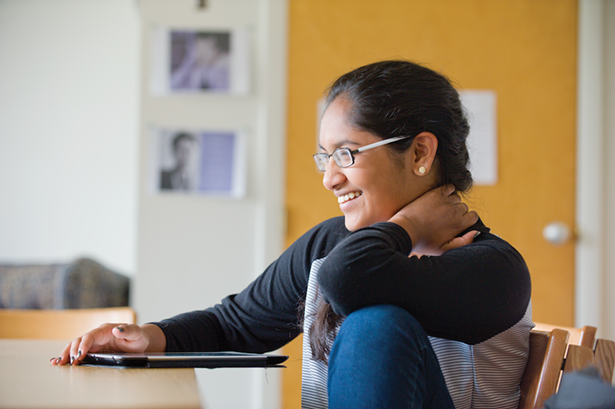 Images courtesy of Stoneleigh-Burnham School
With the fall semester close at hand, schools across the region are hard at work rolling out plans for the upcoming semester. For many, the choice of an in-person, remote, or hybrid program was a complex equation influenced by the school's size, digital learning resources, and more.
For Stoneleigh-Burnham School (SBS), a private girls' boarding and day school serving grades 7-12 in Greenfield, Massachusetts, the choice to adopt a distance learning program for the fall was largely informed by the school's historic role in providing an international education.
In addition to the large number of local students who attend SBS, roughly 30 percent are from countries outside the US who are now back home. Providing an equitable educational experience for both populations helped shape SBS's new distance learning program, Meet Our Remote Experience (MORE). "In this time of uncertainty, one thing that we can control is the quality of the education our students receive," says Head of School Stephanie Luebbers.
Images courtesy of Stoneleigh-Burnham School
Defining the Digital Classroom
To create a distance learning program accessible to all students, SBS needed a robust online learning management system, which it found in Canvas, a system widely used by schools and universities. Establishing a weekly routine is also a key tenet of MORE. To help solidify consistent routines and expectations across all subjects, the curriculum will feature both synchronous and asynchronous learning guided by a rigorous weekly cadence. To facilitate the transition to digital learning, the school's faculty received training this summer from One Schoolhouse, a leader in online education.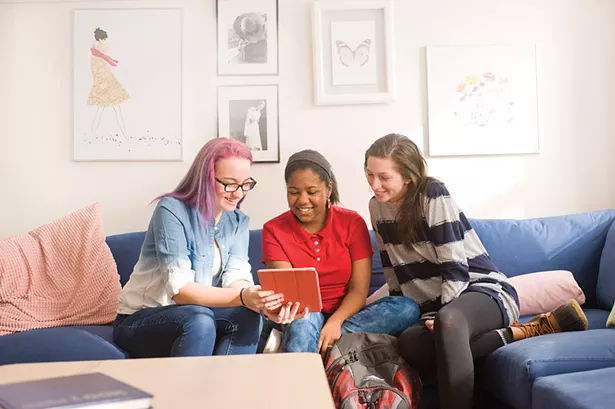 Images courtesy of Stoneleigh-Burnham School
Supporting Mental Health and Wellness
To help students regulate the stresses of the digital environment, MORE will also integrate social-emotional learning (SEL) support, which helps students build skills like time management, self-reflection, and online communication. SBS's teachers are also incorporating culturally-responsive and trauma-aware teaching practices, which help provide support for each student's individual cultural backgrounds, personal identities, and home environments. "In this program, teachers will guide students to connect, learn, assess, and reflect on their school work. They will make sure that all students are seen and heard and that everyone is ready and prepared to learn," says Assistant Head of School for Community and Program Shawn Durrett.
While it's hard to know how long the learning environment will be shaped by the coronavirus pandemic, SBS has created a distance learning program that provides possibilities for the future. "Our School has met the current challenges with creativity, commitment, and energy, and we are confident that we will offer a compelling and comprehensive education to our students," says Luebbers. "No matter how we have to shift in these uncertain times, this is an exciting time in education to think about innovation."
For information about Stoneleigh-Burnham School's distance learning program, visit sbschool.org.