We're six months into the coronavirus pandemic and the daily stress and anxiety that arrived alongside it this spring shows no signs of waning. While there is hope for a vaccine that returns life to normal, it's clear that those communities most likely to suffer long-term psychological effects—like frontline and essential workers or those that have lost their jobs in recent months—are in need of services that can support them right now.
One organization working to provide support to the Hudson Valley is the Dharmakaya Center for Wellbeing in Cragsmoor, which was founded by Trungram Gyalwa Rinpoche, PhD to provide a contemporary path for anyone who wants to incorporate Buddhist practices into their daily life. This fall, the center is launching "Still: A Mental- & Emotional-Wellbeing Retreat for Those on the Frontline," a series of multi-day retreat programs that aim to provide support for those coping with excess stress and trauma caused by the pandemic.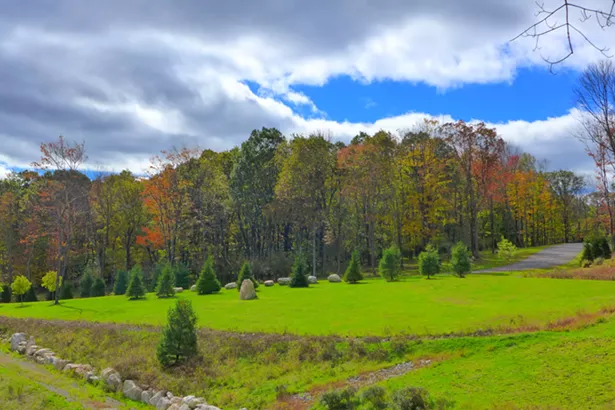 The grounds at the Dharmakaya Center for Wellbeing in Cragsmoor
Designed by Therese Bimka, LCSW, a Hudson Valley and Brooklyn-based psychotherapist who specializes in trauma, "Still" will incorporate holistic practices drawn from Buddhism that help build resilience, release tension, develop inner peace, and deepen connection. Each program will also be catered to the needs of those participating and is open to frontline and essential workers, as well as anyone else experiencing undue stress and anxiety caused by the pandemic.
During each two or four-day program participants will get the chance to learn together in small-group breakout sessions and large-group discussions. The program will immerse participants in concepts like grounding, self care, stress reduction, understanding trauma, and more. To help ensure one-on-one support, each program will be limited to 12 participants, who will receive private rooms and fresh farm-to-table vegetarian food for each meal.
The Dharmakaya Center is currently raising funds to offer the program free of cost to participants. In addition to individual donations, the center hopes to partner with local organizations across industries (including healthcare and emergency services, food and agriculture, warehouse and delivery, government, and more) to sponsor the attendance of their own essential and frontline employees who need it most.
For more information about how to support the program or its participants, call (845) 640-4593 or email retreats@dharmakayacenter.org.