Lil Deb's Oasis
Lil Deb's staff
As businesses react to the COVID-19 pandemic, nationwide restaurant sales have dropped down by approximately $25 billion from March 1 to 22. This has led to a devastatingly high drop in restaurant industry layoffs.
The mandate to close dining rooms was announced on March 16 by Governor Andrew Cuomo. However, to avoid an economic crisis, businesses could continue takeout and delivery in order to survive the unknown length of the COVID-19 pandemic.
To follow Cuomo's directive, 54% of restaurant owners switched to strictly off-premise operations. In doing so, more than half of these businesses have laid off most, if not all of their employees. According to the National Restaurant Association an estimated 3 million restaurant jobs were lost.
"The industry has never experienced anything like this before," said NRA's Senior Vice President Hudson Riehle.
Depending on the establishment, many employees who depend on the food industry have been forced to file for unemployment, remain jobless, or apply for certain grants like the Restaurant Employee Relief Fund, a check that Celebrity Chef Guy Fieri created in conjunction with the NRA. Servers, chefs, upper management, and dishwashers are eligible. Local restaurants in Rhinebeck and Hudson have seen the reality of this.



Terrapin, a farm-to-table restaurant and bistro located in Rhinebeck, has limited their hours and expanded their menu to offer family-friendly options. Owner and Chef Josh Kroner says they're currently in doing only 20% of the business they consistently did before the shutdown, but he isn't too concerned about opening up again.
"I've been in business for so long, so I have a cushion and am not really in any mortal danger as a business, but I'm really concerned for my employees," Kroner said.
Terrapin is open everyday for takeout with modified hours and does weekend deliveries.
Before the pandemic, Kroner employed about 45 people. He currently has about seven to eight employees helping him with weekend deliveries and remains hopeful about being able to hire them all back soon; whether it's to paint the restaurant or do other projects to keep busy.

Some places don't think the risk is worth the reward. Lil' Deb's Oasis, a Pan-Latin restaurant in Hudson, is owned and operated by Carla Perez-Gallardo and Hannah Black. On Feb. 29, they were announced to be a semifinalist for a James Beard Award. Besides explaining that their restaurant is more of an experience and not modeled around takeout and delivery, they also mentioned that it's better for everyone to just stay home.

"This is just one of those very unique circumstances where the best thing that we can do for our staff and community is to be closed," Black said.


Perez-Gallardo and Black didn't make their decision without their employees in mind. On March 18, they created a gofundme fundraiser with a $20,000 goal in order to continue their employee's salaries while they are not in business. Sure enough, they met their goal.
"It was one of the first instances when we realized everything going on that we'd have to lay off all of our staff," Perez-Gallardo said. "A staff member is going to distribute the funds out to everyone because they're not getting their normal pay."
Restaurants that remain open are still doing business, but it doesn't mean they're fully staffed. Many establishments, have temporarily laid off their employees. Isabella Lawkins, a full-time student and part-time server had to leave Little Apple Café, a newly established spot in Woodstock, serving coffee, lunch, fresh pressed juice, and smoothies.
Little Apple Café is a tight knit business, only having one other employee besides owner Holly Walsh and Lawkins. When all restaurants and bars had to shut down dining rooms, both employees were let go, despite the café remaining open.
"I no longer have a source of income for myself, and really have to ration the money I do have. I also have no idea when this will pass, so that's really hard to do," said Lawkins.
Lawkins also notes the social impact of losing her job, already missing the interaction she received from just serving consumers.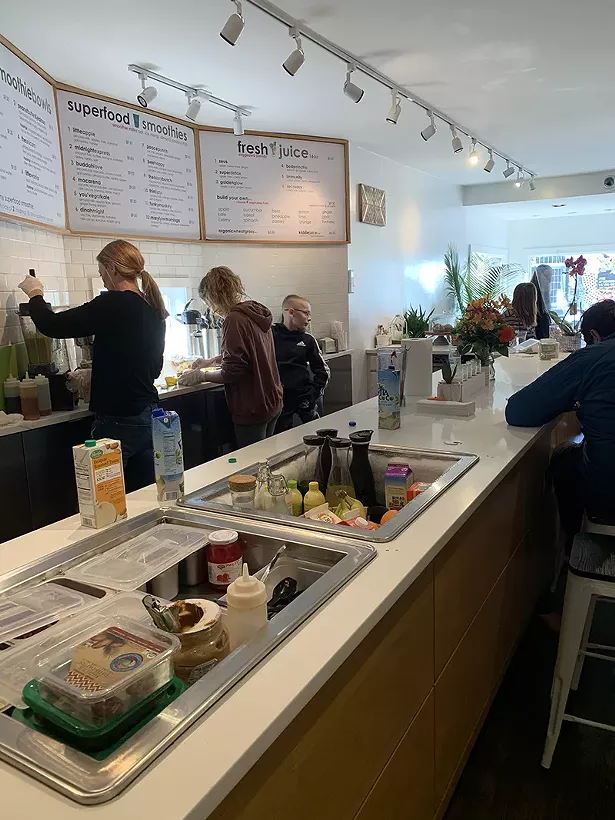 Little Apple Café
Little Apple staff in action before the pandemic.
"Now that I'm stuck at home with no job, it's hard to find that face to face interaction anywhere besides with my family members, which is already getting old. We are social creatures by nature, so having no ability to go out and have those interactions will surely take a toll on me and others who used their workplace as a social outlet," said Lawkins.
Like Lawkins, there are other restaurant employees who have suffered job losses. Jessica Barr, a server and bartender at Lombardi's in Gardiner, New York gave up her shifts to coworkers.
"We don't need as many hands on deck so there had to be a system of deciding who needed it more. I figured I could let my coworkers have the shifts, then potentially help my dad with his landscaping business, but now his calls are drying up too," said Barr.
Barr worries about the length of unemployment since she is eager to attend graduate school. Without her restaurant income or extra money from helping her dad, she fears her education being put on hold and emptying her savings to manage.
Server Jordyn Gonzalez also got laid off from her job at Brew in Rock Hill. They recently switched to takeout only and relieved staff temporarily to save money.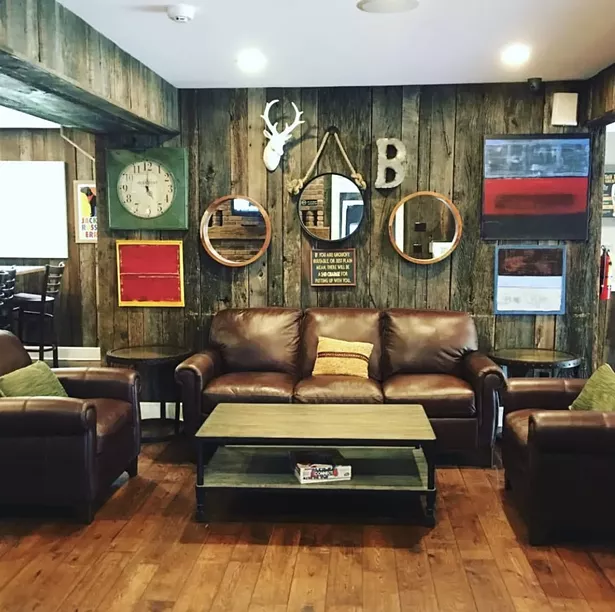 BREW
The comfortable inside of Brew in Rock Hill. Brew has been a fan favorite of Rock Hill for years.
"For the first week of take out only, I was able to still work, but the money was drastically different. I went from making a couple hundred a night to about ten dollars a shift. The public doesn't understand how much we suffer from the loss of tips, and most people don't think to tip on their orders," said Gonzalez.
Gonzalez immediately filed for unemployment, but had trouble with the site crashing a few times. Eventually, she made her claim, but still fears the financial gap she'll face since unemployment funds are not as high as her regular salary.
"This pandemic has worried me as far as my financial and work situation because none of us know when we will able to return. There is no end date, and we have nothing to lead us to one either," said Gonzalez.
Both restaurant owners and employees are deeply affected by the pandemic. The NRA notes 11 percent of restaurant owners predict they will permanently close.
"It's going to be a long road back to normalcy," said Terrapin's Kroner.