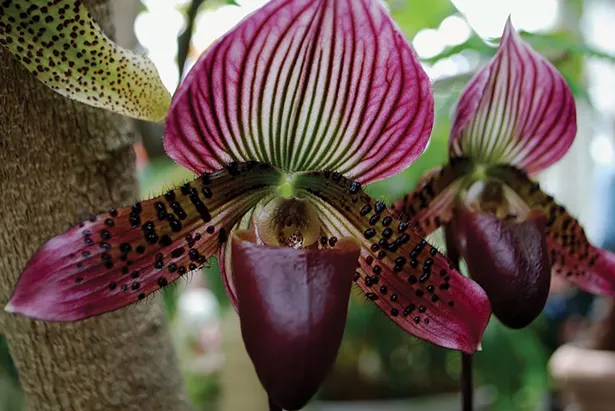 Larry Decker
Lady Slipper Orchid
Mail ordering plants has its pros and cons. Hudson Valley horticulturists offered up some sound advice on getting specialties to your door.

The Hudson Valley has fabulous plant nurseries, and plant lovers should prioritize spending money at these local hubs of hard work. Sometimes, though, your horticultural interests lead you to specialty plants not found in the region's nurseries—let's say, a hellebore with iridescent, true black, double blooms. A miniature ginkgo tree. Or an alpine primrose, velvet-red with a golden-yellow edge, that you've only seen in a botanical garden. Some local nurseries will order specialty plants for you, and, by all means, support those that do. Reserve your mail ordering for the truly rare and unusual plants.
I've found great joy in poring over specialty plant catalogs in the wintertime. Two of my favorites are those of Brent & Becky's Bulbs in Virginia and of Plant Delights Nursery in North Carolina. From Brent & Becky's I've purchased tiny, fuchsia-pink-with-lavender-centers, critter-proof tulips that have naturalized in my garden. I've ordered many varieties of unusual daffodils, like one called 'Rip Van Winkle,' whose flowers are a mass of strappy yellow and chartreuse petals that look like the flower version of really crazy bedhead.
Plant Delights Nursery intrigued me so much, I built a vacation around going to see it. (It was there that I saw the double black hellebore, and many other hellebores unlike any I'd seen elsewhere). It was a near-religious experience wandering around the public display gardens of this iconic nursery, seeing so many rare and unusual plants in person.
I asked several Hudson Valley horticulturists for their mail ordering advice.
Cheryl Hearty
Way back when she was a beginning gardener (and strapped for cash), horticulturist Cheryl Hearty ordered a 25-plant perennial "starter garden" from one of those colorful flyers in newspapers. "My 'garden' arrived in a business-sized envelope," she says. "The frail and threadlike plants were bundled together with a rubber band. The only plant that survived was common yarrow, which proceeded to overrun anything in its path! Lesson learned."
Years later, when Hearty worked in the Vassar College Biology Department greenhouse, she did a lot of mail ordering as she was worked to build the department's collection of unusual tropical plants. "I knew that I wasn't going to get huge specimens through mail order," she says, "but I was grateful to find them at all. I was always excited to get the deliveries."
Hearty learned that every order was a bit of a gamble. She found that condition and size depended on the time of year and availability, even with the same company. If a plant was popular and the company was having trouble propagating it enough to meet the demand, she would get a smaller plant. If the company was overstocked on an item that she ordered, she would sometimes get a much bigger plant than she expected. "That was always a nice surprise!" she says.
Hearty observed how summer heat or winter cold could damage mail-ordered plants. "Some mail-order plants come bare root, to save on shipping costs," she says. "These will need to be planted or potted up right away." Hearty says that some plants might defoliate from the shock of shipping and might need some TLC thereafter. The exceptions are orchids and plants that are dormant—these tend to ship well.
"If a plant arrives in poor condition, I would contact the company right away, even if the plant is still partially alive," she says. "This way if you have to make a claim later, it shows it wasn't your fault. I would also recommend ordering from companies that have a warranty policy."
Hearty eschews ordering grossly overpriced plants from catalogs. "I've seen little tomato plants in 2" pots priced at $6 each!" she says. "The glossy and flashy catalogues make everything look so appealing, but a gardener could get vegetable plants for less money, grown locally (and often organically) at Hudson Valley farms and smaller garden centers." Hearty encourages people to check with their local Cornell Cooperative Extension (CCE) office to see if their Master Gardener program is having a spring plant sale. For instance, CCE Dutchess, Ulster, and Putnam counties have major sales each May.


Larry Decker
Jack-in-the-Pulpit
"Cheryl's tip that mail order is always a bit of a gamble is probably the most important thing people need to hear," says garden writer, photographer, speaker, and instructor Marie Iannotti. "But even so, mail order is fun," Iannotti says. "Through a catalog, you can get exactly the color you want or the plant you've seen in magazines but haven't found locally."
"Mail-ordered plants often look a little ragged when they arrive, but most will rebound quickly if you plant them right away and give them plenty of water," she says. "However, beware the cheaper mail-order nurseries that send tiny bare root seedlings that dry out easily in the mail before they even get to you. Better to go with a reputable company than go for a bargain."
Iannotti also says not to be surprised if the color of your flowers does not match the photo in the catalog, as the photos may be touched up, or it could simply be a difference in growing conditions that causes discrepancies in flower color. An example of this is 'Endless Summer' hydrangea. Your blooms will be pink, purple, or blue, depending on your soil pH.
"Consider ordering late-summer and fall-blooming plants from catalogs," Iannotti says. This is because fall bloomers like perennial Japanese anemones or the daisy-family heleniums are rarely offered in garden centers and nurseries in the spring—and quickly sell out if offered in the fall.
Dorian Winslow
Dorian Winslow is the president of Womanswork in Pawling, a woman-owned company that has been making gardening gloves and other supplies—for all genders—for more than 32 years.
"Always read the fine print to learn the size of the plants you will be getting," she says. "I ordered a collection of air plants recently and they were so tiny I almost threw the bag of them out by mistake! Don't be fooled by a catalog photo showing the mature plant."
Winslow says that plant collections from iconic mail-order outlets like White Flower Farm can be a way to go when you like container gardens but find it difficult to choose combinations that will work together in terms of plant culture and aesthetics. She bought one such collection for her mother last spring, called the Hummingbird Garden, which included a coleus, a begonia, a fuchsia, and an ornamental sweet potato. "She received the plants and potted them up in a container of her own and it matured very nicely," Winslow says. It can be a great gift for loved ones who don't live nearby.
"On the hierarchy of mail order items that require special handling, plants are only beaten out by one-day-old chicks and butterfly larvae," she says. "When your plants arrive, be sure to follow instructions on caring for them. If they arrive in poor health, contact the seller right away. Send a photo. Most likely they will replace the plant."
Winslow has advice for those who have ventured into ordering plants off Amazon and other online sources. "Be sure the seller is a well-respected grower—as with any other purchase, read the reviews!" she says. "Bulbs are the most travel hardy of all plants, but even a potted plant can be sent successfully through the mail if handled by a seasoned grower."