A detail from Golden Boulevard, a painting by HM Saffer, II, a faculty member at Art School of Colombia County. Hmsaffer.com.
School is not for everyone. Dusty blackboards, dry lectures, and stringent schedules are not always conducive for a meaningful, lasting education. Realistically, how many high school graduates can say that they actually remember how to complete a math proof or what the proper format is for a critical essay? Rather than fleetingly memorizing information to pass a test, build a base of knowledge on your own terms with continuing education programs throughout the Hudson Valley.
The environment in which you learn can make a world of difference to what you absorb; staring at a Powerpoint presentation about scuba diving will not give you the same perspective as squeezing into a wet suit and sinking into a dive pool. With hundreds of programs open to students of all ages, the time is ripe for busting out the old bucket list, or realizing what disciplines nourish your vitality. Get feedback in a collective workshop on the memoir it took you eight years to conceive, forge jewelry for your loved ones in a smithy, or filter your vacation photos without the help of Instagram. Almost anything can be accomplished with expert guidance and the will to learn, and all you have to do is try.
Write for Life
The need to craft narratives is part of human nature. If we feel something, we want to say something. With our singular knack for using symbols to express thoughts, writing is an obvious outlet for congested brains to unravel, explain, and understand the phenomena around us. We want validation for our interpretations of the world, and for writers, this is especially consequential. The Wallkill Valley Writers community wants to be your sounding board. During their weekly workshops in New Paltz, students write, read to each other, listen attentively, and collaborate on each other's work. Workshops begin with a free-write to help students shed clutter from their psyches and get to the root of what they want to share. (845) 750-2370; Wallkillvalleywriters.com
Wholesome Beginnings
Take authority on health and wellness amid the frightful processed ingredients and soaring obesity rates nationwide with a course at SUNY Ulster in Stone Ridge. Classes in all disciplines are available through Ulster's continuing education program every semester. If you are already in shape, help others harness their body's full potential by becoming a nationally certified personal trainer. Take a 62-hour certification program through World Instructor Training Schools and become an active, positive force for change by learning to promote and integrate exercise into everyday life. Online orientation for the Personal Trainer course begins July 1. New at Ulster this year is a two-day Holistic Practices in Lactation course meant to help mother's implement nonpharmaceutical approaches during pregnancy, birth, and breastfeeding. Nutrition, gut healing, homeopathy, and home remedies will be addressed during the course under the guidance of Jennifer Tow, who has 23 years experience with hands-on, intensive, holistic health care for mothers. (845) 339-2025; Sunyulster.edu
SUNY New Paltz
A New Paltz student working with a 3D printed robohand, designed and built at SUNY New Paltz's Hudson Valley Advanced Manufacturing Center.
Teaching Tech
3-D printing is a transformative technology. Its impact is being felt more and more in a growing number of disciplines—even the most unlikely industries are embracing the innovation that 3-D printing could provide. For example, some food companies think the incorporation of the technology into the culinary world will be as significant as the introduction of the microwave into household kitchens. But now you can keep up with the changing technological landscape that surrounds our world. SUNY New Paltz will be giving courses in 3-D printing this July. The campus is home to 30 desktop 3-D printers as part of its MakerBot Innovation Center. Dean of the School of Science and Engineering, Dan Freedman, urges potential students to "just approach it like any other learning exercise: start with the most basic, simple stuff, and don't be afraid to fail." He understands the hesitance and anxiety that is involved in embracing brand new technology. "This can be a little overwhelming, and there's a lot of terminology that gets tossed around," he explains. "But in the end it's really just assembling simple things into complex things." (845) 257-3454; Newpaltz.edu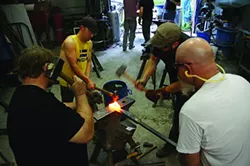 Blacksmiths forge collaborative sculpture with Jake James at The Center for Metal Arts.
Hammer Time
Fixate yourself in front of the flame during blacksmithing and small metals workshops under the counsel of seasoned craftsmen this summer and fall at the Center for Metal Arts. The formula for Valyrian steel may not be discovered, but it could be possible to surpass the talents of Gendry, King Robert Baratheon's bastard blacksmithing son of "Game of Thrones" fame. Beginner classes are available in blacksmithing, hammer and pendent making, soldering, riveting, enameling, and texturing. Patrick Quinn, a lead blacksmith/fabricator, will teach a one-day workshop on October 3 where students will craft a hand-forged bottle opener. The Center for Metal Arts is continuously updating their workshop schedule, so when one class fills up, another will shortly open. (845) 651-7550; Centerformetalarts.com