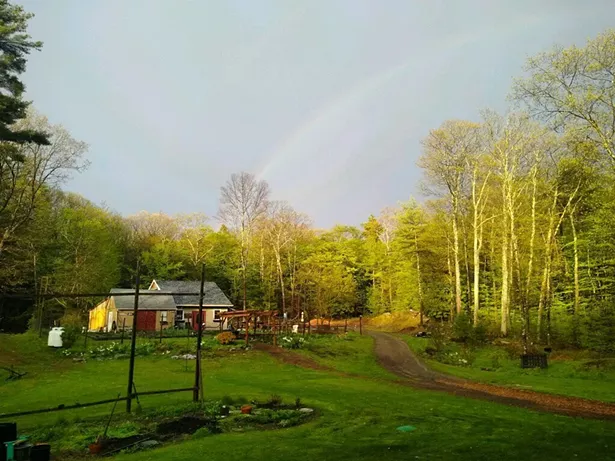 Tucked in the trees off the main drag of Greene County hamlet of Earlton, Honey Hollow Brewing Company's quaint tasting room features a slew of brews made with hops grown onsite, while offering a laid-back place for families and friends to come together. For owner and longtime brewer Matty Taormina, creating a welcoming environment was an essential part of the Honey Hollow mission. "We wanted to support local people, and this was a great way of doing it," says Taormina.

Humble Beginnings
Taormina learns about the fermentation process from a young age, helping his parents make wine. "Every year since I was 5 years old, I was crushing grapes and tasting the new wine coming out," he says. "I was pretty much always involved with fermentation." But Taormina didn't jump into professional brewing straight off the bat. He began crafting beers three decades ago as a hobby while working for the railroad. When layoffs started, Taormina decided to learn more about hops. "The first time that I got laid off, I picked up a book by Charlie Papazian, and I made our first batch of beer," he says. "Since then, we've gotten a little better and perfected all the recipes we have, and 30 years later, here we are."
In 2013, Taormina and his wife, Donna, opened Honey Hollow as a way to combine Taormina's brewing chops with Donna's gardening skills, growing some of the hops they brew with on-premises. They became the first establishment in Greene County to acquire a farm brewery license. To qualify, a brewery must source at least 60 percent of their ingredients from New York farms. Since the couple can't grow all the hop varieties and grains necessary to make their beers, they also source from other farms, including Upstate Hops in Shortsville and Chatham's Kinderhook Creek Hop Yard. The couple chose to pursue the license as a way to support the region's farming community. "The reason why we did it really was to keep everything local," Taormina says.
Honey Hollow comes from humble beginnings. "We had a garden shed that we started in, and I had a half-a-barrel brewery. We really didn't think it was going to expand a whole lot," he said. "We were going to keep it local with a bunch of other farmers around here, but all of a sudden it took right off." As the business grew, Taormina and his nephew built a bigger brewing station and tasting room just up the road from his home. Still, even with the expansion to a two-and-a-half-barrel system, Honey Hollow is considered a nano brewery by any measure, with Taormina producing just 120 gallons of beer a week.
What's On Tap
Inside the tasting room, chalkboards list the draft offerings. Honey Hollow has nine beers on tap at all times. This year, eight of the beers were brewed in house and one is from Chatham Brewing. Next year, he plans to be back up to his usual production. "I'm finally catching up a little bit here," he says. "So we're going to be going right back to all our beers."
Taormina still uses some of the recipes he created decades ago. The Hurricane Pale Ale is a classic—it's the first beer he brewed. "It's a straight pale ale and it's got cascade hops in it. It's kind of on the piney side," Taormina says. Ruby Red, what Taormina calls a "malty Irish red," is a less bitter option. He also brews IPAs, including the Alibi, made from a blend of centennial and mosaic hops. It's one of the two beers he makes using hops not from New York.
"There's always somebody that walks in the door that can't stand the bitterness, so we have beers that will satisfy their palates also," Taormina says. He has an oatmeal stout, as well as a honey ale made with honey from a nearby apiary. "That beer is more on the malty side, not so much a real super honey flavor." he says. For non-beer-drinkers, Honey Hollow also serves other New York State craft beverages, including pinot noirs and chardonnays from wineries in the Seneca Lake region and hard cider from Albany's Nine Pin.
While beer is the establishment's focus, there's also limited food offerings. Rotating vendors sell cheese platters and other small bites. During the summer, there's pizza made in the outdoor wood-fired brick oven and live music from local blues and rock artists. Outside, tables under tents can seat about 45 guests, with more seating tucked away under the trees.
Bring the Whole Fam
Children are welcome at Honey Hollow, which has cornhole, bonfires, and a bocce ball court that's frequently in use. "People play that just about every weekend," says Taormina. For him, the communal, inviting atmosphere of the establishment is what makes Honey Hollow stand out. His brewing philosophy? Brew to share. "It's a really friendly atmosphere up here," says Taormina. "We accept everybody. We want to keep it fresh and we want to keep it affordable for people to come up here and enjoy themselves."
Honey Hollow Brewing Company is open for tastings on Fridays from 4-8pm, and on Saturdays from 1-8pm.
Honey Hollow Brewing Company
376 East Honey Hollow Road, Earlton
(518) 966-5560
h.hollowbrew@gmail.com